UM-Flint Ice Rink's Second Season Begins Saturday Dec. 10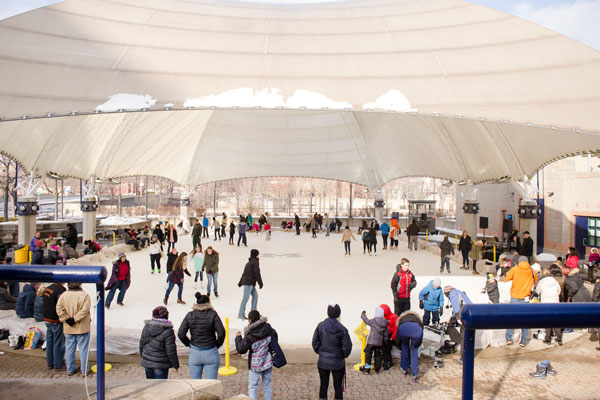 The UM-Flint Ice Rink is kicking off its second season downtown with a grand opening celebration December 10. The public is welcome and encouraged to attend the free festivities.
"This is an opportunity to bring the campus and the community together, and to celebrate the ice rink opening," said Michelle Rosynsky, senior director of Student Involvement and Leadership at UM-Flint.
The event features free lessons, an open skate, music, refreshments, free giveaways, and a short performance by professional ice skater Anna Cobb.
Instructors from the Elite Skating Academy will give free skating lessons from 11 a.m. to noon. Club 93.7 is doing a live remote from the rink from 11 a.m. to 1 p.m.
There will be free hot chocolate and cookies, UM-Flint giveaways, and candy, said Rosynsky.
The day of fun also includes an open skate from noon to 4 p.m. Cobb, an area native, will perform a short skating exhibition at 12:15 p.m.
There will be free skate rentals for those with M-Cards. Rentals will be available to all others for $3. People are encouraged to bring their own skates if they have them.
Saturday's event is a true university collaboration, as it is co-sponsored by Student Involvement and Leadership, Housing and Residential Life, Recreational Services, and the Campus Activities Board.
Ashley McCloud, a student, and president of the Campus Activities Board, said the group will be handing out cookies and hot chocolate from noon to 4 p.m. within the pavilion during the Saturday celebration.
The opening ceremonies are a sign of things to come all season, said Theresa Landis, director of recreational services at UM-Flint.
"A great way to enjoy the beautiful Michigan weather is by being physically active outdoors," said Theresa Landis said, director of recreational services at UM-Flint. "We're looking forward to another fun and exciting year of skating. We hope you can join us!"
The University of Michigan-Flint reopened the downtown Flint ice rink last year. The rink opened in 1985 as part of the Water Street Pavilion. It closed before the university announced in 1990 that it would take ownership of the building, which is now the University Pavilion.
The ice rink became an area asset again last year, as throughout the season, students and community members enjoyed using the Saginaw Street rink. The rink averaged more than 180 skaters every week last year, Landis said.
And this year, the university will be using a Zamboni, which will make the ice smoother and even more conducive to skating. The machine will be used at the top of every hour to maintain the ice quality.
"That will make the ice a better surface and more consistent and not as weather dependent," said Landis.
Community open skates runs through March 26 of next year, weather permitting. Free community open skates are scheduled this season, weather permitting, on Saturdays and Sundays from noon to 4 p.m., on Wednesdays from 6 to 9 p.m., and Fridays from 5 to 8 p.m. Please call 810-762-3441, to confirm the rink status and availability.
Contact University Communications & Marketing with comments, questions, or story ideas.