New English Language Programs Help Non-Native Speakers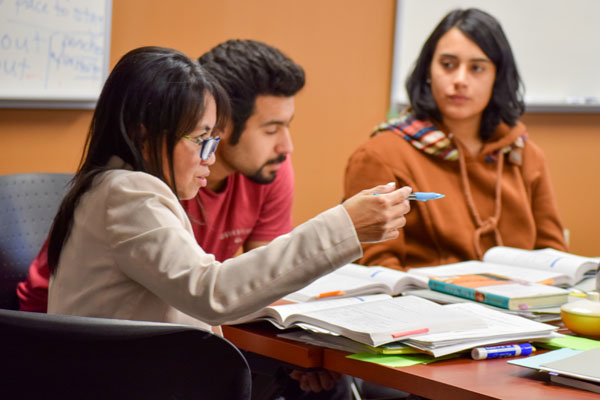 Two recently introduced programs at UM-Flint provide even more support to students for whom English is not their native language.
The initiatives help undergraduate students develop their language skills in order to succeed in class, and feel comfortable on campus and within a new culture.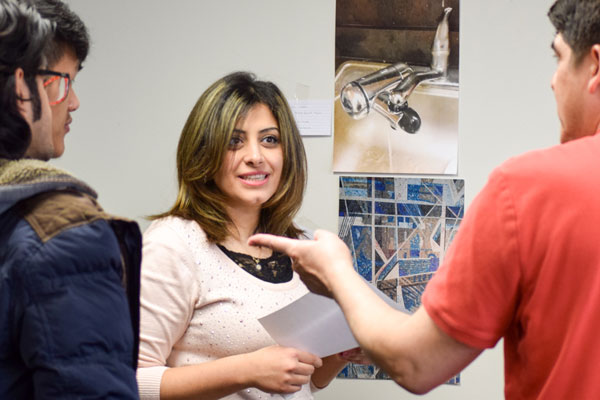 The Bridge Program started last Fall, and the English Language Pathways program began this semester.
"The creation of the English Language Pathways Program along with the development of Bridge courses demonstrates the University of Michigan-Flint's commitment to the success of non-native speakers of English," said Daniel Adams, director of the International Center.
Both programs are designed to support and retain students.
The Bridge program helps students with a wide range of skills, including writing, revision, citation, reading, vocabulary, sentence structure, and grammar. Students also learn about academic expectations and take regular academic courses.
Nearly all undergraduate students, with the exception of some transfer students, take a placement test after being admitted to determine where in the first-year writing program they should start. Non-native speakers, including some immigrant students, may be placed into the Bridge program to help them with the transition.
It not only helps them learn English language skills, but also academic skills, said Emily Feuerherm, an assistant professor of linguistics within the English department, who was hired to develop the program.
"It gives them the additional support to navigate the expectations they'll encounter," Feuerherm said.
Some students in which English is not their first and primary language can place directly into traditional writing classes. But this new program provides more training, specifically for students in which English is not their native language, in areas such as grammar and vocabulary development.
The Bridge Program was a collaboration between the English Department, the International Center, the Student Success Center, the English Language Program (ELP), the Thompson Center for Learning and Teaching, Graduate Programs, and several university administrators.
Others who aren't ready for the Bridge Program get support from the English Language Program.
ELP students take 22 hours of English and American culture instruction per week. The classes are smaller to encourage more student input and interaction. Students also participate in events throughout the community, such as volunteering at Carriage Town Ministries.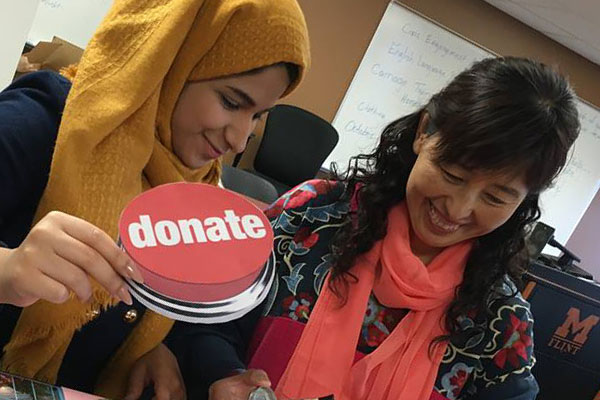 "We help them adjust and be comfortable and show why they need advanced writing skills and advanced presentation skills so they are successful," said Anna Eddy, a language assessment specialist within the ELP and International Center.
The Pathways program started this semester, and eliminates an outside fluency test that was an added cost and time burden to students, Eddy said. This test was previously necessary before students graduated into the Bridge program. But it doesn't measure a student's cultural comprehension skills and understanding standards on issues such as plagiarism. Now students don't have to worry about this test, and are more likely to stay enrolled, Eddy said.
"The students are very driven. They have the language, they have the knowledge. They are able to perform, but we are here to assist them. It is to ensure their success," she said.
Yasmine Elshikary, from Sudan, started at the university last month, and said the ELP staff have been a great source of support, including tutoring twice a week, along with regular language classes.
"I find it very helpful," she said of the program. "Everyone is trying to help me."
Contact University Communications & Marketing with comments, questions, or story ideas.