Food's Future Kicks Off UM-Flint's 2016 Critical Issues Forum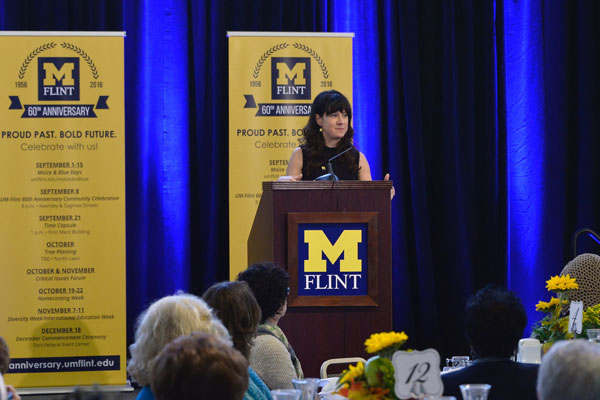 The trip was well worth it for Mary Mathis.
The Farmington Hills resident drove to UM-Flint Wednesday with a friend to participate in the Sullenger Dialogues, the free and public sessions held as part of each Critical Issues Forum (CIF) speaker's visit to campus to discuss subjects related to an annual theme. This year's CIF theme is "Forever Forward." Today's speaker, Tracie McMillan, explored issues related to the future of food.
McMillan, a Michigan native, is the author of the New York Times bestseller, The American Way of Eating: Undercover at Walmart, Applebee's, Farm Fields and the Dinner Table.
In about one hour's time, the group of students, faculty, staff and community members tackled a wide array of issues related to food equality, food access, and worker rights within the food industry.
"It was very refreshing," said Mathis about the latest in the university's popular and thought-provoking lecture series. Mathis attended her first Critical Issues Forum last spring when John Quiñones was the featured guest. In both Wednesday's session and in the spring, she attended the Sullenger Dialogues, which are a free and informal discussion with the speaker that are open to the public.
"I really like that, that's what got us so excited about the concept, of different people coming together," Mathis said.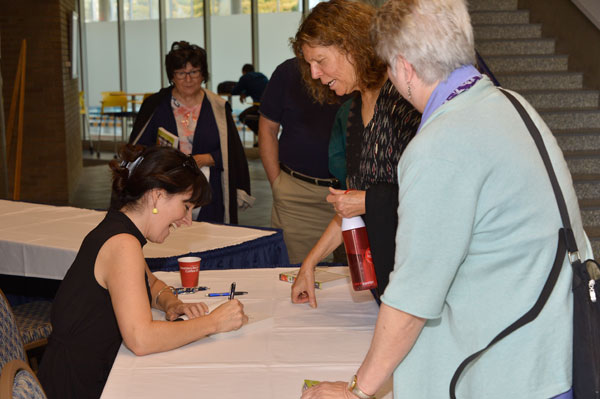 Besides the morning session, McMillan spoke at the always popular CIF luncheon.
"I love doing university talks because folks are really engaged," McMillan said.
Her morning conversation at the Sullenger Dialogues delved into her book, in which she did undercover work within Walmart, Applebee's, and on a food farm. The discussion branched out into discussions about food preparation and education, distribution, and healthy food as a public good.
McMillan said visits to campuses like UM-Flint allow her to learn about local priorities and ideas.
"The only reason I do what I do is I want it to have an impact on communities, and to be able to help folks," said McMillan, who grew up in Holly. "To me, that's what the university setting can do."
Contact University Communications & Marketing with comments, questions, or story ideas.