UM-Flint Receives EDA Grant for Community and Economic Development Center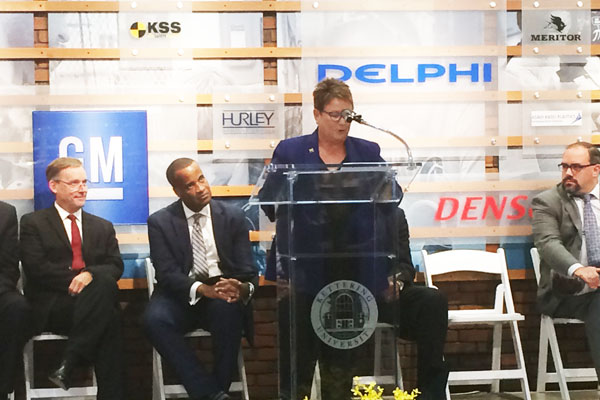 The University of Michigan-Flint joins the Flint and Genesee Chamber of Commerce and Kettering University as recipients of major grants from the U.S. Department of Commerce's Economic Development Administration (EDA).
The University of Michigan-Flint received a five-year grant of $400,000 to establish a University Center for Community and Economic Development. Funded by the EDA, the center will serve as a hub, providing entrepreneurship and innovation support for the seven-county region that includes Genesee, Shiawassee, Lapeer, St. Clair, Huron, Sanilac and Tuscola counties.
A regional asset mapping initiative is also funded through the project, which will connect area businesses to resources, evaluate the impact of regional economic development efforts, and conduct a regional business climate survey every year. An EDA research fund tied to then center also will support UM-Flint faculty and students conducting applied research related to economic and business development. UM-Flint will also create a website to increase access to regional economic data, research findings, and map-based geographic representations of relevant economic information.
"Our faculty and student researchers will provide important insights our region needs to make the most of its economic development work," UM-Flint Chancellor Susan E. Borrego said. "The UM-Flint EDA University Center will help our region's economic development planning and decision making — and ultimately evaluate economic development efforts to assess which were most effective. We know that the U.S. Economic Development Administration is very selective in the creation of its University Centers and we are proud to host this project on our campus."
In addition to the grants to establish a University Center at UM-Flint, the EDA also announced funding for Kettering University's GM Mobility Research Center, the 19-acre automotive research facility and testing grounds near Chevy Commons. The EDA also awarded the Flint and Genesee Chamber of Commerce and the Genesee Area Focus Fund—in partnership with the City of Flint—a grant to conduct a feasibility study for a business accelerator at the city's largest brownfield site, the former Buick City complex.
Contact University Communications & Marketing with comments, questions, or story ideas.