Bill Clinton Makes Campaign Stop at the University of Michigan-Flint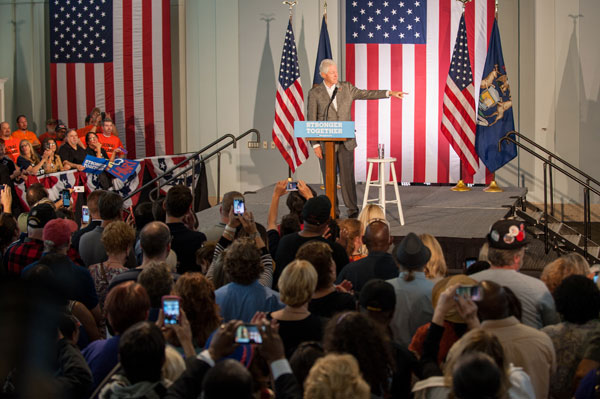 The political conversation came to UM-Flint at the national level Monday when former President Bill Clinton visited campus.
The event was the latest example of the Flint area taking center stage in the presidential election.
As an institution of higher learning, the University of Michigan-Flint supports the free exchange of ideas and welcomes opportunities to provide a forum for speakers with a variety of political, social, and religious views. The University does not engage in any political campaign activity, including endorsing or opposing any candidate for political office.
Clinton's visit comes before the Michigan's Oct. 11 deadline to register to vote. Clinton spoke on behalf of his wife, Hillary Clinton, and her presidential campaign. Campus also hosted a Democratic presidential debate earlier this year and Republican nominee Donald Trump visited Flint last month.
Regardless of one's political views, Monday's event provided the latest opportunity for political conversations and debate, faculty, and students said.
"It's important to be open minded and listen to all views," UM-Flint graduate student Jia Ireland said about the significance of having a national figure on campus. "It helps us learn and grow as people."
UM-Flint has also created its own events to engage participants in conversations about the election and national issues–hosting presidential and vice-presidential debate watch parties and an event to recognize Constitution Day.
Kimberly Saks McManaway, a political science lecturer at UM-Flint, said large-scale political events  can help spur people to vote, regardless of political party.
"These events do have an impact on registering the non-registered and turning out the vote in November," she said.
Several student groups are hosting voter information and registration sessions in the University Center in the coming days. Also, the Secretary of State mobile branch unit will be on campus in the Circle Drive outside of UCEN on Wednesday, October 5th. The mobile unit will be open for 10:00 a.m. to 4:00 p.m. to help with voter registration and absentee ballot questions.
Marcus Paroske, one of the moderators of the debate watch parties on campus, and chair of communication studies at UM-Flint, said students can learn and participate during the political process in events both big and small.
"The Democratic Presidential debate in Flint, and now the campaign stop from former President Clinton, are obvious opportunities to experience big time politics. But UM-Flint students are presented with countless other ways to participate in political life even when CNN isn't camped out in our library. I remember using students to help write questions for debates between candidates for Flint Mayor and the Michigan House of Representatives that I moderated a few years ago," Paroske said.
"Students should keep their eyes open, and most importantly talk to their professors about what is happening on campus. The faculty actively want students to get involved, so making it known you are interested could create chances you didn't even know existed."
In the hours leading up to the debate, TV trucks and reporters lined up outside of the Northbank Center.
Nic Custer, a program assistant within University Outreach, said the national attention of hosting large-scale events and visitors provides an opportunity to show off the great things the university already does.
For example, it was announced Monday that the university received a federal grant to establish a University Center for Community and Economic Development.
"I think one of the real strengths of the university is its community and civic focus," Custer said. "And I think the more national press and attention and figures we have on campus the better we can integrate our students into that larger civic life, and the more we can rally around support for our great programs that are involved with the community."
Daniel Lair, Associate Professor of Organizational Communication, and program director of the M.A. in Applied Communication, said national political events and members of the media on campus hopefully is a visceral and direct way to engage students and get them involved.
"Our collective civic life matters," he said.
Contact University Communications & Marketing with comments, questions, or story ideas.