UM-Flint Launches Safe Ride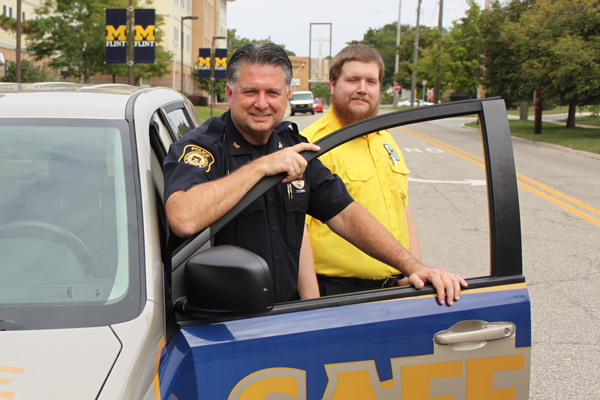 University of Michigan-Flint launched Safe Ride this semester, which is a free transportation service on campus and the downtown area for university members.
The Safe Ride van, which seats five passengers, operates during those hours in which the university shuttle is not scheduled. It is a collaborative effort between the Department of Public Safety (DPS) and Student Government.
It is a first-come, first-serve operation in which students, faculty, and staff can schedule rides, and just need to show their Mcard.
"The demand for transportation, the request for rides, when the shuttle is not operating, was fairly significant," said UM-Flint Director of Public Safety Raymond Hall. "We have students who find it very convenient, some who may be unfamiliar with the area. It gives them another option to navigate the campus and downtown area."
The university has several other transportation options, including the ability to lease a Zipcar, and bicycles available for lease via the Recreation Center.
Student Government recommended the Safe Ride to DPS, Hall said.
"Safe Ride helps students feel safe and welcomed on campus," said Student Government president Menusha Arumugam.
The hours and service area (found at umflint.edu/saferide) may be adjusted based on demand, Hall said.
Hall said ITS contributes to the program, too, with work on the Safe Ride webpage, and help with the GPS and an camera within the van.
"Without ITS, we certainly could not have made it happen," he said.
DPS student patrol officers with chauffeur licenses operate the van.
Matthew July, a student at UM-Flint and campus guard, hopes to drive the van once he gets his chauffeur license. The service is a positive for the university community, he said, partly because the van gives groups  a chance to travel together from outings.
More than 300 people used the service within the first three weeks, Hall said.
"Safe Ride is here to stay. What we hope to adjust is the area of service and the number of safe ride vans. The demand has been so significant it is clear we could benefit from having an additional van," he said.
Contact University Communications & Marketing with comments, questions, or story ideas.