UM-Flint Hosts Presidential Debate Watch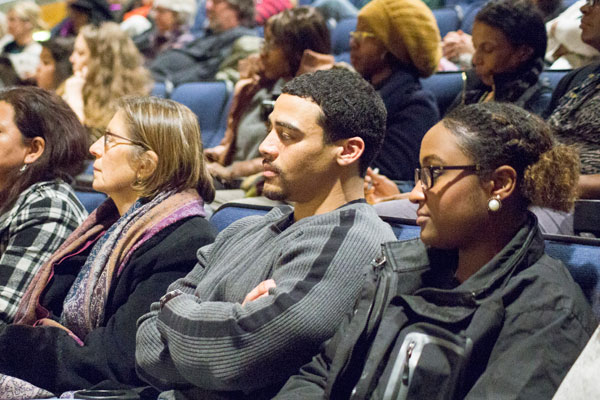 UM-Flint will host a Presidential Debate Watch September 26 in the Kiva, with discussions after the viewing led by expert faculty and student members of the university debate team.
The event is an open invitation to the community to meet with university members and discuss the candidates and a range of national issues.
"The whole point is to engage in a diverse dialogue of what people think and what they saw," said Marcus Paroske, Chair of Communications Studies at UM-Flint, and one of the event's moderators. Paroske is an Associate Professor of Communication.
Organizers are currently recruiting and enlisting faculty from all fields of study to participate in the event, and help lead discussion groups after the debate airs.
"Faculty are well placed to engage in this, regardless of their disciplines," Paroske said. "They do have expertise in many issues facing the country."
The event won't be a lecture, Paroske said, but a dynamic conversation, based on the views of each group of community members, students, faculty, staff, and others.
"You will have a very different discussion in each group. And that's good. That's democracy," he said.
UM-Flint has also scheduled similar events for the October 4 Vice Presidential debate, and the October 19 Presidential debate.
The September watch party starts with an 8:30 p.m. sign-in in the University Center lobby. The debate will be aired live in the Kiva from 9 p.m. to 10:30 p.m.  Small group discussions will be from 10:30 p.m. to 11:30 p.m. The event is free, and refreshments will be served.
Brian Schrader, director of debate at UM-Flint and a moderator at the upcoming Debate Watch, said meeting with a diverse group of people to watch the debate, and discuss it afterwards offers a dynamic opportunity for participants.
"Having a forum that is collaborative and deliberative, you can talk to other people and hear their opinions," said Schrader, who is inviting debate team members to participate.
Anyone interested in learning more about the event can contact Gary Ashley in University Outreach, at gaashley@umflint.edu, or Kristen Campbell, of the Women's Educational Center, at kristeng@umflint.edu.
Contact University Communications & Marketing with comments, questions, or story ideas.