UM-Flint Marks Proud Past, Bold Future, and its 60th Birthday
The University of Michigan-Flint marked its 60th birthday in spectacular fashion Thursday with about 400 community members, faculty, staff, students, alumni and supporters — all celebrating the campus and the community's proud history and bold future.
"It's an honor for me to be here as chancellor at this moment in time to recognize our proud history and bold future," Chancellor Susan E. Borrego said. "The University of Michigan — that Block 'M' — is part of what makes us one of a kind, but it is the word 'Flint' that makes us proud."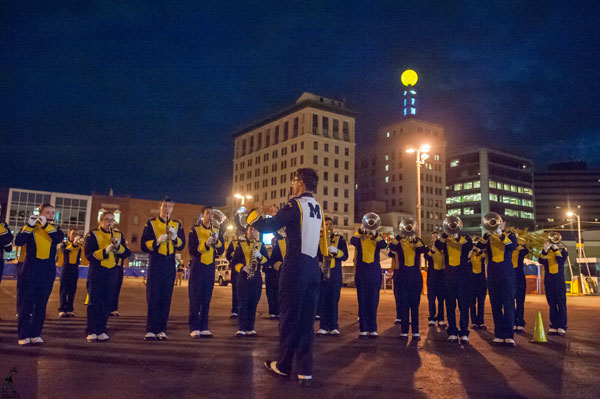 The event featured the University of Michigan Marching Band, spoken word performances and — of course — cake. The grand finale was a light show projected onto the side of the Charles Stewart Mott Foundation Building. The lightshow appeared three-dimensional at times, with the UM-Flint logo proudly shining from the building, whose namesake helped found the university 60 years ago.
The lightshow showed the university and community through the years, and the proud connection between both.
The University of Michigan-Flint was officially formed Sept. 23, 1956 after community leaders banded together to successfully bring the first expansion campus of the University of Michigan to Flint. Voters passed a bond issue to fund the establishment of the university and Charles Stewart Mott pledged a $1 million donation to the effort.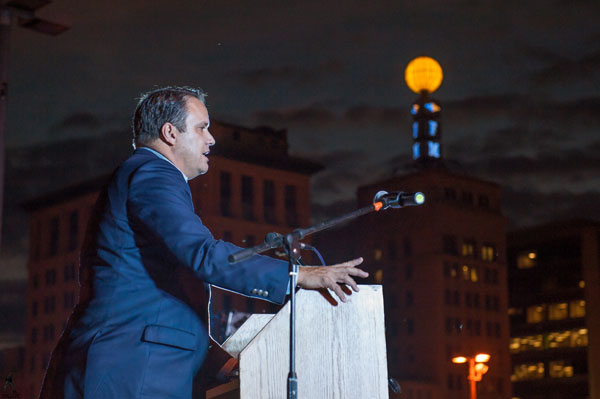 "There is absolutely no question how important this university is to this city's past and its future," said U-M Regent Michael J. Behm.
Behm also commended UM-Flint students for their deep commitment to being problem solvers and to making a difference. 
"They are the next generation of bold visionaries who will help flint move forward," Behm said.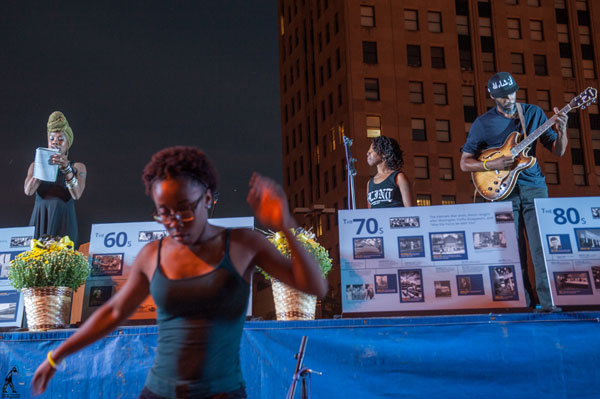 Student Government President Menusha Arumugam, an international student, noted how quickly the campus and community becomes home for students, no matter where they come from, and the "life-changing experience of UM-Flint."
Borrego noted that more than 40,000 alumni have been inspired by thousands of faculty over the 60 years. The vast majority of UM-Flint alums stay in Michigan, living, working, and bettering our communities, she said.
"And, we're just getting started," Borrego said.
"It's hard to say what the future holds for our next 60-year celebration. I do know this for certain, when 2076 rolls around, we will still be here and we will still be going strong," Borrego said.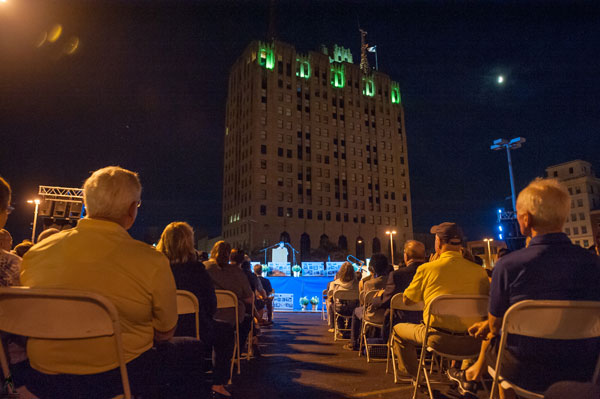 A series of events are planned throughout the fall 2016 semester to commemorate the 60th anniversary year, including dedication of a time capsule, tree planting, Maize and Blue Days welcome back activities, and Homecoming Week. It also incorporates the Common Read, Critical Issues Forums and Commencement. For a full list of events and more about UM-Flint history, go to anniversary.umflint.edu.
The 60th anniversary is a prelude to the University of Michigan's bicentennial in 2017 — which will include a year of celebrations involving all three campuses to mark the occasion.
VIDEO: UM-Flint 60th Anniversary 3D Projection
Contact University Communications & Marketing with comments, questions, or story ideas.