UM-Flint Nursing Honored With Ceremony Funding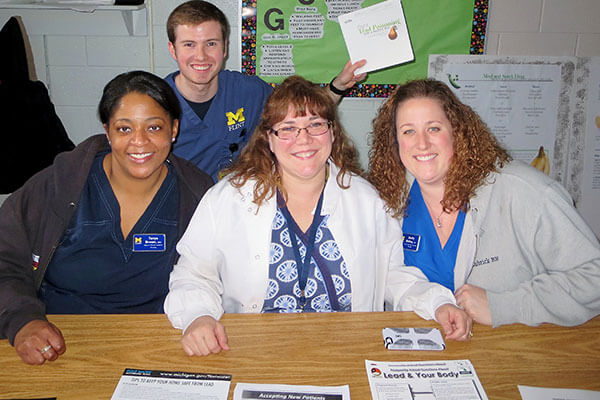 University of Michigan-Flint Nursing is one of only 50 nursing programs in the nation, and the only one from the state, to receive special funding to host an inaugural White Coat Ceremony.
The ceremony for 80 newly admitted nursing students will be held August 30 at 6 p.m. in the UM-Flint Theatre.
The Arnold P. Gold Foundation and the American Association of Colleges of Nursing chose UM-Flint as one of 50 select schools to receive support and funds to host the event, which will emphasize compassionate care within the health care industry. The foundation is an international organization that promotes humane health care.
"We were chosen for the award, to a large extent, as a result of the extensive voluntary service by UM-Flint nursing students, faculty, and others to the residents of Flint who were most adversely affected by the contaminated Flint water," said Margaret Andrews, director and professor of nursing at UM-Flint.
The department has been heavily involved within the community during the water crisis, including working with the Genesee County Health Department on conducting lead screenings for area children, and educating families in areas such as nutrition and environmental lead safety.
The volunteer work has been extensive, Andrews said. For example, from November of last year, through May of this year, UM-Flint Nursing students, faculty, alumni, and staff volunteered more than 100,000 hours to help the community during the water crisis.
The August 30 ceremony is slated to include a welcome by UM-Flint  Chancellor Susan E. Borrego, and discussion of UM-Flint's contributions during the water crisis, by Toni LaRocco director of nursing services for the county health department.
Current students will answer questions from the incoming pre-licensure students about how to be successful in their classroom and clinical experiences at UM-Flint from the incoming pre-licensure students, Andrews said.
"They are  outstanding role models for the incoming students," she said.
Those being inducted will wear lab coats, and will be given a UM-Flint arm patch and a commemorative pin from the foundation as reminders that UM-Flint nursing students are expected to provide care that balances scientific and technological knowledge and skills with humanistic, altruistic, compassionate health care for all people, Andrews said.
The event, which is from 6-7:30 p.m., is a celebration, but also a reminder of the full spectrum of what it means to practice professional nursing, she said.
"UM-Flint's nursing program has high standards, and admission is very competitive. It is a big deal to be accepted," Andrews said. " I remind students, You are the brightest and the best. But it doesn't matter if you're really smart unless you balance it with compassion, care, and the human touch."
Contact University Communications & Marketing with comments, questions, or story ideas.