UM-Flint's Substance Use Treatment Degree Slated for 2017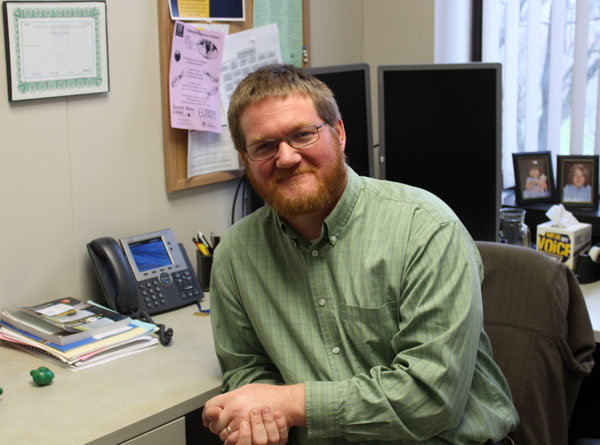 Students interested in pursuing a bachelor degree in Substance Use Treatment and Intervention at the University of Michigan-Flint will likely have that option starting Fall 2017 when the School of Education and Human Services hopes to launch its new program within the Social Work Department.
Though the bachelor degree program is currently in planning stages and has not been officially approved, it would come at a time when a growing number of people nationwide who are afflicted with substance abuse issues do not seek or follow through with treatment, or are unable to find suitable treatment centers close to home.
"There is so much need for treatment," said Ryan Ashley, Substance Abuse Treatment Program Coordinator. "Research from the Bureau of Labor Statistics shows the demand for substance use and behavioral disorder counselors is expected to increase 22% nationwide through 2024, which is faster than the average for all other occupations."
The Social Work Department currently offers a Substance Abuse Treatment minor that is designed to complement multi-disciplinary fields such as public health, business, management, and social work.
The department intends for the new bachelor degree in Substance Use Treatment and Intervention to take students deeper into substance use topics than the minor, fully preparing them to take the state Certified Alcohol and Drug Counselor (CADC) exam or to allow them to advance to graduate programs in social work, counseling, psychology, or other fields.
The new program requirements under review include 124 credit hours of coursework, a two-semester field placement in a treatment center, homeless shelter, or similar setting, and a supervised volunteer experience requirement.
Some Degree Course Offerings Available Fall 2016
Currently the Social Work Department encourages students to get a head start on the new major by taking courses in Fall 2016 that already meet some of the anticipated new bachelor degree requirements.
"SAT 202 Problems of Substance Abuse will get you started with the major," Ashley said. "The course goes over different types of drugs and substances, how they affect the body, the risks of overdose and contracting disease, and problems related to substance use and abuse."
CDR 435 Understanding Post-Traumatic Stress Disorder is another option for students. This course provides an overview of PTSD, including diagnostic criteria, recognition, assessment, and intervention strategies.
SWR 320 Substance Abuse Theory, Treatment, and Special Populations, and SWR 330 Substance Abuse Treatment and the Dual Disorder Community are two additional choices that students can take this fall to apply toward the major.
The Social Work Department is working to keep costs down for students who enroll in the Substance Use degree program's introductory courses by providing free e-books through the UM-Flint Thompson Library along with convenient online course options.
Contact University Communications & Marketing with comments, questions, or story ideas.