UM-Flint Offers New Programs, New Departments, More Degrees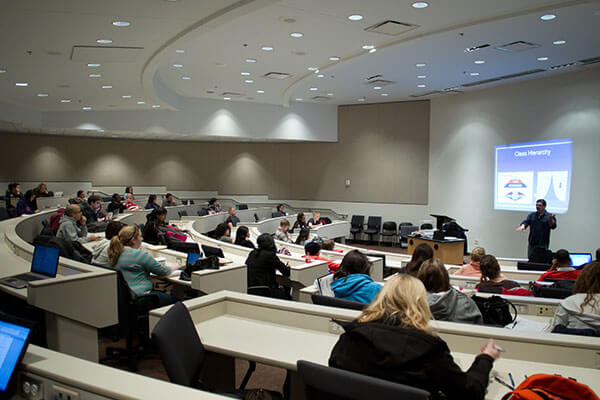 The University of Michigan-Flint continues to evolve and is launching a series of new programs and changes this fall. There will be new degrees in every school and college within the university, as well as department changes to expand courses and specializations for students.
"The University of Michigan-Flint continuously evaluates its academic portfolio," said UM-Flint Provost and Vice Chancellor for Academic Affairs Douglas Knerr. "The new degrees and reorganizations emphasize creativity, analytical skills, and problem solving. I am thankful for the many talents of our outstanding faculty, who developed these new programs to help our students expand their career options and talents."
The School of Management is evolving to help students in multiple ways. This spring, SOM reorganized into two departments by creating the Department of Accounting, Finance and International Business, and the Department of Management and Marketing.
"We had area coordinators (previously)," SOM Dean Scott D. Johnson said. "It is more formalized into departments. These are like-minded disciplines. The faculty who work in these areas can be much more focused on innovation in curriculum within their departments. There will be more focus on mentoring of faculty by the department." Johnson said the new departments will speed up the ability of students to connect with faculty mentors. SOM is also offering a new major in supply chain management starting in the Fall 2016 semester.
The curriculum will emphasize problem solving and analytic skills, and will give students the opportunity to develop knowledge and skills in new product development, retail management, international management, and project management.
"Employers want students who can use analytical skills, and think through problems, and be an objective thinker, and think with numbers," Johnson said. "There is so much data out there now, you have to be able to look at a lot of data to try and understand the world and make inferences about how the world works."
There are "vibrant" changes within the College of Arts & Sciences, too.
The college will offer a new degree, a Master of Science in Engineering, in 2017. The new degree was created because of market demands in the economy, making graduates more job-ready as they enter the field.
The degree will focus on mechanical engineering, helping students prepare for a wide range of fields, such as aerospace, sports, biomedical systems, manufacturing, consumer products, security systems, and defense systems. Mechanical engineering plays a key role in the automotive and healthcare industries. The UM-Flint program will offer research opportunities and courses that will enhance students' entrepreneurship and innovation pursuits.
Also in the fall within CAS, the Earth & Resource Science Department at UM-Flint will be renamed Department of Geography, Planning, and Environment. The two existing majors in the department have been restructured into Environmental Science & Sustainability and Urban & Regional Planning. The department will continue to offer minors in Environmental Science and Urban & Regional Planning, a certificate in Geographic Information Systems, and the Integrated Science TCP, Social Studies TCP, and Earth Science TCP minors for prospective teachers.
Department officials said the changes reflect student support, faculty expertise, and the approach to the curriculum provided. The changes will help students interested in science or planning to receive even more preparation for careers or graduate school in these fields.
"We are proud to be an institution that responds to the needs of our students and community partners, while maintaining the values and mission of a liberal arts education," said College of Arts & Sciences Dean Susan Gano-Phillips.
"We believe in cultivating graduates who are adaptable and resilient in times of change. New degrees like the Master of Science in Engineering and thoughtful updates like those taking place in the Department of Geography, Planning, and Environment (formerly Earth & Resource Science) are perfect examples of the College of Arts & Sciences' commitment to that belief. We're looking forward to the ways in which these new offerings will help the College grow and allow our students to better respond to the world they will face after graduation."
The Department of Communication and Visual Arts is also looking at some major changes, reorganizing into two independent entities. The Department of Communication Studies and the Department of Art and Art History went into effect July 1.
"We are excited to complete this transition to create two independent and vibrant departments and to see how their curricula and programs develop in the coming years," said Dean Gano-Phillips. Officials from the College of Arts & Sciences said the change provides flexibility for faculty appointments, advising, course scheduling, and administrative matters.
Like its peers from CAS, the School of Education and Human Services is planning a new graduate degree. SEHS plans on offering a Master of Arts in Mathematics Education for elementary and early childhood educators in Fall 2017. The master's degree will help train new elementary math specialists in public education, and will also help practicing Pre-K through Grade 5 teachers develop their skills in this critical field. The mathematics deficiencies of American students is a well-known and serious problem, SEHS officials said, and this degree will help combat that problem and further elevate teachers' skillsets.
SEHS will also start offering a Bachelor of Science in Early Childhood Studies starting in Fall 2016. The program, a research-based multi-disciplinary study, prepares students for careers that involve working with young children and families with young children. These studies can help students pursue careers in fields such as early childhood education, social work, family law, psychology, speech therapy, occupational therapy, public policy, small business, and higher education.
"The early childhood education faculty in SEHS are developing innovative and cutting-edge approaches to train early childhood care providers and teachers," said School of Education and Human Services Dean Bob Barnett. "This newest program is an excellent example of how they have used their expertise and commitment to the benefit of our youngest population of students in the community."
The School of Health Professions and Studies is planning a doctoral degree in occupational therapy. It will be a ground breaker in the state of Michigan when it is launched in the Fall 2017 or Fall 2018.
This will be the first doctoral program in occupational therapy in the state of Michigan, said SHPS Dean Donna Fry.
"We are excited to offer this new career preparatory program to students and to engage the occupational therapy faculty in collaborative teaching and research with faculty from our other health career programs."
Fry said the degree will help SHPS extend its relationships within the community even further, and will work well with the already existing Doctor of Physical Therapy program in SHPS.
The occupational therapy program provides students with an additional professional program of study within the rehabilitation field, Fry said. The United States Department of Labor, Bureau of Labor Statistics states that employment for occupational therapists is projected to grow 29 percent from 2012 to 2022, she said, which is much faster than the average for all occupations.
All of the new majors and offerings, across the university, highlight UM-Flint's ability to adapt, evolve, and leverage its talents, said Dean Johnson.
"All of these are really looking at the future of the workplace and the future of how organizations are going to compete and make a difference in the world," he said. "These new majors and these new opportunities are a way to keep being innovative."
Contact University Communications & Marketing with comments, questions, or story ideas.