UM-Flint TESOL Certificate Opens Doors to Life Abroad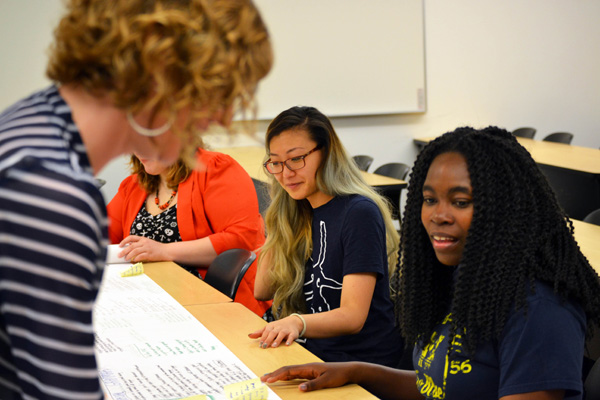 The University of Michigan-Flint's English Department has added a TESOL Certificate to its offerings. This 15-credit certificate for Teachers of English to Speakers of Other Languages will allow students to qualify for teaching English in many countries, often without the requirement of additional teaching credentials.
Says Emily Feuerherm, Assistant Professor of Linguistics, "The TESOL certificate is for all undergraduates who are interested in gaining experience abroad after graduation. Employers in all fields like to see job candidates who are able to work with people of diverse backgrounds, are mature and worldly, and have found success outside of their comfort zone. All of these are attributes of people who study or work abroad. As a certificate program of only 15 credits, this program can be tailored to students' schedules. Students who may be particularly interested in this certificate program are students with an international background or an interest in traveling internationally; students who study foreign languages, English, education, international relations or international communication; and business, economics, or marketing students."
Students at UM-Flint are already interested in this new program. Senior Morgan Troxell is a double major in English with specializations in literature and professional communication. She said, "I'm interested in teaching English abroad because I've always wanted to teach, and, most importantly, I really enjoy learning, especially about other cultures, languages, and places. My greatest hope is to experience the world, to make friends all around the globe, and bring a little bit of the people and places I've met back with me. After teaching English abroad for a few years, I'd love to be a professor of literature and, one day, publish a book. And I feel like my experiences teaching English abroad will both challenge and inspire me and help me to develop my skills as a communicator and educator."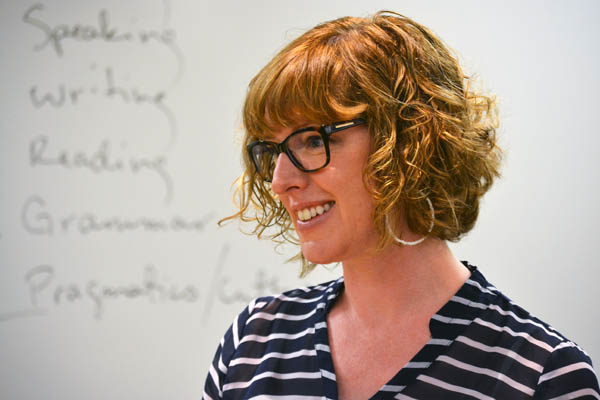 Teaching English Aboard
The UM-Flint TESOL certificate has its roots in Feuerherm's own experiences traveling the globe: "My first experience teaching English abroad was in Switzerland. I had recently graduated with my BA in anthropology and I found work in Switzerland as a teaching assistant to a high school English teacher. I supported students' speaking, listening, and conversational skills. I was not trained at all in TESOL, but I had so much fun teaching English that I decided to return to school to pursue a MATESOL degree (which later turned into a PhD in linguistics). To put it another way, I found my passion while living and working abroad, and I know the same is true for many of my friends and colleagues."
Students interested in teaching English abroad may be surprised to know that they don't need to know the majority language(s) of the country. Feuerherm said, "Many English teachers abroad arrive to their post with limited or no skills in the majority language and will learn while they are there. Most English teaching jobs abroad only require that teachers have native-like fluency in English." Feuerherm is sympathetic to the challenges of living and working abroad as well as the fear of the unknown and the culture shock that can be felt upon arrival. She says, "Everyone experiences this, and it is hard, but the benefits are so worthwhile. Overcoming this hurdle makes you grow and learn so much about yourself and the world."
Senior Elexis Nelson hopes her own experiences will echo that sentiment. She's adding the TESOL certificate to her English degree that will have a specialization in linguistics. Nelson said, "Language, the study of languages, and teaching language has been my passion since I started college. Being someone who is a native-English speaker, I can still see the difficulty in learning such a language that has become the lingua franca in the most advanced corners of the world. English has a global history and the patterns and customs of the language are not easy to master. This is why I chose to teach English as a second language with a linguistics background; because with linguistics it is much easier to explain aspects of the language to non-native speakers. I'm hoping with the TESOL certificate I will be able to teach English as a second language in South Korea. I have begun my fluency in the Korean language as I feel it, plus the linguistics background, will improve my ability to thoroughly teach English as a second language. In previous years studying here at UM-Flint, I was unable to take the TESOL program here. This was unfortunate because I would have to receive the certificate at another institution or online which is not ideal. Fortunately Professor Feuerherm was able to receive approval for this program before my set graduation date and I will be able to have certification to teach right after undergrad."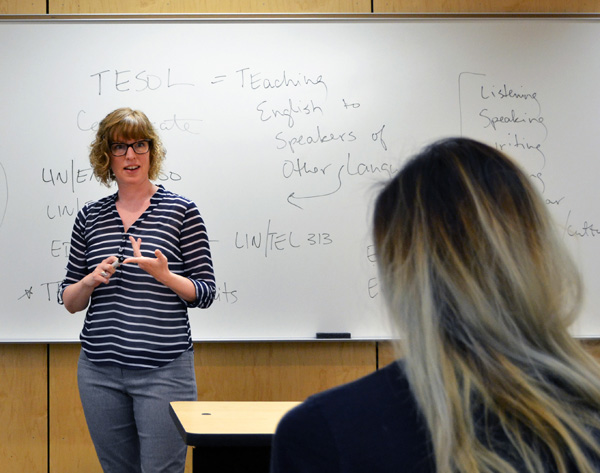 Earning a UM-Flint TESOL Certificate
Earning the TESOL certificate will take some foresight by students. Notes Feuerherm, "The program takes 3 semesters, and courses are not offered every semester, so students should plan ahead if they want the certificate." The course rotation is flexible, allowing for classes that will cover the teaching of other languages abroad besides English or for focusing on teaching children.
She adds, "Most TESOL certificate programs are offered by private organizations or trade schools, are online, and do not require that students be enrolled in college. The benefit for our students is that many of the TESOL jobs abroad require at least a BA/BS in some field and prefer that the teachers have some experience in the classroom. Because our program has a practicum component where students will get real experience, and will have a college degree, they will be able to access better positions."
When asked about the direction she'd like to take with this new program, Feuerherm said, "Looking to the future, I think that once we get this program started we will look into the possibility of teaching some of the courses online. We will also research the possibility of developing an MATESOL program, or getting an endorsement for the teaching certificate for TESOL (the endorsement would allow students to teach ESL at US public schools). This would make the program more accessible (in the case of online courses) and provide access to more jobs in more locations. However, these are big dreams which will take time to work out, so I wouldn't expect to see this in the next few years."
---
For more information on the UM-Flint TESOL certificate, students should speak with their advisors, visit umflint.edu/english/tesol-certificate, or contact Emily Feuerherm at 810-766-6613 or feuerher@umflint.edu.
Contact University Communications & Marketing with comments, questions, or story ideas.