UM-Flint Faculty Research Aims to Improve Life for Immigrants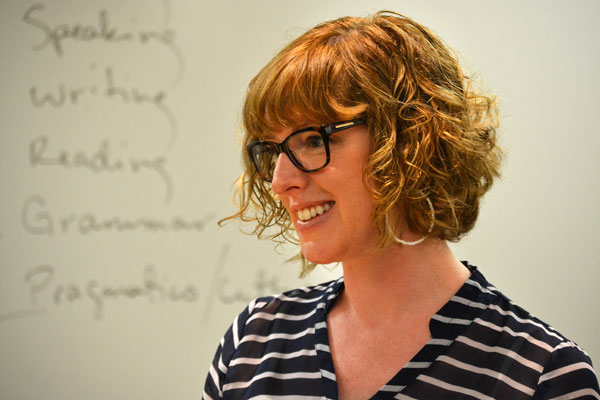 Editor's Note: This profile is the first in our Faculty Research Spotlight series, highlighting the research of University of Michigan-Flint faculty and its benefit for our community and our world. Learn more about research at UM-Flint at umflint.edu/research. To suggest a faculty research project to spotlight, contact UM-Flint staff writer Robert Gold at goldr@umfllint.edu.
---
New research being done by UM-Flint professor Emily Feuerherm looks to create recommendations for how to make Flint a better, more hospitable place for immigrants.
Genesee County's foreign born population is just less than 10,000, according to U.S. Census estimates.
Immigrants bring new talents, perspectives, and energies to the community—and they help build neighborhoods, grow the economy, and spur new ideas and relationships, said Feuerherm, an assistant professor of linguistics within the English department at UM-Flint.
Using community-based research, Feuerherm hopes to have a direct impact in improving the quality of life for Flint's diverse immigrant population by identifying needs and support services. Her research will include immigrants from India, Pakistan, China, Vietnam, Syria, Egypt, Jordan, Palestine, Iraq, Algeria, Morocco, Mexico, and other countries.
Using focus groups and surveys, the research will delve into multiple aspects of life—such as what it was like to move to the area as well as what uncertainties and questions each group faces.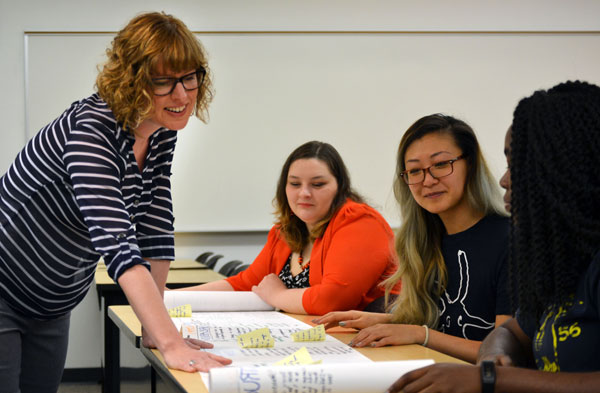 "If we have a better sense of how we can better support immigrants already here, it will make it a more interesting place, a more welcoming place for new immigrants," she said.
Feuerherm started at UM-Flint in the fall of 2014, and began to research English as a Second Language options (ESL) in the area by talking with various community groups focused on immigration support. The UM-Flint English Language Program (ELP) is "an excellent resource," along with other services, but the need for more support groups in the broader community is critical, she concluded.
"There are just so few compared to other cities of similar size," she said about free or low cost ESL programs.
Feuerherm helped start up the Flint Center for International Cooperation, a group of immigrant and international migrant advocacy individuals. Through this entity, focus groups with international students at UM-Flint, Mott Community College, and Kettering University were conducted.
"The result from these interviews and focus groups showed that while the university provides excellent support for these students, they are eager to be more involved with the wider community and would like to have a community center where international cultures, languages, and experiences can be shared and supported."
The extensive surveys and focus groups with local immigrant groups are expected to start near the end of this summer. Individuals working with Feuerherm will help translate, or provide cultural context.
The research will delve into multiple aspects of life, such as what it was like to move to the area, and what uncertainties and questions each group faces.
After the data is analyzed, the information will be shared with community partners to see what action can be taken, Feuerherm said. While her interest focuses on ESL programs, this research will help quantify what other support, such as job training, or social outreach, may help. The data, whatever it finds, will help various community groups request and receive grants to offer these services, she said.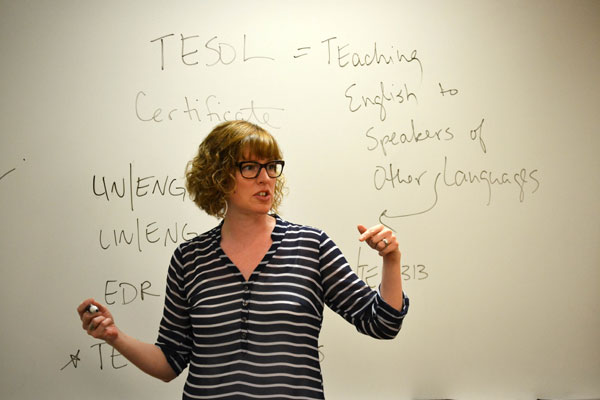 "This is a community needs analysis. I hope to use the data we gather to provide better services, to support these services," she said.
Survey and focus group participants are being contacted and reached through the various community members participating with Feuerherm.
Adil Mohammed, who owns an IT/software development business, with space in the university's Innovation Incubator, is helping Feuerherm reach out to the community. Mohammed is originally from India, came to the United States in 1983, and became a citizen in 1994.
"I understand some of the struggles some of the new immigrants go through," he said.
By connecting immigrants to others in the area helps maximize the talent and build relationships.
"I think all are beneficial to the region, to the Flint community," he said. "The new immigrants coming here bring new ideas here, bring new innovation to society. I see it's going to be beneficial to Flint. UM-Flint is such a big part of downtown Flint and renovation. We have to leverage that. We have to build on all that. I see this as an opportunity to do that."
Contact University Communications & Marketing with comments, questions, or story ideas.