UM-Flint Student Lives Journalistic Dream Before Graduating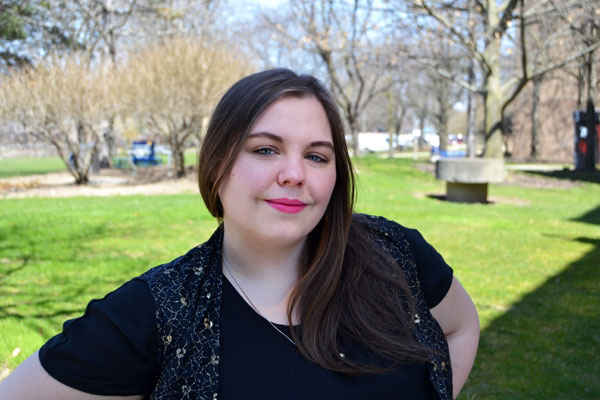 Many young and aspiring journalists dream of one day working for The New York Times—but not too many bother to dream about working for the world's best known newspaper before they graduate college.
That stuff just doesn't happen.
Unless you're Natalie Broda.
"I would be lying if I said getting this assignment wasn't a literal dream come true. When I first decided to become a journalist five years ago, I knew reporting for The New York Times was one of my ultimate life-goals. I had imagined myself getting this call a hundred times before, but never when I was 23 years old, just about to graduate college," she said.
The recent graduate of UM-Flint had just a few weeks of the semester left before she graduated with a communication degree and kissed her beloved job as the editor-in-chief of The Michigan Times goodbye when she was woken up by a phone call.
It was Scott Atkinson, faculty adviser of The Michigan Times, with an opportunity.
"Did I wake you up?" he asked.
She said yes.
"Well, do you want to work for The New York Times, or what?" he said.
Atkinson, a lecturer in UM-Flint's English Department, is a also a freelance writer and had been working for The New York Times covering Flint's ongoing water crisis. When he was unavailable for a last-minute assignment, he asked his editor if she'd like him to find someone else to fill in.
He told her knew just the person, one of his "rock star" students, he said.
The story in question involved reporting on the first criminal charges by the state against three employees at the Flint water treatment plant. Broda's assignment was to gather interviews from everyday citizens to get local opinions on the criminal charges. She also interviewed local politicians and activists.
"I don't think the reality of what was happening sunk in until I was on the street reporting, and that's when the determination to prove oneself takes over. I spent that day floating between shock, joy, and complete focus. I believe life only brings you so many opportunities like this, and when it does, you have to shine as bright as you can and show the world what you're worth. I'm proud to say I think I accomplished that," Broda said.
For Atkinson, it was a proud moment.
"It was one thing when I got my first assignment for the Times," Atkinson said. "But as a teacher and mentor, to be able to bring that kind of opportunity to a student and watch her succeed, that's even more special."
He is quick to add that Broda's work was more than a matter of "who you know."
"Sure, that's part of it," he said. "But I wouldn't have called Natalie if I didn't know she'd knock it out of the park. That wouldn't have been fair to the Times and it wouldn't have been fair to her. I'm just glad I'm in a position to help students reach their full potential."
In addition to her work at The Michigan Times, Broda is also a writer for Crain's Communications in Detroit, covering business.
Broda said that while the experience was a dream-come-true, it also has obvious practical benefits for a young journalist.
"It's hard to say what a connection like this will do for my career," she said. "One thing I do know is that something like this has unmeasurable value for a young writer. Like many seniors, I spent my last semester wondering if I was at all prepared to take on the real world and follow my dreams. It might sound corny, but this one day changed all of that. It was a not so subtle reminder that the world is waiting, and if you don't take a chance, if you don't believe in yourself, you'll never know your true potential."
The story came out and, sure enough, at the end of the piece, there it was: "Natalie Broda (reported) from Flint."
"It was a truly awesome experience," she said. "I don't think I'll ever forget the first time I got to say 'Hi, I'm Natalie Broda, freelance reporter for The New York Times.'"
Contact University Communications & Marketing with comments, questions, or story ideas.