Artist Dale Chihuly Sends Gifts to UM-Flint Early Childhood Center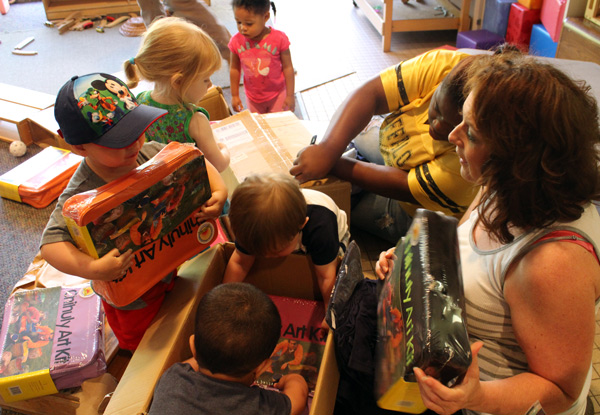 Each stage of creating a chandelier out of plastic water bottles and paint was filled with surprises for the group of two-year-old children in the Fiore Room at the University of Michigan-Flint's Early Childhood Development Center.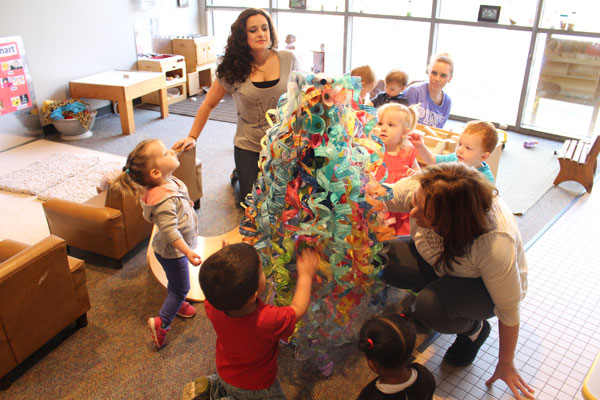 New surprises continued this week when individualized art kits and T-shirts were delivered to the kids in the Fiore Room, sent by glass artist Dale Chihuly, whose beautiful glass sculptures inspired the making of the chandelier.
After learning about the children's project, Chihuly mailed the gifts to show his appreciation and to encourage the children who worked on the project to nurture their creativity at home. The T-shirts are printed with a Chihuly lobster illustration, and the art kits contain a book, stickers, paint, brushes, and other supplies.
"I'm always pleased to see how my work inspires young people," commented Chihuly from his Seattle studio while preparing for his next exhibition in Toronto. "Leslie and I are very impressed with the chandelier these young kids created using the recycled water bottles. They really did a great job. The fact that the kids were able to learn about color and form and create a work of art during a difficult and trying time in Flint is a positive thing."
The chandelier recently returned home to the ECDC after being on display at the Flint Farmers' Market in May. Diana Hensley, Fiore Room head teacher, said many members of the Flint and campus communities were impressed by the project and the Center's connection to a world-renowned artist.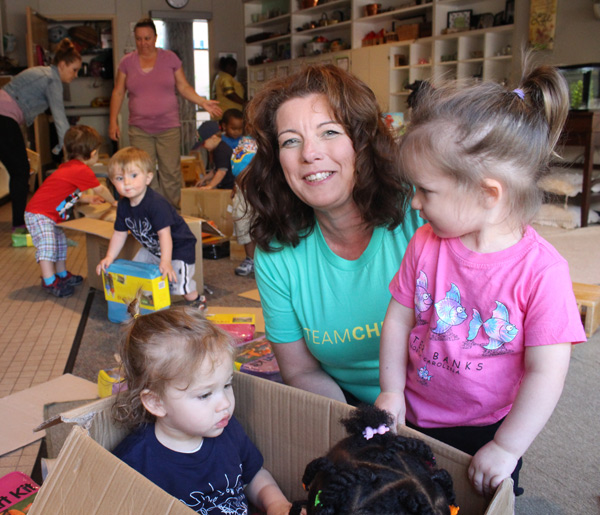 "The faces of people in the community just lit up when they learned about the connection to Dale Chihuly," Hensley said. "We didn't know when we started where this journey was going to take us. There have been a lot of surprises along the way."
When the boxes were opened for them, the children rushed to empty them, handling and stacking the compact art kits, and donning their new T-shirts. A few couldn't resist climbing into the empty boxes and looking around. Later they took their Chihuly gifts home to work on with their parents.
The chandelier project helped them to learn language, identify colors, develop motor skills, and discover how an artistic piece comes together from simple materials.
"Their language is emerging, and this project strengthened their desire to participate with language and learn new things," Hensley said. "Every time you create a new experience with a child, it helps their brain to strengthen and grow. Art can be a great avenue for that."
Contact University Communications & Marketing with comments, questions, or story ideas.