UM-Flint Offers a Diverse Selection of Youth Summer Camps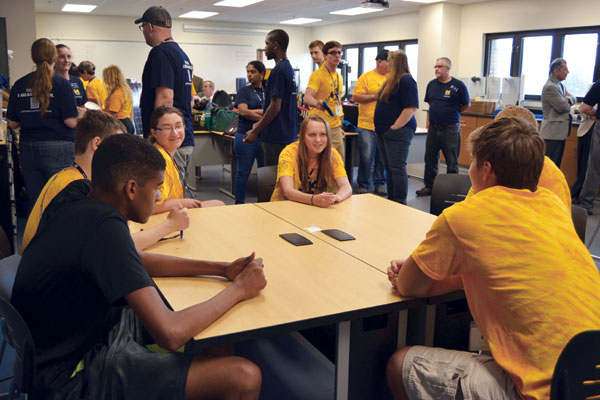 The University of Michigan-Flint will run a wide variety of camps on campus this summer, giving students of all ages a chance to experience the college setting, have fun, and learn from university experts.
Some camps include overnight stays in university housing, while others are day adventures. But they all tap into the university culture and campus spirit.
"UM-Flint is committed to offering year-round educational experiences for Flint's K-12 students as a way to introduce them to our campus, to show them what a college experience looks like, and to create pathways to a post-secondary education, especially for students in our local community," said UM-Flint School of Education and Human Services Dean Robert Barnett.
"Pre-college experiences such as summer camps can have a positive and lasting impact on students by exposing them to the possibilities and opportunities that a college education provides."
The camps cover the broad spectrum of career fields and topics of learning, such as music, engineering, math, science, physical fitness, and reading. Most provide scholarships, reduced rates, or are free.
Find out what camp is right for you or someone you know. Here is a summary of many of the camps being offered, with links to further details about signing up and what comes next:
The academy will hold two camps in July, running a Junior Academy (students currently in 4th through 7th grade) July 5—15, and a Senior Academy (8th through 12th grade) July 19—29. The academies focus on vocal music, with students learning to develop their singing skills and overall music potential.
"Academy students experience a curriculum of classes designed to nurture their abilities, while expanding and deepening their understanding of music as an art," according to organizers, with Department of Music professors, alumni, and guest faculty guiding the students. Both academics include a closing concert. New students need to audition, but there are several audition dates still available. Call 810-762-3377 for more information. Classes are held 8 a.m.—2:30 p.m. on weekdays.
The six week summer program dives into a host of topics, including English, math, science, leadership, physical fitness, nutrition, along with college tours and cultural experiences. Organizers said "students' academic and interpersonal skills will be strengthened to prepare them for success in college."
The classes are held 9 a.m.—2 p.m. weekdays, July 11 —August 19.
It is open to students currently in 8th through 12th grade attending a Flint Community School, Flint Public Charter School, Genesee Early College, or Mott Middle School. The program is free but applications are due by June 1. For more information, call 810-762-0160.
The is a new summer camp run through the university's Office of K-12 Partnerships, with the School of Education and Human Services. It is a great chance for students who will be juniors in high school this fall who are interested in careers in elementary or early childhood education. Students will get a chance to experience campus life and stay in university housing for a night. Students will learn from Education faculty, take sessions within the School of Education and Human Services on campus, and get a tour of the Early Childhood Development Center. Call 810-237-6526 for more information. Students can sign up through June 3 for the two day camps, which are held July 18—19 and July 20—21.
This camp, run through K-12 Partnerships, with Engineering, gives high school students a chance to explore hands-on engineering challenges, and utilize the skills of the Engineering Department's faculty and staff. Students will design, manufacture, and assemble their own Stirling engine to take home. Students will learn a host of skills including product design and 3D printing. The day camp is 8 a.m.—4 p.m. June 21—23. Deadline for registration is June 3. For more information, call 810-237-6526.
This new camp, run through K-12 Partnerships, with the School of Management, lets high school students who are incoming juniors and seniors dive into the world of business and entrepreneurship. "The mission is to encourage entrepreneurial thinking and to assist students in learning about the process of starting and growing new ventures," according to organizers.
The camp is held July 12—14. School of Management faculty will the sessions, with students engaged in several creative projects. There will also be a field trip to visit entrepreneurial businesses. Deadline for registration is June 15. For more information, call 810-237-6526.
"Each of these camps offer an area of expertise that is usually not found anywhere else but on a college campus," said Jeff Pratt, coordinator of K-12 Partnerships, about the departments' camps. "College faculty that work daily in engineering, education, and entrepreneurship are available to give specific instruction and experiences for the lucky students that sign up."
EOI is holding three CEO (Committed to Excellence and Opportunity) camps this summer. All three are academic enrichment camps which help students prepare for the next stage of learning. And all three are free. The Rising 7th and 8th graders camp is held June 26—July 1, with students staying at the Riverfront Residence Hall. The Rising 9th graders program is a day camp (8 a.m.—4 p .m.) , and runs July 5—August 11. The Rising 10th and 11th graders camp runs from July 5—August 11, with students staying at the Riverfront Residence Hall. Call 810-762-3365 for more information.
EOI also offers the WOW Summer Program, in which high schools students and graduating seniors prepare academically and socially for college. The program is free. The workshops and roundtable discussions take place on July 12—14 and July 19—21 from 11 a.m. to 12 p.m. and explore math, science, English, leadership, and more. Call (810) 762-3365 for more information.
The Reading Center K-8 camps will help enhance and encourage students' writing skills and enthusiasm for writing. The students will create a notebook of original writing "that explores essay, story, and poetry, use of literary devices, and each stage of the writing process", according to organizers. Students will choose one of their writings to be included in a camp anthology. The camp will be held July 25—28 and August 1—4 from 10 a.m. to 11:30 a.m. For more information, call 810-762-3260.
The UM-Flint Recreation Center, with the Flint Cultural Center, are once again holding Camp Summer Fun. This camp, held at the university, runs from June 20—July 22, with no sessions held the week of July 4. The camp is for ages six through 11, with however many weeks the camper wants to attend. Each week is a different theme, with campers taking daily visits to different sites at the Flint Cultural Center, including the Flint Youth Theatre, Flint Institute of Art, Sloan Museum and the Longway Planetarium. With UM-Flint students in education and other fields as camp counselors, each week delves into a different topic, such as acting, storytelling, science, history and culture. Call 810-762-3441 for more information.
The UM-Flint Recreation Center will run two basketballs camps in June. They are led by former Chicago Bulls draft pick Ervin Leavy, Jr, who is assistant director of intramural sports at the Rec Center. The camps, designed to improve youngsters' basketball fundamentals and skills, includes ages 7 through 10 (coed), June 20—23, and another that is ages 11 through 14 (coed), June 27—30. For more information, call, 810-762-3441.
Contact University Communications & Marketing with comments, questions, or story ideas.