UM-Flint Music Students and Graduates Share Mariachi Throughout Michigan
When Desmond Sheppard joined a local mariachi ensemble two years ago, he didn't know much about the music and its style. At the time, he was a UM-Flint music education student and liked the idea of trying something new.
Sheppard graduated last May, and continued with the ensemble. It is run through El Ballet Folklorico Estudiantil, a local non-profit group that teaches traditional Mexican arts and culture. He has learned a new instrument, guitarrón, a large, six-string acoustic bass. But even more so, he has embraced another culture and lived it with his audiences and ensemble mates.
"I have grown to really enjoy the music," Sheppard said. "The history is pretty storied. It has just been a fun ride. It is good to get out of one's comfort zone. It is a nice stepping out point."
The ensemble is not formally associated with UM-Flint, but several students and recent graduates have and are performing with it as paid musicians, said Sue Quintanilla, director of the non-profit. More than half of the current ensemble is made up of UM-Flint students or recent graduates.
Two years ago, UM-Flint music professor and department chair Brian DiBlassio encouraged university music students to consider the ensemble, which helped Quintanilla get it up and running.
The students also lead mariachi lessons once a week at Our Lady of Guadalupe in Flint.
The ensemble performs across the state, including Grand Rapids, Lansing, and throughout the Flint area. They perform May 5 at 6 p.m. at Tia Helitas in Burton.
Quintanilla said employing UM-Flint students allows her to add talented musicians to the ensemble, and helps the students hone their musicianship and performance skills.
Mariachi music teaches students to take a leap of faith with the audience she said.
"In mariachi, you have to be out and involved with the audience to make it a successful presentation," she said. "Almost every time they perform, it brings tears to someone's eyes, if they are doing it right. It is a very emotional activity."
UM-Flint senior Felicia Hall joined the ensemble as its singer early this year. She knew some Spanish before, but singing in the language has greatly increased her knowledge of it.
"It's tough but is a very cool, it's a very unique experience, and I think it makes me a more well-rounded individual," she said.
DiBlassio said the students utilize their talents honed at UM-Flint, and add to it by performing in the ensemble
"In some cases, they get to play many instruments that they normally don't play," DiBlassio said. "Obviously it is a very diverse type of music that is not in the standard repertoire."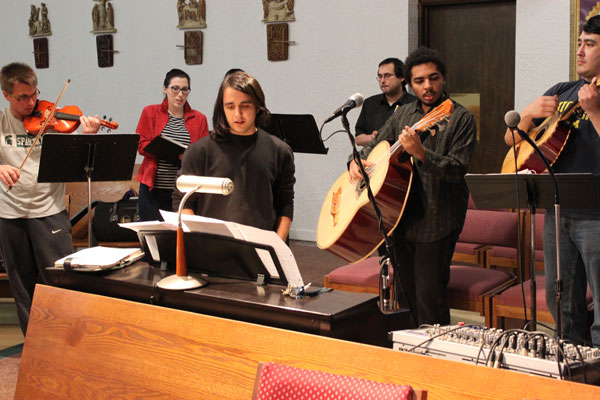 Michael Abbasspour, a UM-Flint junior plays guitar in the ensemble. The music department supports its students, looking out for other opportunities, such as the mariachi ensemble, he said.
"There are a lot of great teachers. It really is a close environment. Everybody knows each other and everybody knows what interests other people may have," he said.
Sheppard is glad the organization is utilizing the talent at UM-Flint.
"What we do is more than simply playing live music and getting some laughs," he said. "We are bringing a form of culture to people who have roots to it but don't actually get to see those roots expressed too often. Which I personally think is a wonderful thing. It gives people a sense of home."
Contact University Communications & Marketing with comments, questions, or story ideas.