UM-Flint Honors Graduates at Record-Setting Spring Commencement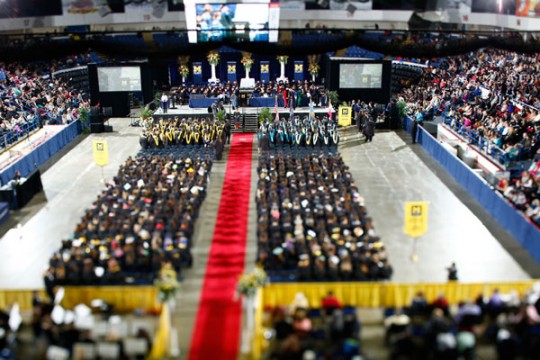 Astronaut Story Musgrave urged UM-Flint graduates to follow their passion and dreams, to continually add skill-sets, and to be creative in reaching their goals.
"Your passion and your dreams. That is what drives you forward…that is how you select your next opportunity," said Musgrave, the keynote speaker at both University of Michigan-Flint Spring Commencement ceremonies May 1.
More than 1,000 students graduated this semester, with a record number of 843  walking across the stage at Dort Federal Credit Union Event Center.
Musgrave has led a dynamic and varied professional life. He was a NASA astronaut for more than 30 years, flying on six spaceflights. But his story has been one of creativity, diligence, and finding his own path to each career. 
"The important thing is you keep going down that road. You keep going down the road," he said.
Musgrave encouraged the graduating class to embrace their future.
"Where do you go tomorrow, that is what is important," he said.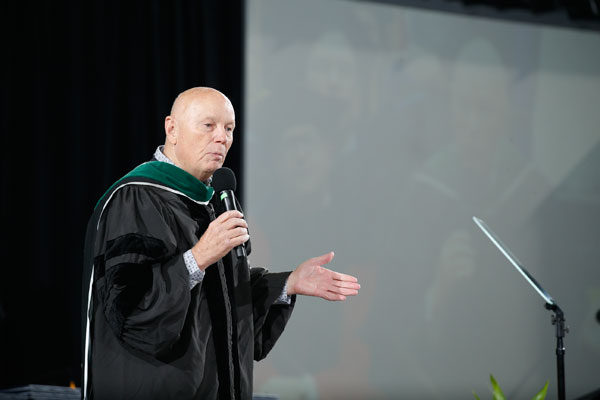 Chancellor Susan E. Borrego celebrated the accomplishments of the students and their college careers.
"Today, we celebrate you," she said.
A big part of each person's success is their support network at the university and beyond, she said.
"As I look around this celebration today, I am reminded of all of those who helped us get here," she said.

She asked the students to applaud for those who helped them along the way, including faculty, family, friends, staff, and other students. The graduating students heartily agreed, with boisterous applause and gratitude.
Borrego lauded the campus community for uniting during the water crisis and responding with action and expertise.

"I will always remember how this university came together," to serve the community and be problem solvers, she said.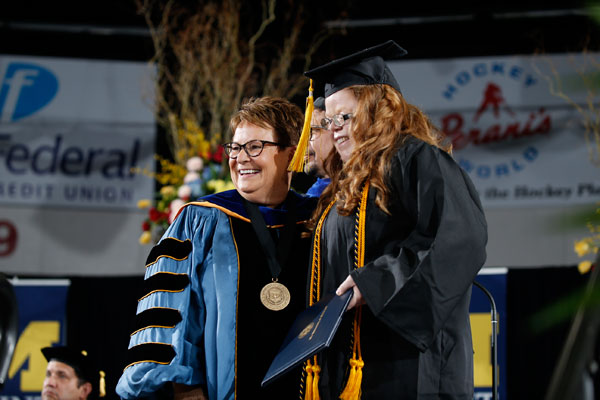 Saydee Robinson, the student speaker for Sunday's first ceremony, graduated with a bachelor's degree in social work. She is a recipient of the Maize and Blue Distinguished Scholar Award, the highest academic honor bestowed on UM-Flint graduates.
Robinson told the crowd she struggled with self-confidence growing up.
"While today I roam the halls of our campus here in Flint, between the ages of 18 months and 18 years old, I roamed the halls of another building, the University of Michigan Hospital, where I was diagnosed with Crouzon sydrome, causing facial deformities, which led to numerous surgeries and medical procedures."
It was at UM-Flint that Robinson found her path, social work, and flourished. She celebrated the faculty who encouraged her and her fellow students, "whose passion and dedication to social justice was similar to my own."
"My syndrome does not define me. My painful past does not define me," she said. "If you'd have told me four years ago that I would be making a commencement speech, I would have never believed you. I'm not only taking away a college degree from the University of Michigan-Flint, but confidence in myself and the drive to live a purposeful and fulfilling life."
Robinson challenged her peers to strive for their goals and dreams.
"You are in control, so don't forget to flaunt your maize and blue wardrobe and go out and create that happily ever after you rightfully deserve," she said.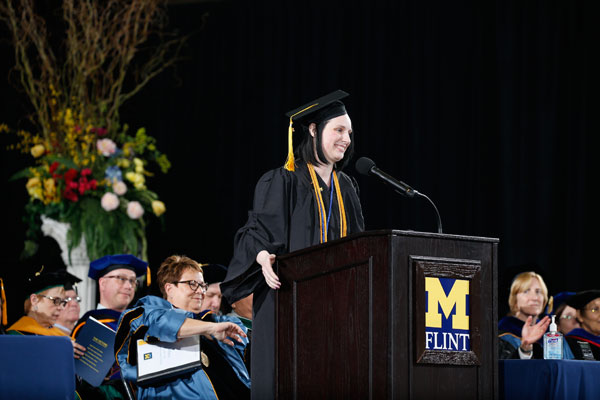 Holly Kilburn, the afternoon student speaker, graduated with a bachelor's degree in business administration in ­­­­­­human resources, management and organizational behavior. She is a Maize and Blue Distinguished Scholar Award recipient. She told the audience she came to UM-Flint to improve life for her young son. She was doing well in a supervisory role at a local fast food chain but she was working 60 hours a week and felt there was something more for her.
"One day while I was flipping burgers on the grill, I was thinking about my son and realized that even in the face of the odds, I needed to do better than I was for him. Not too long after that, I enrolled at the University of Michigan-Flint's School of Management and this was the point where my life began to change," she said.
"I had a goal for myself and my son, and the University of Michigan-Flint helped me reach that goal."
She encouraged her peers to empower themselves to achieve.
"Chase your dreams and live with passion, and simply find out who it is that you really are," she said.
Before the days' first ceremony, Lauren Watkins echoed the sentiments expressed throughout the day by graduating seniors. Watkins earned her Bachelor of Arts in French and International Studies.
About her experience at UM-Flint, Watkins said, "I like the people and organizations. That's what makes it special."
---
Find more photographs from UM-Flint's 2016 Spring Commencement  on Flickr. 
Robert is a staff writer in University Communications & Marketing. Contact him with comments, questions, and story ideas.