UM-Flint Honors Social Work and Education Graduates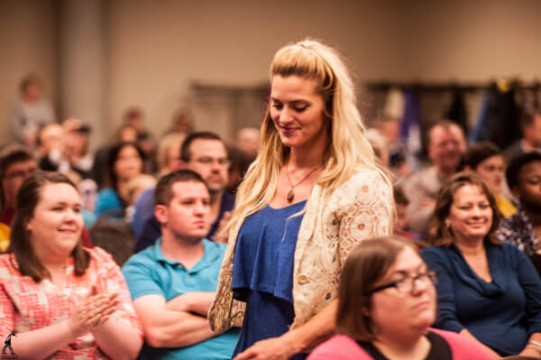 Faculty and staff of the School of Education and Human Services (SEHS) joined friends and family Thursday evening to honor 135 students in SEHS who are graduating in May from the University of Michigan-Flint.
Students in social work and education were individually recognized, receiving congratulations, honor cords, and University of Michigan-Flint alumni pins. This year, some social work graduates received cords representing Allies for Racial Justice and Velvet Sledgehammers Disability Allies.
Otrude Moyo, social work chair, led the program, praising the students for working through their challenging journeys to complete their academic goals. Provost Doug Knerr, Dean Bob Barnett, and alumni relations manager Brent Nickola also gave congratulatory remarks and encouraged students to stay connected with their faculty and other Michigan alumni.
SEHS Maize and Blue Award winners received special praise for their achievements: Melissa Miller and Hana Sankari, elementary education majors, and Saydee Robinson, social work major.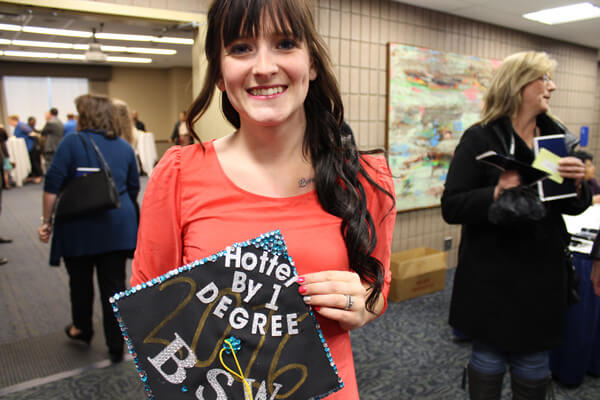 Dean Barnett, who is in his fifth year as the school's dean, expressed his great pride in the students' academic achievements as well as the successes of the education and social work programs that continue to focus on building a personalized and quality education for each student, as well as reaching out to serve the social and educational needs of the Flint community during the water crisis.
"We have worked very hard to create an individualized experience for each one of you," Dean Barnett said. "We have created new programs that are aligned with the needs of the university and that help meet the needs of the community."
Dean Barnett announced that SEHS will launch a new early childhood studies major in Fall 2016, and noted the development of its minors in early childhood studies and in substance abuse treatment. In addition, the school is sending out its first graduates from its first doctoral program in education this May.
Contact University Communications & Marketing with comments, questions, or story ideas.