UM-Flint Grad Will Work to Save, Ensure Education for Victims of Boko Haram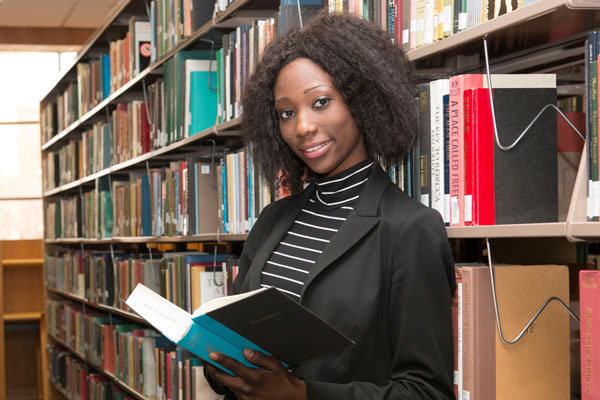 When Nubwa Gadzama graduates this May, she will join the family business of saving the world.
Or rather, she'll continue to do so. The political science and communication senior hasn't had what you'd call a typical college experience. Sure, she works hard in class and spends time with friends—she is active in various campus organizations, including student government—but she also spends her time looking after girls who were abducted by the terrorist group Boko Haram. That work is part of her family's mission to give them an education and a second shot at life.
"It hit home for many of us," she said of the abduction of the girls by the group.
It's easy to see why. Gadzama is from Nigeria and the very area where girls are abducted by the group, forced into marriage, and later sent on suicide missions.
When she returned home to her family in 2012, the issue hit closer to home than she had ever expected: There were four girls who had escaped, living with her parents.
Gadzama's parents run a nonprofit called the Education Must Continue Initiative. They run a school system in Nigeria with about 3,000 students, and they find opportunities for the girls escaped from Boko Haram in the United States.
There are twelve in all now. Gadzama is the coordinator for EMCI, and advisor for the girls.
In other words, she watches out for them.
"When I talk to these girls and we're hanging out or talking on the phone, they're like, 'I can't believe I'm in America,'" she said.
They remain secretive about the girls' names and whereabouts. The girls—some of them in college now—are still frightened about what might happen to them because of what they've gone through. They're in America, Gadzama said, because of negative stigmas that can surround the abducted girls in their homeland.
It's a job, working for her parents, but it's also a way of extending the family. The girls call her "auntie"
"My parents' relationship with the girls, it's so cute," she said. "We're like one huge family."
She's kept busy as a student, working her way up to vice chair of the student senate, being president of the African Student Association, and working with the International Center giving tours and talks to UM-Flint's growing international population.
It's the kind of resume that would make her pretty competitive in the job market.
But she likes the job she has.
"My parents' nonprofit is a job that I'm always going to have," she said. "I'm going to be busy with that."
Contact University Communications & Marketing with comments, questions, or story ideas.