UM-Flint Digitizing Theses and Dissertations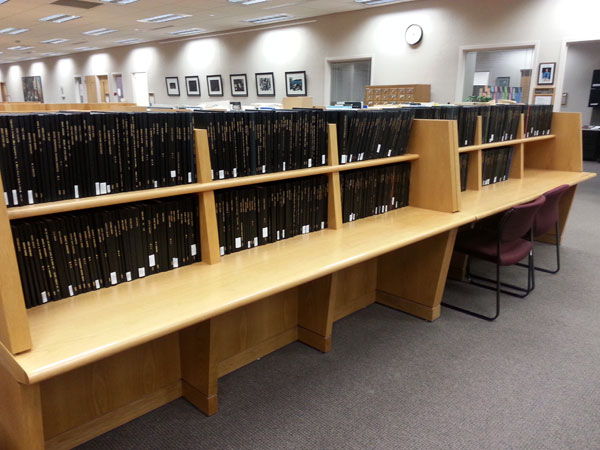 The University of Michigan-Flint is digitizing its back files of master's theses and doctoral dissertations, and will maintain digital copies of future works.
The works are being maintained within the University of Michigan digital archive Deep Blue, and within ProQuest's Dissertations and Theses Global, a database largely used by academic researchers at universities.
UM-Flint's Frances Willson Thompson Library and Graduate Programs are jointly funding the project.
"Digitizing our back file of master's theses and doctoral dissertations, as well as ongoing theses and dissertations, opens up the contributions of UM-Flint graduate students to researchers throughout the world," said Frances Willson Thompson Library director Robert Houbeck. "Enabling scholars to search the full-text of UM-Flint research theses will enrich the pool of scholarly data and analysis of a wide variety of topics."
So far, UM-Flint has digitized about 375 works.
"These represent about half of our total," Houbeck said. "We'll do the others next year, as well as new theses and dissertations, as they appear."
Alumni and students retain copyright for their work. They must give permission for the full work to be available to those using the ProQuest database. If not, users who find the UM-Flint theses would have to request a copy of the work via interlibrary loan or find it through Deep Blue.
Deep Blue is an institutional repository of scholarly work produced by faculty, students, and other researchers associated with the university system. Authors can have their thesis or dissertation available only to students, faculty, and staff on the Flint, Dearborn, and Ann Arbor campuses, or they can allow it to be discoverable beyond the university system, through search engines such as Google Scholar.
"The Office of Graduate Programs has supported the digitization of our students' master's theses. We have provided access to the theses as well as financial support for the project," said Vahid Lotfi, Senior Vice Provost and Dean of Graduate Programs at UM-Flint.
"Digitization of the theses will enable a much wider and easier access to the excellent scholarly work of our graduate students.  Individuals with access to our library resources will be able to read these great works online and even electronically search them for topics be of interest to them."
Currently, bound copies of the work exists within the library. Others hard copies are available via Graduate Programs. The physical copies will remain but this makes it much easier to find the research through subject and keyword searches, said Liz Svoboda, who is overseeing the project. Svoboda is a reference and instruction librarian at Thompson Library.
"We are preserving the institutional knowledge of UM-Flint and making sure these things are not lost. We are trying to keep the record alive and working and permanent," she said.
The library already has sent out nearly 400 letters to alumni, explaining the project and requesting permission to share the full text. The alumni range from 23 years old to 83 years old, living in 15 states and three other countries, according to data provided by the library. The alumni living in Michigan reside in 89 cities, in 29 counties.
Titles include "Looking Through A Cow Pony's Ears: The Tradition of Cowboy Poetry in America"; "Examining the Effect of Fine Arts on Mental Health and Health Behaviors in Young Adults"; and "Measurement of Knowledge, Attitudes, and Beliefs of Risk Factors for Heart Disease in College Women." The theses are authored by students in a range of graduate programs including Biology, Public Administration, Computer Science, English Language and Literature, Health Education, Nursing, and Liberal Studies.
Meghan Riley graduated from the Master of Arts in Liberal Studies, University of Michigan Rackham Graduate School, in 2014. She is currently completing a PhD in English Language and Literature at the University of Waterloo.
Her master's thesis, "Reading, Writing, and Revising our Bodies: Reimagining Race, Sex, Sexuality, and Disability through Speculative Fiction," will be digitized and available in full text via both Deep Blue and the ProQuest database.
Riley said the digitization project has multiple benefits.
"Speaking for myself alone, I believe that even though my master's thesis is an early example of my academic work, it will potentially benefit me by promoting the reading and citation of my work; it may benefit future students at the University of Michigan and other universities by providing a resource for those who study intersectionality in and the teaching of speculative fiction," she said.
Svoboda explained the process in which the first batch of works were digitized.
"We packed up the theses in boxes and drove them down to ProQuest's facility in Ypsilanti. Each thesis was put into a machine that took a picture of each page and then used vacuum suction to turn the page. And repeat. Then a ProQuest technician used document editing software to make sure that the scans were readable and cleaned up any imperfections (dark spots, wavy lines of text, etc.) they saw," she said.
"Afterwards they shipped the theses back to us. In addition to the hard copies we also received PDF copies of the digital scans and cataloging records for each thesis. The entire process took just over two months."
For more information about the project or to inquire about your thesis, please contact Liz Svoboda at esvoboda@umflint.edu.
Contact University Communications & Marketing with comments, questions, or story ideas.