Apprentice Approach Helps UM-Flint Education Students Define Goals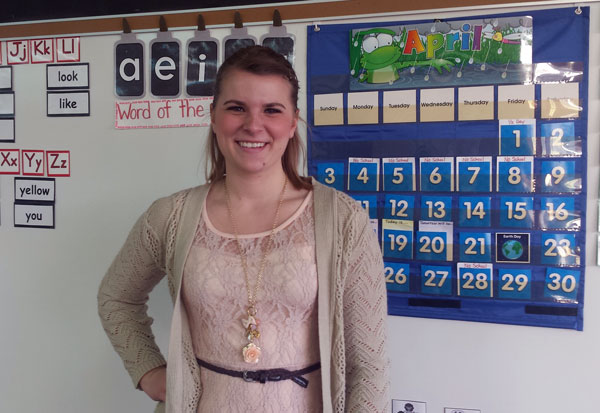 Rather than sticking exclusively to textbooks and class discussions their first year, freshmen declaring their major in education with the University of Michigan-Flint step into the classroom as observers right away.
It is this apprentice-style approach toward understanding the challenges and joys of the teaching profession straight from the classroom setting that helps students make decisions early on about whether the field of education is right for them.
UM-Flint senior Anneke Hoogenstryd, who completed her student teaching in a kindergarten classroom at Brendel Elementary in Grand Blanc, credits the education program for preparing her, not only academically but also to solidify her career choice on a personal level.
"The education program got me into classrooms my freshmen year and I truly think that is why I continued to stay passionate about teaching," she said. "I think it is important to get into the classrooms so early because for some, it helps them realize this isn't what they are meant to do, but for people like me, it only solidified even more, with every visit, that this is what I'm supposed to be doing."
A native of Hartland, Anneke was recently hired at Pleasant Valley Daycare in Brighton as a lead preschool teacher. She begins her new job this month, before celebrating her academic accomplishments at commencement in May.
Looking back, Anneke cherishes her years at UM-Flint, where she joined Sigma Sigma Sigma and held multiple leadership positions including president and Relay for Life chair, all of which have shaped her skills as a new teacher entering the field.
"I am forever grateful for my experience here," she said. "And I cannot wait to see where my education will take me!"
Contact University Communications & Marketing with comments, questions, or story ideas.