Entertainment Entrepreneurs Win UM-Flint Business Plan Competition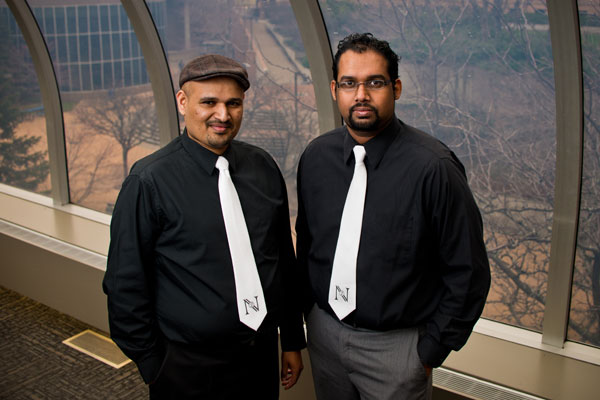 Vino Raj wants to bring entertainment to "a new level" in downtown Flint.  And thanks to University of Michigan-Flint, his aspirations are closer to reality.
The UM-Flint graduate student is working with two business partners on a venture that would merge "different forms of entertainment, such as live action role-playing, puzzles, treasure hunts, and interactive team work."
"We thought we could take this to a new level," said Raj, who is working towards his Master in Business Administration from the university's School of Management.
NV2 Escape Adventures, formed by Raj and his two partners, took home first place in the UM-Flint's 2016 Business Plan Competition in March, which is sponsored by the School of Management and the Hagerman Center for Entrepreneurship & Innovation. This earned them $10,000 to help start up the business.
The trio—which includes his long-time friend Jeyanath Jeyaratnam, and his friend's brother, Jeyavinoth Jeyaratnam—are working on securing a location downtown for the entertainment spot.
The trio are keeping some of the venture's details under wraps for now, but Raj said the goal is to open up sometime this summer.
Jeyanath Jeyaratnam, a U.S patent examiner, said the UM-Flint competition helps the group get started properly.
"It was important to us as a startup business to provide great quality and customer satisfaction from the get go," he said. "The amount of reaction and enthusiasm shown to our plan has given us a validation that we are on the right track."
Flint Podcasting Company, a podcasting services venture, took home second prize in the competition.
"The 2016 School of Management Business Plan Competition showcased the outstanding entrepreneurial talent that is bubbling up in and around Flint," said SOM Dean Scott Johnson. "We saw some great ideas and I am so very proud of these student teams. This is an exciting time as we now begin to watch these new ventures grow and prosper in the region. There is definitely a sense of excitement and promise surrounding all the teams that participated in the competition."
Raj said Dean Johnson has "been heavily involved in helping us grow", a sentiment he also shared about the other competition judges and organizers, along with the staff of UM-Flint's Innovation Incubator.
Raj said the level of encouragement has been top-notch throughout his UM-Flint career, which started in February 2014.
"All the people have been really fun to work with. It has been more mentoring than a traditional student-teacher relationship," he said.
Raj, originally from Sri Lanka, worked as a medical mission doctor in east Africa, before coming to UM-Flint. His wife is from Michigan, so the couple decided to move back to her home state. Raj wanted to advance his business acumen and chose UM-Flint via its NetPlus! MBA program, which is a mix of traditional classrooms and online learning.
"I wanted to have more skill sets," said Raj, who works locally as a clinical administrator. "I have found it very interesting."
The skills learned so far from his UM-Flint courses have him confident NV2 Escape Adventures will succeed.
"It's all about having the skill set to work it out.  The classes have been directly helpful."
Contact University Communications & Marketing with comments, questions, or story ideas.