UM-Flint Communication Major Invited to the White House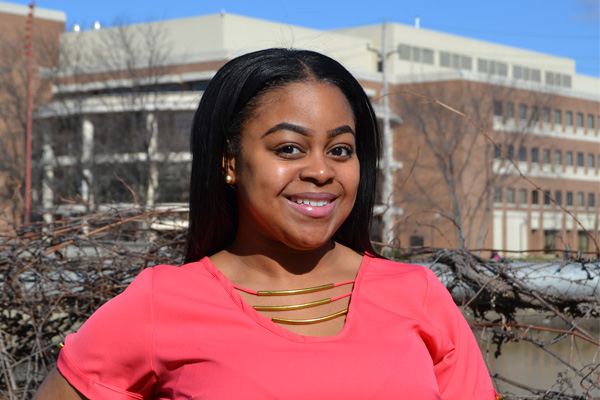 "I always knew a communication major from UM-Flint would make it to the White House. I didn't think it would happen before they graduated though!" said department chair Marcus Paroske. His student, junior Tajhae Barr, was invited by the White House to attend the annual Women's History Month reception in Washington, D.C. on March 16, 2016.
He added, "Seriously, it is the chance of a lifetime for Tajhae and we are all very proud of her. Even the loftiest goal is attainable by putting yourself in the right position."
A Letter to the President
For Barr, being in the right position began with sending a message to the President one September night while she was studying. She had been feeling the pressure of a new semester and thinking about the President's time in office coming to an end. "I was telling him that with him getting ready to be gone, I was kind of discouraged. I let him know that even though he will be gone, I still am determined to finish the job. But it just kind of made me feel more empowered with him being there, to actually get it done. The intent was kind of just to vent to the President, to tell him what I was thinking and feeling. I was studying and just thought 'I'm going to write the President.'"
Barr wrote about starting a non-profit organization, and giving back to her community. Her idea involved creating a safe space for adolescents, and specifically girls, where they could feel safe and learn. The aim would be to "give back to the girls up here as far as having something to do, keeping them off the streets, and keeping their heads in the books—learning more about their history and where they come from." Barr compared her vision with her own growing up, where she found safety and solace in skating. But she never expected much to come from her note, "It was just regular writing. I didn't think it would go far. They get so many emails, so many calls."
But on March 8, 2016, she received an email from the White House requesting her presence the following week. It wasn't until she arrived at the event that she even learned the source of her invitation. "They read it in the Social Secretary's office in the White House. And they picked people based on those who thought they would never be there. They read it and decided to pick me . . . I just wrote it from my heart and pressed send. So I never would have thought it would be read or anything would come from it. The original response I received was general, telling me I could go to grants.gov for funding, etc. But I never would have thought the letter would have landed in the White House, ever. I didn't think it was connected to that at all."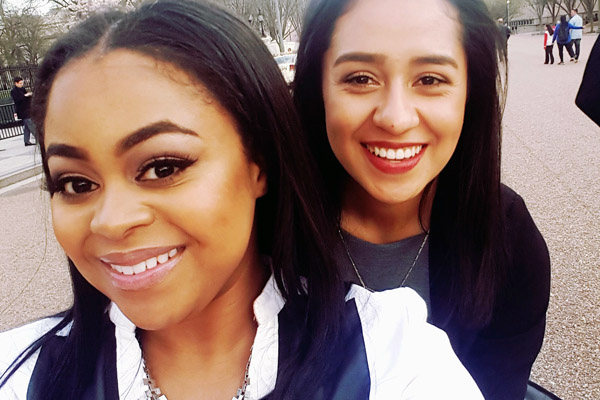 Visiting the White House
Barr's evening at the White House opened with a performance by the Spelman College Glee Club as she and the other women entered the East Room. "The party was starting as soon as we were walking in. The room was so lavish and so grand! It was so much opportunity to just connect and network. I met some amazing women! There were women there that were directors of these big orgs from New York, New Mexico, Florida—it was women from everywhere. Everywhere. (And I may have landed an internship in the White House!)"
The President spoke to the group after an introduction by Sana Amanat, a director and editor at Marvel Comics. His speech focused on gender equality at a global scale, noting, "What we've seen, even in our own lifetimes, is that change is possible. That's why we have to keep fighting, because there are battles that still need to be won."
When asked about hearing the President speak, Barr said, "I was very humbled. I couldn't even be over-excited because I was so honored and humbled to be in his presence. I really loved his speech, how he talked about all the differences that he has made in the Office and appointing more women leaders. It was just really humbling. I can't even explain it. It was so surreal, because that's history. His speech only lasted about 15 minutes. After that we got to mix and mingle again. It was just really amazing. I wish I could go back to just relive it." Barr was able to shake the President's hand after he spoke.
Other notable guests of the evening, as recognized by the President, included Cecile Richards, activist and president of Planned Parenthood; Dr. Jennifer Welter, the first female NFL coach; and members of Congress, including Democratic Leader Nancy Pelosi. Michelle Obama was not in attendance as she was at South by Southwest speaking about her "Let Girls Learn" initiative.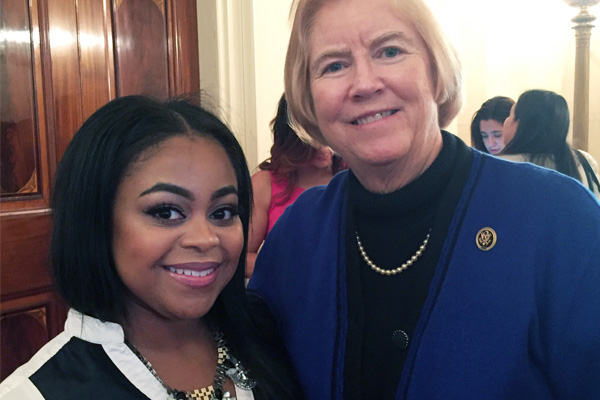 Reflections
Barr credits her time at UM-Flint for helping her to find the original inspiration to write the White House. "Honestly, this school has made me feel so empowered and like I have the ability to do whatever. When I was a freshman, I came into this school with a 2.3 GPA. My freshman year I got a 3.85. This school has been supporting me and having my back since I set foot on campus. Seriously. [UM-Flint] has been very supportive, and I'm not just saying that—I love this school! Even though it's a big university, it's still that one-on-one relationship. I didn't think that I'd even be able to pull off going to D.C. in a day or two, because it was so sudden. I had to come up with money for the flight, the hotel, and the other expenses that came up. I'm honestly amazed and very thankful."
Barr recognized the university offices that gave or helped her secure the funding needed to travel to the White House, including the Communication program, the Office of Educational Opportunity Initiatives (EOI), Student Affairs, the Women's Education Center (WEC), the College of Arts & Sciences Dean's Office, and others.
When asked what impression this experience has left on her, Barr said, "I just want to say that no matter what you are going through and no matter how hard it seems, you have to try your best to stay positive. You never know the next blessing that's around the corner. You never know. Because I never would have expected this. It doesn't matter if you get straight As. It doesn't matter if you are president of this or that. Ordinary people do extraordinary things every day, that's what I'm trying to say. So when you're feeling down or you're feeling like 'this is frustrating, I'm never going to get through this,' you just have to try your best to be positive because you never know. You never, ever know. And your blessing is really in your next breath. Sometimes we take the small things for granted, because I was just huffing and puffing about bills and voila—the White House."
For more information about the UM-Flint Communication program, please visit umflint.edu/comarts.
Contact University Communications & Marketing with comments, questions, or story ideas.