UM-Flint Transforms to Host CNN and Flint Debate Activities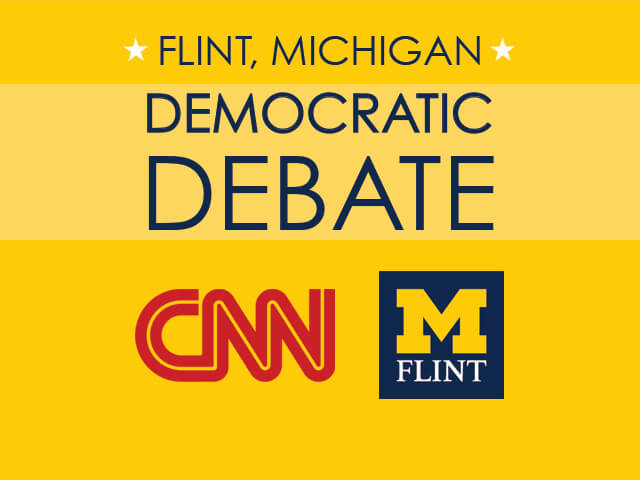 The University of Michigan-Flint is in the midst of transforming into a host site to broadcast the messages of the Democratic Presidential Debate in Flint March 6 to the world.
The University of Michigan-Flint is partnering with CNN to convert the Recreation Center into a "Spin Room" where approximately 500 journalists will file their stories and hear from campaign officials. The spin room will be open only to media credentialed through the DNC.
And, the Frances Willson Thompson Library atrium is becoming a home for CNN live broadcasts—with an entire set being built inside the Library Atrium. The CNN live broadcasts are set to begin on Friday, March 4, and continue through Sunday, March 6. The library is expected to stay open during the live broadcasts.
While the University is hosting both CNN and the Democratic National Committee, those organizations are responsible for the costs associated with the debate between democratic presidential hopefuls Hillary Clinton and Bernie Sanders, which will be in The Whiting Auditorium. UM-Flint is not a ticket distribution site.
To accommodate credentialed media, the Recreation Center will truly be transformed: Massive draping will line the gym, carpeting is being installed, more than 2,000 pounds of signage will hang from the gymnasium ceiling, and 125 tables and 500 chairs will fill the gym—which will be powered with more than 150 power strips. The carpet there will be donated to Habitat for Humanity after the debate.
Media Row—with live satellite trucks from national and international news organizations—will also be lined up near the Recreation Center and parking in both Lot A and Mill Street Ramp will be reserved exclusively for debate-related activities.
Parking in the rest of campus will be open throughout the weekend to help accommodate those coming downtown for the event.
"This is an exciting opportunity to see democracy in action, highlight our campus, and show off our community. It is also a unique educational experience for about 60 of our students who are doing internships with CNN and other groups coordinating the debate," Chancellor Susan E. Borrego said.
The campus is also UM-Flint Debate Watch Party in the Northbank Center Ballroom. Doors open at 7 p.m. Sunday, March 6. The event is free and open to the public.
UM-Flint faculty will be offering analysis before and during the debate while campus staff is lending their own expertise with logistics, electrical work, facilities, technology, and catering.
The University also is using the national attention to highlight other local businesses—including bringing in at least five local restaurants to serve food to the media and dignitaries.
Join the conversation #UMFlintDebate.
Contact University Communications & Marketing with comments, questions, or story ideas.