UM-Flint STAR Students Engage Flint Children in Black History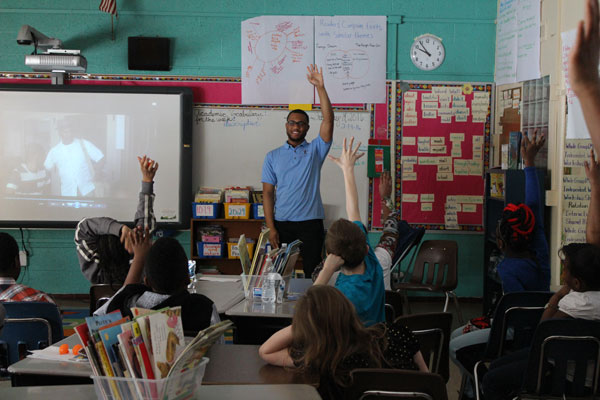 Daphne Jackson, a teacher at Flint Community Schools' Freeman Elementary, sits in the back of her classroom on Friday mornings and observes her class of inquisitive third graders interacting with minority students from the University of Michigan-Flint Smart Teachers as Role Models (STAR) Program.
They're talking about Christopher Paul Curtis's book The Watsons Go to Birmingham-1963, pulling apart each chapter in chunks, viewing a movie inspired by the book, learning new words, and trying to comprehend some of the realities of the Civil Rights Movement embedded in the story.
Jackson quietly catches up on classwork and lets the STAR leaders hold the attention of her kids for a few hours each week. She is a proud STAR mentor, and her class is the first in a new literacy initiative that UM-Flint School of Education & Human Services hopes will spread to other Flint elementary schools.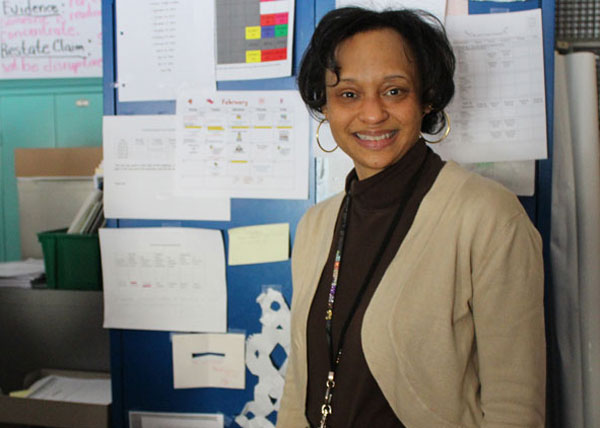 "The STAR Program has enhanced my instruction immensely," Jackson said. "The students' vocabulary has increased because I have been able to have three word walls: sight words, academic words, and words tied to the book. It has allowed them to think deeper about the text and introduces them to a new genre, the historical novel."
The presence of UM-Flint's STAR students in the classroom also has a powerful effect on the children personally and on their approach toward learning new material.
STAR mentor Janet Haffner, who coordinates the teacher preparation program at Baker College and has been an educator in the Flint area for 40 years, is pleased with the learning she sees happening in classrooms that utilize the STAR Program.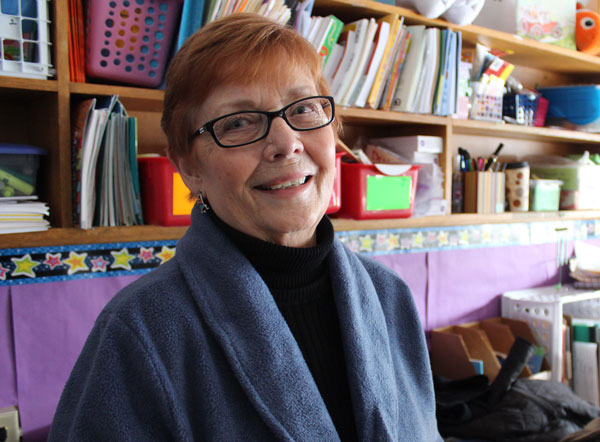 "Our kids need to see black male leaders in the classroom every day," she said. "These guys are good teachers. They understand where these kids are coming from and they understand the power they have as black male leaders to influence them."
Kids in Jackson's class look up to their STAR leaders, giving them hugs, sharing stories about their lives, and showing genuine eagerness to learn so much from stories driven by characters who look and talk like them.
STAR sophomore Jordan Barnett generated a discussion with Jackson's class about some of the social contexts of the book while they watched "The Watsons" movie. Jordan said he understands how the weekly classroom presence of the STAR students has shaped the children, especially the boys.
"It's important to have a male figure that's consistent and expects great things from them and encourages them to be more responsible and active in class," Jordan said.
Though the lackluster pay and uncertain job security associated with teaching in struggling urban schools is concerning to Jordan, he hopes that his career as a future educator includes serving as a role model for minority children, while incorporating his interest in art and literacy into other subject areas.
UM-Flint STAR Program Coordinator Richard Russell hopes this literacy initiative at Freeman Elementary will expand to other Flint schools while preparing kids to participate in the Christopher Paul Curtis Writing Adventure in the fourth grade.
"The ultimate goal is for these students to find a passion in reading," Russell said.
The STAR Program is a collaborative effort between Mott Community College, Baker College of Flint, and UM-Flint.
Contact University Communications & Marketing with comments, questions, or story ideas.