Candid Campus Conversations Thrive at UM-Flint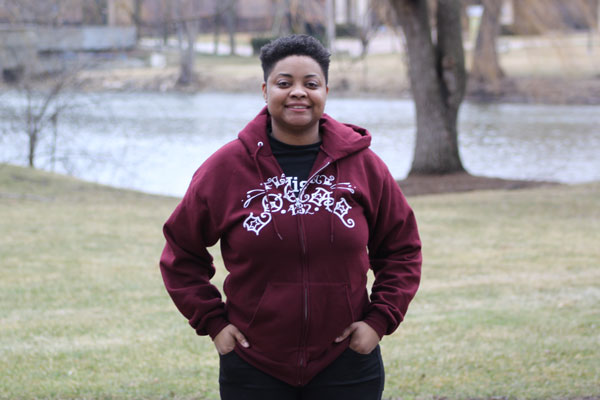 A recent group discussion held at UM-Flint's Intercultural Center lasted 75 minutes. But the positive impact of it and other discussions in a burgeoning university series called Candid Campus Conversations could be far-reaching and lasting, organizers said.
During the recent discussion, racial identity and racial stereotypes were talked about openly between staff, faculty, and students. The day's topic started with Asian American and Latino American experiences, but also delved into the dynamics of racism and group stereotypes in general. How is race defined in different countries and cultures? The discussion flowed between these larger issues and people's personal experiences.
"I think people participated earnestly in listening to one another and in sharing experiences and information, and most importantly, I think people learned new and different ways of thinking about race and identity," said Rushika Patel, PhD, the interim director of the Intercultural Center and the director of the Women's Educational Center, at UM-Flint. Patel facilitated the recent community conversation.
The series started in the Winter 2015 semester as a safe and open place for people to talk, listen, and learn from each other, said Jia Ireland, a UM-Flint graduate student who helped form Candid Campus Conversations, along with student Brittini Ward (who has since graduated), and long-time administrator Mary Jo Sekelsky.
"It's a non-judgmental atmosphere," said Ireland, who is working toward her master's degree in social sciences, with a concentration in women and gender studies.
Often, the same topics are talked about by different groups, like student groups or faculty, but this series allows everyone to share their thoughts together, including conversations on race, gender, sexuality, and culture, said Ireland.
"They can just speak their mind. That's what we really wanted," she said, adding that the discussions help build cohesiveness and understanding on campus. Ireland is pictured in the photograph above.
The Intercultural Center has hosted two events this semester, with three more scheduled, including discussions on "whiteness", "blackness", and multicultural and bicultural experiences.
Emily Feuerherm, an assistant professor of linguistics at UM-Flint, attended a recent session with students from her Second Language Acquisitions class.
"The focus on stereotypes was very useful because it is when we identify these stereotypes that we can see them for what they are and for how they can influence our judgement," Feuerherm said. "Only through identification can we push back against the discriminatory effects of stereotypes."
Sherrodd Rison, a senior majoring in social work, attended a recent session and was impressed with the atmosphere and conversation.
"I think it could impact communication between students, staff, and faculty," said Rison, who is interested in the campus dialogues continuing across a wide spectrum of issues. "I definitely believe the university's investment in it will be returned ten-fold."
Patel said the relationships built during the conversations can lead to "transformative learning."
"I think the value in the series is the learning and teaching that takes place, but also just having a space to practice what it means to honor the full and complex humanity of those around us," she said.
Contact University Communications & Marketing with comments, questions, or story ideas.