Family Ties: Future Student Takes UM-Flint Tour Thanks to Her Trendsetting Grandfather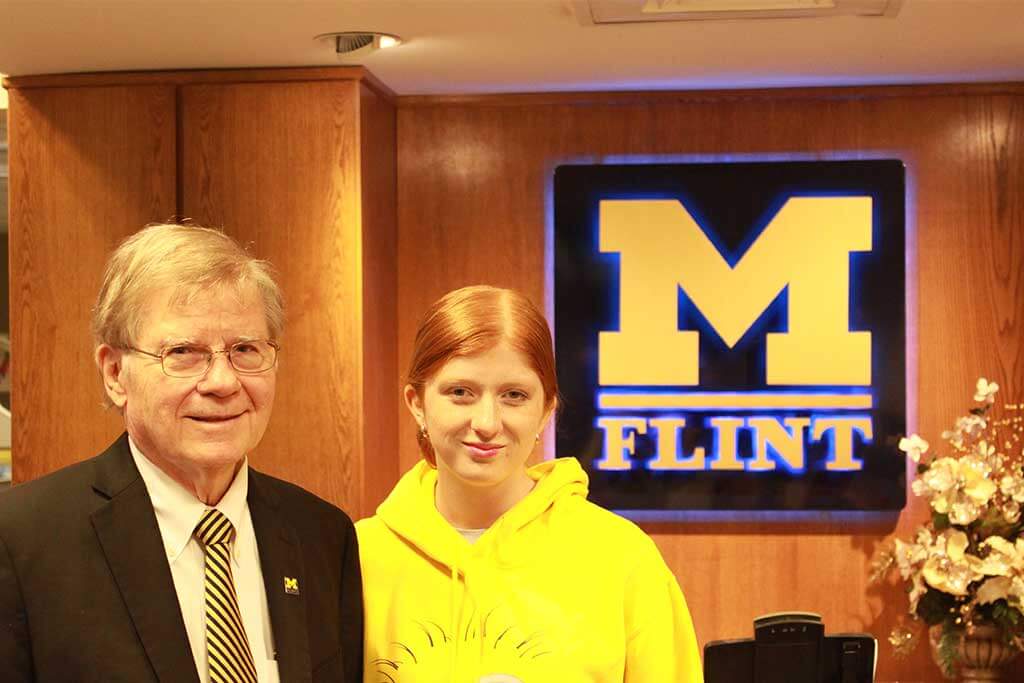 When Jenna Gullekson took a University of Michigan-Flint tour December 16, it was her first time on campus.
But the 18-year-old's familial roots to the university run deep. Both her parents, and an aunt, went to UM-Flint. And her grandfather, Edwin H. Gullekson, M.D., built the bond first.
He was one of the first ever students to enroll at the school, in September 1956. That same month, he became part of the first group of students to start classes at what was then called Flint Senior College.
Jenna and her grandfather took the tour of UM-Flint together.  It was her grandfather that encouraged her to consider the school.
"He told me it was a really nice school and there are really nice people, the programs are really good, the education is good, and it's safe," Jenna said about her grandfather's report on UM-Flint.
Edwin Gullekson originally planned on attending University of Michigan-Ann Arbor after studying at Flint Junior College, which is now called Mott Community College. He was heading to mail his application when there was an announcement within the building that the Flint campus of University of Michigan was taking applications. So he skipped the Ann Arbor application and turned in his materials to the Flint campus instead.
"It was better for me, a lot cheaper for me to live with my parents than at the University of Michigan, in Ann Arbor," he said.
When it opened, the campus was located at what is now Mott Community College. The university was officially named University of Michigan-Flint in 1971 and started the move to the heart of downtown in the late 1970s.
He spent a year at Flint Senior College before being accepted to the university's medical school. After getting his medical degree, Gullekson practiced family medicine in Flint for 30 years. Then, for sixteen years, he was vice president of medical affairs at what is now McLaren-Flint.
He also performs medical exams on sexually abused children at the Weiss Advocacy Center. He is currently a physician consultant at McLaren-Flint.
Throughout the years, he has been on campus, as both his son and daughter attended UM-Flint, and he once served on the School of Health Professions and Studies Advisory Board. But the tour with his granddaughter opened his eyes to new details.
"I'm impressed by how large it is. I watched all the buildings being built. I didn't realize how complex it is until today, going from one building to another," he said.
Jenna said following much of her family to the university adds to her excitement.
"It makes it more special," she said.
Contact University Communications & Marketing with comments, questions, or story ideas.