UM-Flint International Students Tell Their Own Story on Stage and Film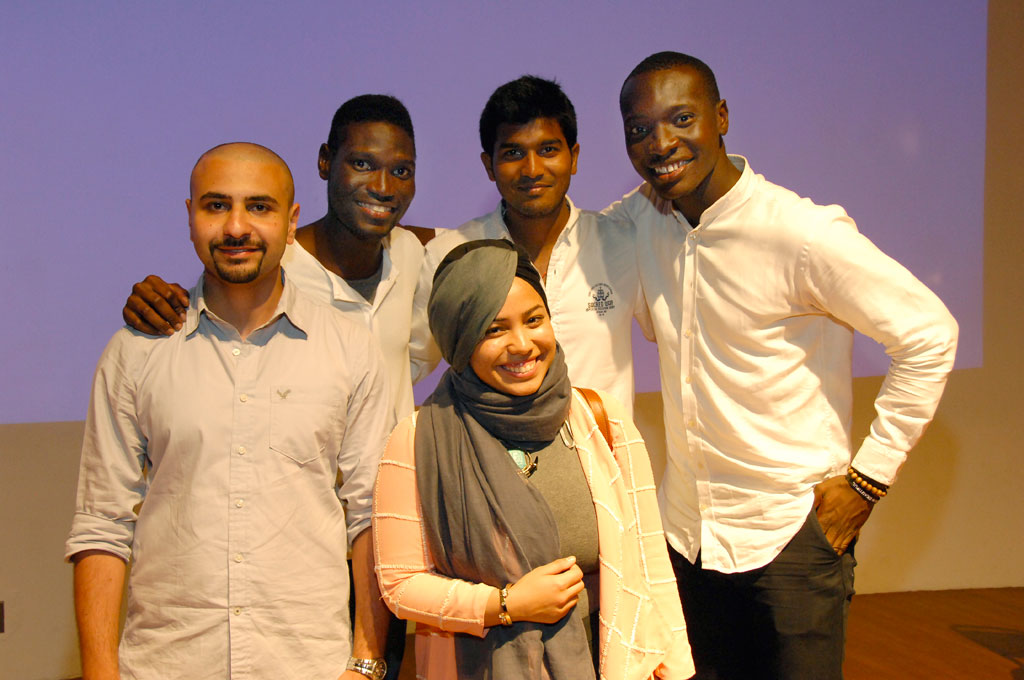 A documentary about international students at the University of Michigan-Flint will debut on campus November 18.
Immigrant U: Our Story Our Way features interviews with UM-Flint international students about their personal experiences at the university, discussions on their lives and cultures, and thoughts about the dynamics on campus. The film, developed and produced by the Shop Floor Theatre Company, was written and performed by UM-Flint international students. Students will also perform scenes live at the documentary debut that highlight their experiences. The theatre company, along with the students, are developing a full scale production, which is expected to be performed beyond the state of Michigan. The film is about 30 minutes long.
"The goal of the whole project was to provide expressive opportunities for the students," said Kendrick Jones, executive director of Shop Floor Theatre Company. Jones is a theatre lecturer at UM-Flint, and Shop Floor's offices are located within the university's Innovation Incubator.
The idea started three years ago, when international students in Jones' First Year Experience (FYE) and theatre classes approached him about sharing their thoughts via a theatrical production.
"The goal was also to connect what we were discussing in the classroom with the greater community," he said.
The project received funding from the Ruth Mott Foundation and was supported by the Greater Flint Arts Council, the UM-Flint Innovation Incubator, and the university's International Center.
About 50 students from a wide range of countries, including Saudi Arabia, South Korea, Vietnam, Egypt, India, Canada, Jamaica, France, China and Nigeria have participated, he said. American students have also contributed.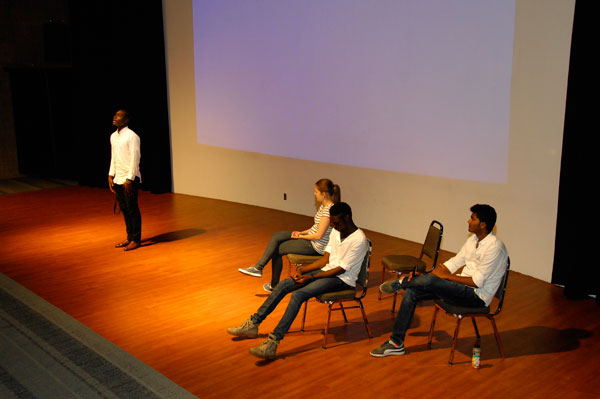 Students held story circles, in which they shared their personal stories, with one of the students filming the talks.
Zainab Alradhi, an undergraduate health care administration student from Saudi Arabia, has been heavily involved with the project, including performing in the production, recruiting students for the documentary, marketing the project, and reaching out to potential funders.
Alradhi said the project raises awareness for many audiences, including current students, other universities, and students thinking about taking the leap and attending college in another country.
"It is something new and fresh," Alradhi said about the project. "The number of international students is growing year by year, especially on campus. The students that are coming from back home, they need a reference. Part of it is going to international students that are yet to come."
Alradhi said the film may be just the first.
"We tried to make it light, to make it easy to absorb," she said. "It gives them an idea. It gives them a good start. We are thinking of having a sequel, if this works well."
Akash Gundlapalli, a graduate student in computer science and information sciences, started at UM-Flint in January, 2014. He grew up in India.
Gundlapalli, heavily involved on campus, said he's embraced his time on campus.
"The people, the way they teach, the way they talk, the way they greet, those are the primary assets," he said about the university community.
In Immigrant U, he shared his thoughts about Indian culture, and also performs in the live scenes.
"I'm pretty satisfied with it. I've had a pretty good time and made some good friends," adding that specific scenes or moments from the project will likely leave an impact on viewers, even if it's subconsciously.
Mohamed Mohamed, a graduate student in business administration from Egypt, started working on the project this summer. Immigrant U highlights the value of a diverse campus community, he said.
"You learn from each and every one you meet," Mohamed said. "Everyone brings something different to the table. It makes you think differently."
Jones said the documentary will be available to be used in classrooms, and as a source of knowledge for faculty members and new students. It teaches a message of unity, he added.
"No matter where these students come from, we are all basically the same. We have the same goals," Jones said. "We love our families. We love our friends. They are more alike than they are different. And that is pretty powerful."
Immigrant U will be shown at 2:30 p.m. Nov. 18 at the Kiva in the Harding Mott University Center. Admission is free. Food, photos, live music and more starts at 1:30 p.m.
Contact University Communications & Marketing with comments, questions, or story ideas.