UM-Flint Honors Student, Alumnus Connect via Australia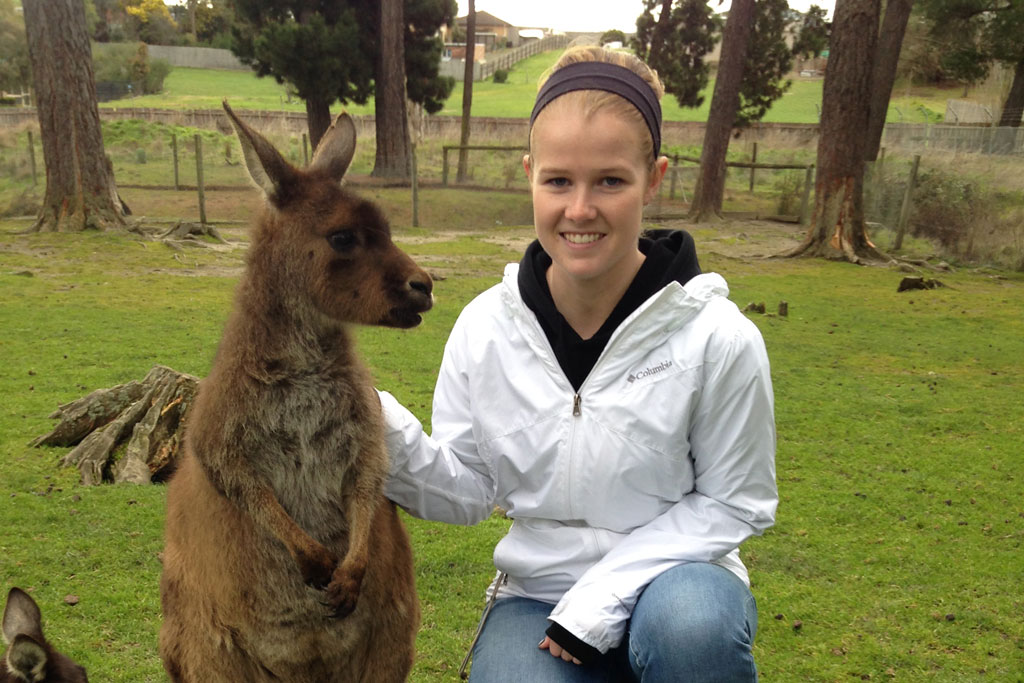 Kayla Bailey fulfilled a decade-long goal of visiting Australia this summer during her off-campus semester as part of the University of Michigan-Flint Honors Program.
Bailey, a senior from Swartz Creek, became the first UM-Flint student to conduct her off-campus research work at Deakin University in Melbourne since the establishment of an exchange agreement between the two schools that could pave the way for Australian students to study here too.
Kayla's trip and studies were possible thanks to a UM-Flint alumnus John Long, who did his off-campus Honors research in Australia nearly three decades prior. A senior this fall, Bailey did molecular and cellular biology research with a professor at the Melbourne campus of Deakin in July and August.
Her father visited Melbourne nearly a decade ago, fostering a strong interest in Kayla to visit the country.
She is majoring in biology, with a minor in chemistry, with career goals of becoming a physician's assistant. She plans on graduating in May, 2016.
"The trip has definitely prepared me professionally," Kayla said. "It has opened me up to the research field and I have gained a great deal of experience. I have gained experience with managing time and working with others in the field," she said.
Her trip was partly possible due to Long, a physics senior lecturer at Deakin University.
Long met with her several times even though he worked on a different campus, giving her tours of the area, advice on the university, and even had his family host her for a weekend to acclimate her to Australia, Bailey said.
"He was extremely helpful," she said.
And knowing someone with UM-Flint Honors connections helped make the transition to a new country.
Long, during his college career at UM-Flint, spent his Honors semester in Melbourne in 1986. A native of Lapeer and Genesee counties, he moved to Australia in the late 1980s and has been there ever since. He earned his PhD from Melbourne's Monash University in 1995, and then took a teaching job with Deakin University the same year.
Despite the distance, Long stayed connected with UM-Flint and the Honors program.
"I would keep in touch," Long said. "Several nieces have been to UM-Flint and the Honors program," he said.
Dr. Maureen Thum, director of the UM-Flint Honors program, would often talk to Long on his visits about Deakin, he said.
"She always wanted to send some students to this part of the world," Long said.
Long connected Thum with Deakin officials and an agreement was reached, paving the potential for UM-Flint students to study there, and vice versa.
"We would welcome Deakin students to come here and we would encourage students to go there," Thum said, including those beyond the Honors program.
Thum lauded Long for staying connected with UM-Flint and its students.
"John is such a welcoming and friendly person," Thum said. "He has a wide range of interests when he's talking. He is a very student-centered person. He is why we have this arrangement. He is the key."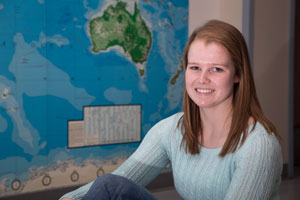 UM-Flint Honors students spend one semester off-campus, doing research with specialists in their fields. It is funded by a scholarship up to $3,000, and gives undergraduates a chance to do work often done by graduate students.
"It gives them this wonderful experience they never would have had and the professor who has them in the lab has assistance they don't have to pay for," Thum said.
Bailey, who studied the effect of zinc and a specific omega-3 fatty acid on human brain cells, said the researchers at Deakin were impressed she was contributing as an undergraduate.
The experience honed her skills beyond research, she said.
"I'm more acclimated to just involving myself with people more. Introducing myself and talking to new people, because that's what I did there," she said.
Bailey said the off-campus semester is a "huge benefit" of the Honors program at UM-Flint.
"Having that experience itself forces you to do something else, but it's a lifetime experience a lot of other people don't get to do," she said.
Contact University Communications & Marketing with comments, questions, or story ideas.