Co-Teaching Method Gives UM-Flint Teacher Candidates an Edge
The University of Michigan-Flint has teamed up with a Davison elementary school, as student teachers partner with their mentor teachers to run classrooms and prepare lessons.
The co-teaching method allows "teacher candidates" a more active role in the classroom than the traditional student teaching approach, said Sherryl McLaughlin, director of the Center for Education Preparation at UM-Flint.
"They will be co-planning during the entire experience," McLaughlin said about the arrangement with Siple Elementary School, which started this semester. "It's not the traditional method where the mentor teacher just leaves them (in the classroom to teach).
The co-teaching is part of a larger involvement at Siple Elementary, McLaughlin said. All teacher candidates meet with UM-Flint faculty at the elementary school for a two-hour weekly seminar. UM-Flint faculty frequently visit to observe the teacher candidates. Two other education students have internships at the school, and are observing their peers this semester, with expectations they will do their student teaching next semester.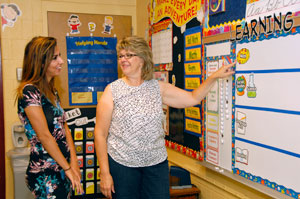 University of Michigan-Flint staff and faculty received training and implemented the teaching method developed by St. Cloud State University. The approach is expected to be started by UM-Flint in other area schools, too, she said.
"It is more off your seat and on your feet," she said. "The expectations are still the same. They still have to demonstrate they can handle the classrooms alone, but it is much more supported."
Both the elementary school teachers and teacher candidates took training workshops this summer and met beforehand to prepare for the year.
McLaughlin said the process will help better prepare teacher candidates for their professional lives.
UM-Flint education senior Tashae Joshua, who is one of the co-teaching students, said the workshops and training helped set everyone up for success.
"It just went smoothly. The workshops we went through were great," she said.
Joshua said the university's involvement with area schools, including Siple Elementary, is a great networking opportunity for her and her UM-Flint peers.
"We'll have that background," she said.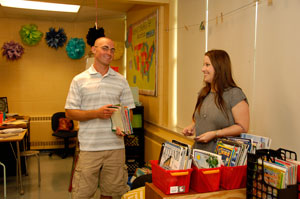 Susan S. Yates, supervisor of teacher candidates at UM-Flint, said the co-teaching method benefits UM-Flint students preparing for their careers.
"I believe that the co-teaching opportunity will help our students gain confidence in their work with students and with other teachers. The model lends itself to feedback from the mentor teacher. We observe the teacher candidates a minimum of six times over the course of their 15 week student teaching experience and provide feedback each time," Yates said.
"Additionally, we provide ongoing support through individual consultation, phone, text and email during the term.  Finally, we meet once each week for a two hour seminar in a co-teaching environment with University Elementary Teaching Coordinator, Annie Whitlock."
Christy Flowers, principal at Siple Elementary, and an alumna of UM-Flint, said the initiative gives students at her school more attention, and leverages the talent of her teachers and the university students.
"You have two sets of eyes, two sets of hands, two adults in the room that can work together to collaborate, to work with children, to pull small groups. I think what is going to see is we will see an increase in student achievement because they have more support in the classroom," she said.
Contact University Communications & Marketing with comments, questions, or story ideas.