UM-Flint Faculty Awards Presented at Academic Affairs Convocation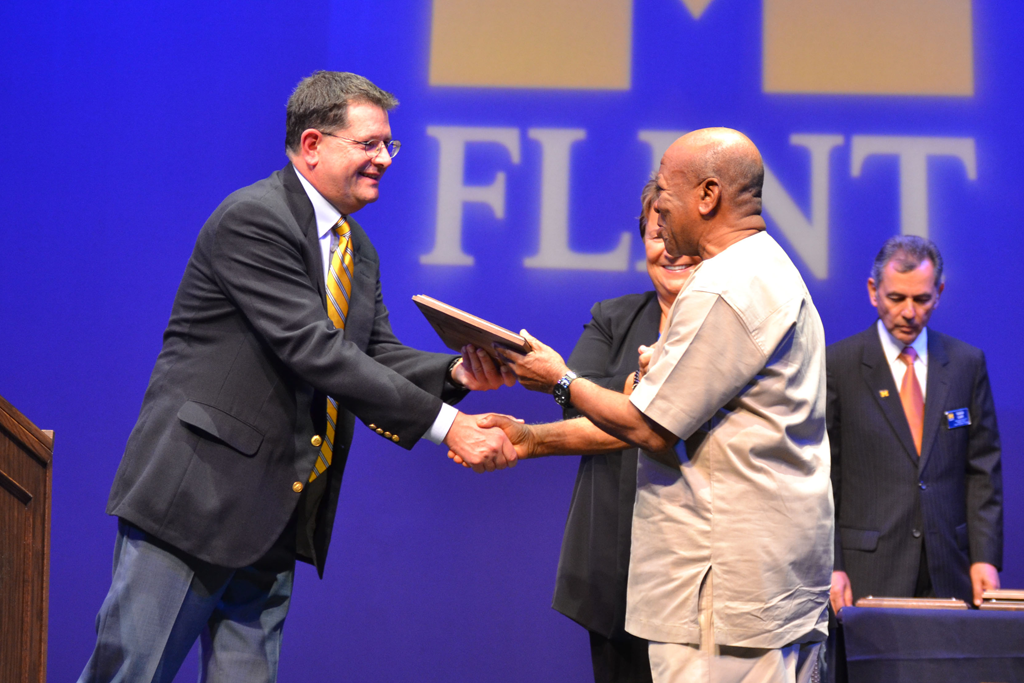 The University of Michigan-Flint held its annual Academic Affairs Convocation August 31 at the university theatre to celebrate those receiving faculty awards, promotion and/or tenure, and to honor those receiving service awards. New faculty members were also welcomed.
Twenty-eight new faculty were announced at the event. Seventeen faculty members receive promotions and/or tenure. Nineteen were honored with service awards, ranging from 10 or more years of service, to forty years or more.
Chancellor Susan E. Borrego lauded the "quality and caliber" of faculty at UM-Flint.
"Thank you for your outstanding work," she said.
The faculty award recipients:
Teaching Excellence Award
Lois Alexander, Professor of Music
Scholarly or Creative Achievement Award
Lixing Han, Professor of Mathematics
Distinguished Service Award
Kathy Schellenberg, Associate Professor of Sociology
Alvin D. Loving Senior Faculty Initiative Award
Ernest Emenyonu, Professor of Africana Studies
Lucinda Hinsdale Stone Junior Women Faculty Award
Karen Salvador, Assistant Professor of Music
Lawrence D. Kugler Academic Advisor Excellence Award
Brenda Cameron, Manager of Quality Improvement for Public Health and Health Sciences
Dorothea E. Wyatt Award
Peggy Kahn, David M. French Professor and Professor of Political Science
Dr. Lois Matz Rosen Junior Excellence in Teaching Award
Nicholas Kingsley, Assistant Professor of Chemistry
Collegiate Lecturer Award
Traci Currie, Lecturer of Communication and Visual Arts
UM-Flint Nominee for the Michigan Distinguished Professor of the Year Award
Ricardo Alfaro, David M. French Professor and Professor of Mathematics
Contact University Communications & Marketing with comments, questions, or story ideas.