UM-Flint Alumnus Leads Chevy Commons Redevelopment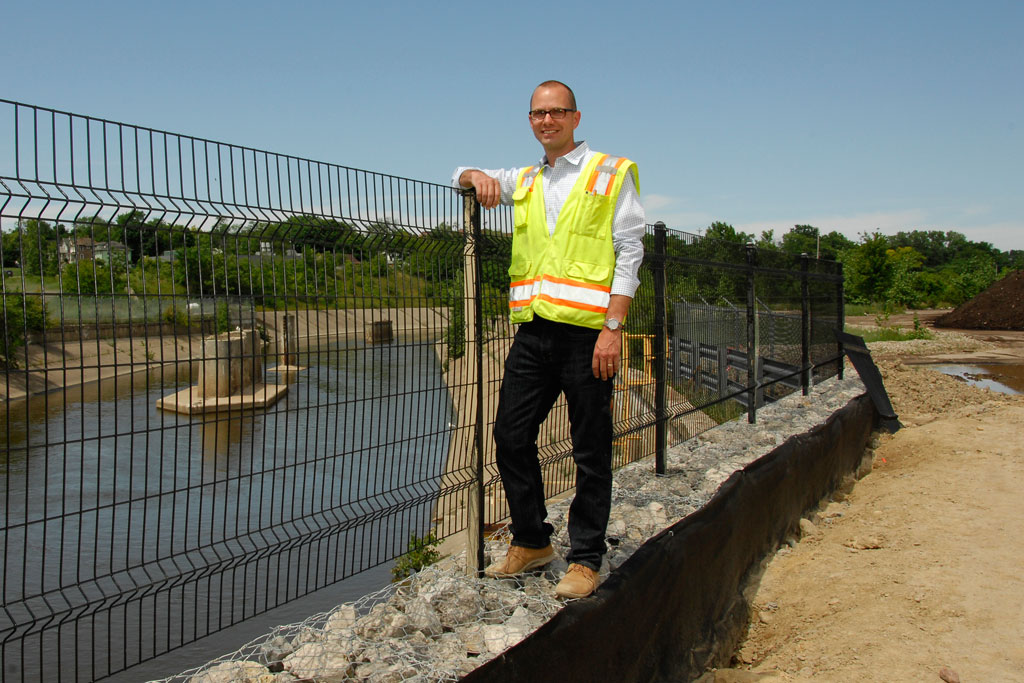 Ryan Londrigan graduated from the University of Michigan-Flint in 1999 with a degree in resource ecology, but his college connections continue to run deep.
As an environmental consultant with AKT Peerless Environmental & Energy Services, he works with several UM-Flint alumni. He frequently collaborates with graduates working for area land banks and municipalities. And the skills he learned in college help him in his everyday work life.
"My degree from UM-Flint built the foundation I use every day of my career," Londrigan said.
That includes overseeing the redevelopment of the Chevy-in-the-Hole property, now known as Chevy Commons. Londrigan is the project manager for the initiative, which is transforming the long vacant and blighted General Motors complex into a community green space along the Flint River connecting downtown, the Carriage Town and Grand Traverse neighborhoods, UM-Flint, and Kettering University.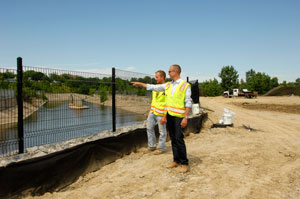 "It's great to be part of the next phase of Flint's history," he said.
Londrigan's ties to the site date back to his grandfather, who was part of the famed 1936-1937 sit down strikes. His father worked at the GM plant in the 1980s. The city of Flint owns 60 acres of the property now, and several government agencies, consultants, and others are involved with the project.
"I am helping to prepare it for the next generation," he said. "My kids will be interacting with the site and already have,"
The first phase of the project started this year, which includes developing the property into woodlands and open grasslands, with accessible walking trails for the public. More than 3,000 trees and bushes are being planted on 16.5 acres. Crews are capping the property with two to ten feet of soil "that is going to create a physical separation of the surface of the site and the contamination underground, Londrigan said. Drains going into the Flint River are being sealed off.
Londrigan has worked on several Flint sites throughout his career including the Durant building and Buick City. His job extends throughout the state, with previous work including managing the demolition of the Saginaw Mall and Midland County Jail, assisting Fortune 500 corporations with environmental regulations, and doing water quality monitoring of watersheds and river systems.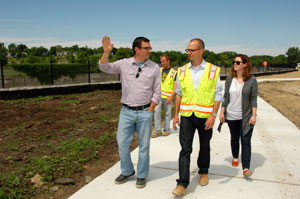 Londrigan credits his classes and professors at UM-Flint in building the knowledge and skillset for his career.
"Attending the university, little did I know these classes, like geophysics, studying aerial photographs, groundwater hydrology, would build the foundation I would be using every day for a successful career," he said. He also learned technical writing and public presentation skills.
UM-Flint Earth and Resource Science Professor Marty Kaufman taught Londrigan in several classes during his college career.
"I saw him as highly intelligent and able to apply what he learned," said Kaufman.
Londrigan, who lives in Grand Blanc, has spoken to numerous UM-Flint classes in recent years about his career and the field. He sees the Earth and Resource Science Department as holding the same qualities that he experienced as a student: a tight-knit group, in which faculty care about the students and their futures. It was a faculty member that recommended him for his first environmental consulting work as he neared graduation. He has been doing the work ever since.
"I have have been very fortunate in my career to always be in the mix. When you are a project manager, you need to know enough of all these subjects to go to your experts and pull it all together," he said.
Contact University Communications & Marketing with comments, questions, or story ideas.