Q & A: Paul Gifford, University Archivist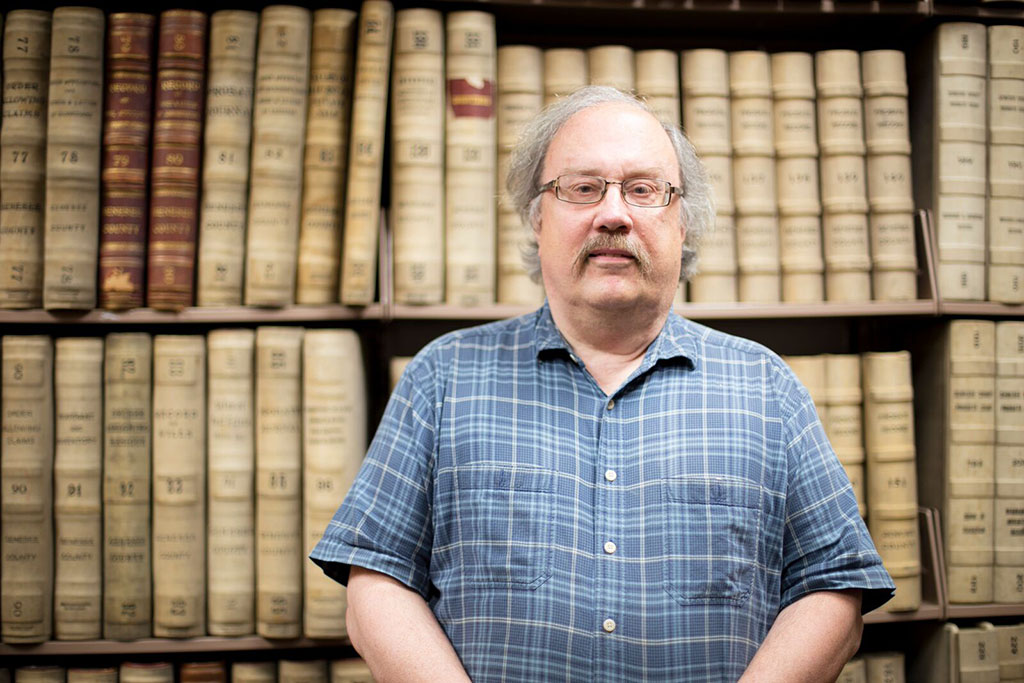 Paul Gifford is the archivist at the University of Michigan-Flint. He oversees the Genesee Historical Collections Center, which is a division of the University of Michigan-Flint Thompson Library. He discusses the center, along with other research-related topics, in this interview with UM-Flint staff writer Robert Gold.
What is the history of the Genesee Historical Collections Center at UM-Flint? What is your personal history with the collection?
Frances Willson Thompson, a descendant of Gov. Henry H. Crapo and the daughter of an original investor in Buick, wanted a place for her collection of Crapo family memorabilia, and in 1980, she made the first of several donations towards an archives trust fund. Ultimately this supported construction of the library building in 1993. Robert Schafer, one of the original History Department faculty, had an interest in preserving UM-Flint history as well as that of Flint, and he was an important influence. Darwin Matthews was hired as the first archivist in 1982 and I came in 1987.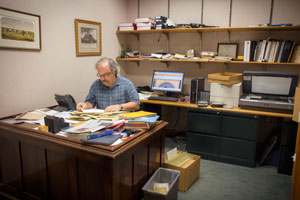 What is the general scope of the materials one can find at the Genesee Historical Collections Center? Who has access to using the materials?
We act as the archives of the University of Michigan-Flint, and we collect material on the history of Flint and Genesee County. Our collections are confined to those in two dimensions (in other words, papers and photographs), although we have three-dimensional artifacts from the Crapo family.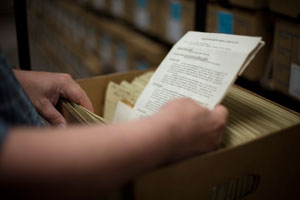 How important is cataloging and presenting a full history of the university and surrounding areas?
Maintaining archives provides, for the parent institution, a way to understand how, why, and when decisions were made, long after the people who made them are gone. Collecting, preserving, and making available historical materials provides sources for research in a wide variety of topics in local history.
How far back do the materials go?
We have some letters from 1830 to a settler in Oakland County, and Genesee County Probate Court records that begin in 1835.
How does the center collect its materials and decide what is worth preserving?
Sometimes we might be able to identify a person while he or she is living and that person makes the donation while the person is alive, but more typically children keep the person's papers and records for some time before they make the donation. Generally speaking, office records might include things like first drafts, telephone messages, receipts, duplicates, and these are routinely discarded or returned to the donor. If the person's activities are deemed to be of historical interest, then whatever records and documentation there might be that was generated by that activity are probably worth collecting.
What are one or two items that are particularly impressive or surprising from an archivist's or historian's perspective?
Well, we see autographed letters from important politicians, but these usually don't have a lot of historical value. Having material on unusual but important topics can be very exciting to a researcher.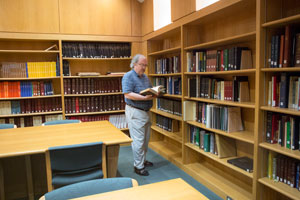 Can you describe the digital archives? What are the latest additions to these online offerings?
We have started to create digital versions of archival collections and items. The platform, ContentDM, is common. Searching on it is easy. We scan photos and textual items and digitize sound files. So far, we have photos and some papers from the papers of Donald Riegle, who was U.S. Congressman from Flint and Senator from Michigan (1966-1994); papers of Lyman George Willcox; papers and photos from the Crapo family, a 19th-century Flint family. Right now I am putting one together on the history of the University of Michigan-Flint, from its first beginnings in the 1940s to the purchase of the downtown campus in 1972.
What do you envision as the brightest possible future for the archives in terms of technology and/or benefit to its various stakeholders?
Although it seems like it, I don't think everything will ever be digitized, even though that seems to be the way things seem to be going. Paper's attributes mean that things will be stored and preserved as paper objects into the distant future, because digital storage is expensive.
Contact University Communications & Marketing with comments, questions, or story ideas.