Leaders and Best from Area High Schools Offered Chancellor's Scholarship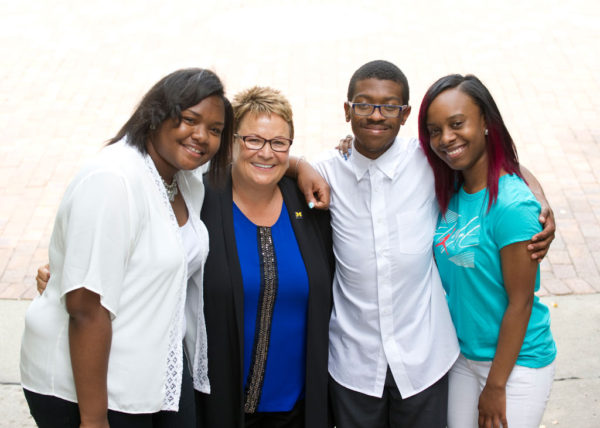 Chancellor Susan E. Borrego is working to promote a "college-bound culture" and retain the Flint area's brightest talent through the creation of a new scholarship program.
Borrego has established the Chancellor Scholar Award for top graduates at selected area high schools. The first group of Chancellor Scholars will begin attending the University of Michigan-Flint this fall.
"The University of Michigan-Flint is committed to working with local high schools to encourage academic achievement, these scholarships are one aspect of our commitment to Flint and Flint schools," said Chancellor Susan E. Borrego.
The Chancellor's Scholar Award provides a scholarship to the top student from five Flint area high schools: Northwestern High School, Southwestern Classical Academy, Hamady High School, Beecher High School; and Elisabeth Ann Johnson High School in Mt. Morris. The scholarship is valued at over $9,000 each year, and will cover full tuition and fees for four years. The 5 high schools were selected by studying three factors:
Proximity to campus
Percent of student body receiving free or reduced lunch
Historical high interest/application rates
Each high school was asked to identify their top students.The Chancellor Scholars for 2015 includes:
Daysha Harris of Northwestern High School
Mariah Patten of Hamady High School
Jermariana Chandler of Beecher High School
Brandon Grant of Southwestern Classical Academy
In June, some of the Chancellor Scholars met with Chancellor Borrego for the first time on the UM-Flint campus. Mariah Patten, Jermarian Chandler, and Brandon Grant all talked about how receiving the scholarship will make their college experience less stressful due to the financial support.
"It means everything to me," said Jermarian Chandler. "My mom had an issue with taxes, and there was no way financial aid was going to cover the costs. Now I can go to college."
Mariah Patten echoed Jermarian's comments, stating, "This means a lot. I was stressed out about paying for college. I have an older sister who is in college, and I knew money would be tight. This scholarship takes the stress out of going to college."
"We have not been competing intentionally for our local top students. Meeting these outstanding students is inspiring. It serves all of us–the students, the University and the community–to provide an opportunity for them to complete their degree at UM-Flint," said Chancellor Borrego. "I am hopeful in the near future we will be able to expand this scholarship program to offer more full-ride scholarship opportunities to top local students."
---
PHOTO: Mariah Patten, Chancellor Susan E. Borrego, Brandon Grant, and Jermarian Chandler.
Contact University Communications & Marketing with comments, questions, or story ideas.