Graduates Share Personal Stories at UM-Flint Spring Commencement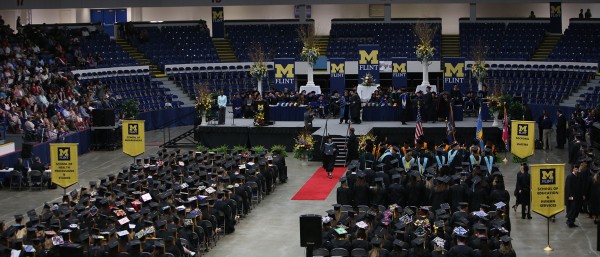 University of Michigan-Flint honored the talents and commitment of its graduating students with two commencement ceremonies May 3rd at the Perani Arena and Event Center. They celebrated their accomplishments together, as each took their own path to graduation. Here are some of their stories.
Ernest Jones
Ernest Jones wasn't 100 percent sure he wanted to walk in his graduation ceremony Sunday. But he learned 'Mother Knows Best'.
"My mom wouldn't have it. So here I am."
As he prepared for the ceremony, Jones said it was the right call.
"It brings some physical closure."
Jones, who wraps up a bachelor's degree in economics after the spring semester, has spent three terms so far at the university. He previously studied at two other colleges. Jones, from Flushing, celebrated the knowledge and advice of staff at UM-flint in helping him plan out his studies.
"They know what they are talking about."
Neketia Alyatim
Neketia Alyatim started at UM-Flint in 2010.
Throughout her college career, she balanced life as a single mother of two sons with her studies.
The backing of faculty, and their flexibility in scheduling, helped her succeed, she said.
She graduated with a bachelor's degree, majoring in Spanish. She plans on pursuing a master's degree, with a career as a high school Spanish teacher.
"The teachers were excellent to me," said Alyatim, who is currently a substitute teacher.
Her sons, 14 and 9, attended the ceremony.
"It's a good day. I'm excited."
Thomas Mann
Thomas Mann was preparing for commencement at the Perani Arena and Event Center when Dr. Stevens Wandmacher, chair of and lecturer in the UM-Flint philosophy department, heartily greeted and congratulated him.
Faculty support and encouragement were constants throughout Mann's career at the university, he said. A double major in philosophy and history, he plans on pursuing a teaching career in philosophy after further studies. At UM-Flint, he experienced a positive teaching environment.
"I wasn't expecting faculty to be so fantastic," Mann said, who started at UM-Flint in 2010. "It happens all the time", he said about the support students receive from faculty.
Lata Jadhav
Lata Jadhav started at UM-Flint for her graduate studies in 2013 after her sister-in-law, who was a student at the university, recommended it. Jadhav, from India, was working in New Jersey before coming to campus.
It was a long-time dream of hers to get her advanced degree in the United States. Sunday, that dream was realized as she earned her master's degree in computer science.
"It's really exciting for me," she said.
Crystal Turner
Crystal Turner knew she wanted to go to UM-Flint since she graduated from Genesee High School in 2008. The Flint resident went to Mott Community College for two years before starting here. The advisors, student clubs, and other resources made her appreciate UM-Flint.
"I'm really nervous, but I'm proud of myself," Turner said before the morning commencement ceremony. She studied psychology and earned her bachelor's degree.
Turner will be pursuing her master's degree online, with a focus in marriage and family therapy.
Qijun Tang
Qijun Tang found satisfaction at UM-Flint even in the casual conversations with strangers. Tang, from China, graduated with a bachelor of science in engineering. He started at the university in 2011.
His friends helped him advance his studies in mechanical engineering and to hone his English language skills. He leaves for a job in China impressed with the warm atmosphere at UM-Flint.
"People are friendly. Even when we didn't know each other, we would say 'hello' and 'how are you?'"
Lynnsilee Evans
Lynnsilee Evans earned her bachelor of science in nursing and her master of science in nursing at UM-Flint. During her studies, she worked full-time as a nurse in Lansing.
She took most of her classes online.
"The distance learning was convenient because I worked full-time, and it was independent."
Evans continues to work in a Lansing hospital and said her studies through UM-Flint burnished her professional approach.
"It gave me a more holistic approach to nursing," she said.
Ronnie Prince-Jones
Ronnie Prince-Jones considered leaving his hometown of Flint for college after graduating as valedictorian of Flint Southwestern Academy in 2010, but in the end decided to stay close to home. He started at UM-Flint the same year.
He joined a fraternity, student government, and worked at the Equal Opportunity Initiatives office during his college career.
He was pleasantly surprised by the diversity on campus, including the range of international students.
"I have respect for tons of different cultures," he said.
He found his professional passion and majored in business administration. He earned his bachelor's degree, currently has an urban planning internship, and plans on pursuing graduate studies in business.
But before than, he was soaking up commencement.
"I'm on cloud nine."
Ryan Heath
Ryan Heath spent nine years in the military before coming home to the Flint area. He served in the U.S. Air Force until 2009 and started his studies at UM-Flint in 2011.
He pointed to the university's Student Veterans Resource Center as a big part of his success.
"Anytime you need anything or have any questions, they are able to help you right away."
Heath, who majored in finance and earned his bachelor's degree in business administration, starts a full-time supply chain management job next month.
---
Contact University Relations staff writer Robert Gold with comments, questions, and ideas at goldr@umflint.edu, (810) 424-5596, or on Twitter, @writerobert.
Contact University Communications & Marketing with comments, questions, or story ideas.