Alumni Gift Helps Send UM-Flint Students to New Orleans for Alternative Summer Break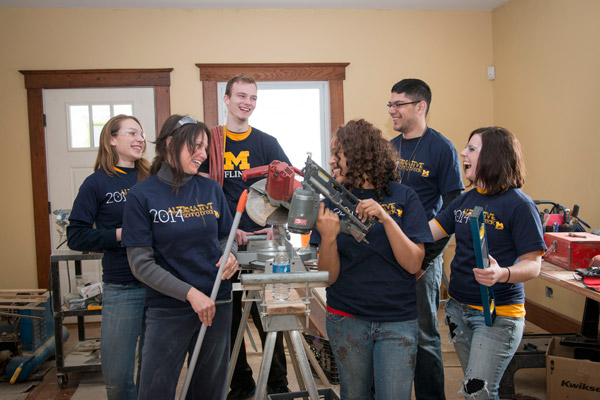 The University of Michigan-Flint is taking its community spirit on the road. A crew from UM-Flint, including 21 students, will work on a home-and-property-renovating project in New Orleans in May as part of the university's first Alternative Summer Break.
Alternative Spring Break, in which students work with community organizations within Flint, has been a university staple for the past eight years. This semester, 71 students volunteered throughout the week at 10 sites, such as the Carriage Town Ministries, the North End Soup Kitchen, Dailey Elementary School, and Salem Housing.
The popularity of the program, and interest from students for its expansion, led to the summer initiative, said University Outreach project coordinator Gary Ashley.
"We knew the desire and the need is out there," said Ashley, who oversees the Alternative Breaks programs at UM-Flint. Service Saturdays, in which faculty, staff, and students can volunteer for part of a day, was also started this year.
The summer and Saturday initiatives help sustain the momentum, creativity, and energy from the Alternative Spring Break projects, Ashley said.
The team from UM-Flint will attend Alternative Summer Break May 16 to May 24. They will work on a property renovation for the organization Project Homecoming, which helps restore homes damaged by Hurricane Katrina or builds new homes on vacant properties. The details of the work will be known closer to the trip, but it could include tasks like painting, landscaping, and doing drywall.
The university kept the participant costs down, Ashley said, with $400 paying for travel, lodging and food. And thanks to the generosity a UM-Flint alumni wife and husband duo, two students have their trips paid for.
Casie Hartman graduated from UM-Flint in December 2013 but has remained involved with Alternative Spring Break. She has been a board member for three years and has participated in five spring break events.
"Being born and raised in Flint, I feel I have almost a calling to stay here and make it a better place," she said, calling the alternative breaks program as being the "doorway to get me involved" when she was a student. Her husband, Andrew Hartman, graduated in December 2011 and now is earning his master's degree in business administration from the university.
The pair decided to sponsor two students on the New Orleans trip, in which Casie is also participating.
"We had some money that we could afford to donate," Andrew said. "We didn't want people not to be able to go on the trip."
Ashlyn Dotson, graduating in May, has participated in the Alternative Spring Breaks the past two years. She originally hoped to attend Alternative Summer Break, but paying off student loans was her financial priority.
But Dotson will be going to New Orleans, after the Hartmans reached out to her.
"I was really excited and so thankful she and her husband would do that," she said.
Dotson was a junior when she decided to participate in the spring event in Flint. She stayed at Carriage Town Ministries for the week. Last year, she did drywall, and this spring, she helped run the coat drive. Both years evolved her mindset about contributing to projects and people in the area.
"It just reminds me they are no different than me," she said. "I could be homeless. One thing and that could be me."
Stephanie Hare, a UM-Flint senior and Alternative Spring Break board member, also had her trip sponsored by the Hartmans.
"I'm really grateful. They have their own obligations. I think it is really amazing and selfless of them to do something like this," Hare said.
Casie Hartman said the New Orleans trip and working with a new group of volunteers should help spur new ideas and discussions, which can then be utilized in Flint.
"They will learn the things that will help them when we come back and do the spring break here," she said.
---
Contact University Relations staff writer Robert Gold with comments, questions, and ideas at goldr@umflint.edu, (810) 424-5596, or on Twitter, @writerobert.
Contact University Communications & Marketing with comments, questions, or story ideas.