UM-Flint's 9th Annual Super Science Friday to Feature NASA Astronaut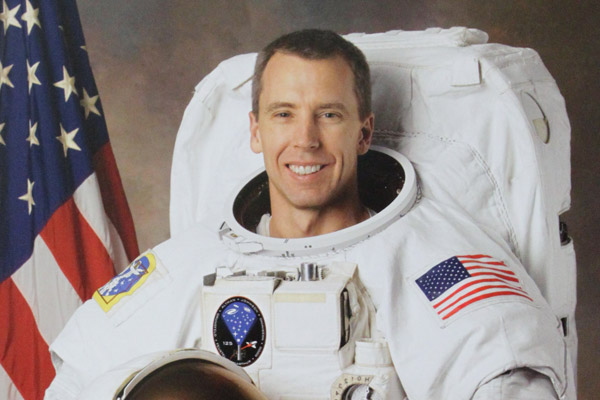 On Friday, May 1, more than 800 middle school students from 25 schools in the Genesee County area will participate in hands-on science activities on the University of Michigan-Flint campus.  This is the largest group of students to ever attend Super Science Friday.

This year's special guest, Andrew Feustel Ph.D., a Michigan native from Lake Orion and current NASA Astronaut, will be talking to the students about his role in upcoming space programs. He will do two presentations at sessions designed to allow for student input. He will be available to meet with the media from 11-11:45 a.m.
Feustel's NASA experience includes being selected in May 2009 for the crew of STS-125, the final Space Shuttle mission to the Hubble Space Telescope. On May 16, 2011, he launched on Space Shuttle Endeavour's final mission for STS-134 to the International Space Station.
UM-Flint invites the students to campus each year to increase awareness and interest in the science, technology, engineering, and math (STEM) areas before they register for high school classes that will affect career choices.
According to the U.S. Department of Education, the United States position as a global leader is threatened as comparatively few American students pursue expertise in the STEM fields—and by an inadequate pipeline of teachers skilled in those subjects. President Obama has set a priority of increasing the number of students and teachers who are proficient in these vital fields.
Over 30 UM-Flint faculty and staff will donate their time to deliver a number of different presentations in a wide variety of areas from music, art, robotics, medicine, alternative energy, and more. Students will work in classrooms, laboratories, and outdoors with UM-Flint faculty, staff and students leading the activities.
"During the time the students are with us, they will explore the properties of matter, learn about alternative energy, direct a robot, or find out how crime fighters use science in their investigations," said UM-Flint Interim Provost and Vice Chancellor for Academic Affairs Barbara Dixon. "The presenters are all looking forward to answering the questions students may have about their sessions and our university."
Some of the 30 activities and demonstrations include:
THE INCREDIBLE EGG DROP
Students are challenged to build a container that will prevent an egg from breaking or cracking when dropped from the top floor of the Harding Mott University Center. Participants will learn topics in kinematics and dynamics.
NEWSCASTERS FOR A DAY: HOW THEY MAKE THE EVENING NEWS
In this workshop we will create an evening news segment by using a green screen, teleprompter, and camera. We will use video editing software to immerse two volunteer newscasters into their top story.
HEARTSAVER CPR
Basic adult/child CPR skills shared with return demonstration and testing available if interested in CPR card.
CAN YOU TRUST A ROBOT?
In this workshop, students will learn how to program a robot to do some simple tasks. Students will experiment with the robots by trying different types of control programs. A brief introduction to programming will be given through the use of the iRobot Create robotics platform. Students will form hypotheses on the robot behavior and test these hypotheses in a series of brief experiments.
BLOOD, GUTS, & GORE: SPECIAL EFFECTS STAGE MAKEUP RESEARCH AND TECHNIQUES
In this workshop students will learn the basic techniques of special effects makeup application, and how research is an integral part of the process of doing realistic special effects makeup.
This year's Super Science Friday will feature a special presentation called "The Magic of Chemistry" by Dr. Slime. Michael T. Garlick performs as Dr. Slime, a flamboyant green-haired scientist archetype character whose performances are styled to excite, educate, and entertain. Dr. Slime makes up to 30 scheduled appearances each year at K-12 schools, science summer camps, mall shows, and regional American Chemical Society (ACS) conventions.
This event is free to students through the generosity of the sponsors: The Nartel Family Foundation, The Frederick and Stella Loeb Charitable Trust, and the Herbert J. and Dorothy W. Booth Fund at the Community Foundation of Greater Flint.
For additional information contact Mark E. Miller, Ph.D.
, Super Science Friday Coordinator
, at (810) 237-6526 or 
markemil@umflint.edu.
Contact University Communications & Marketing with comments, questions, or story ideas.