UM-Flint Announces 2015 Faculty and Staff Award Winners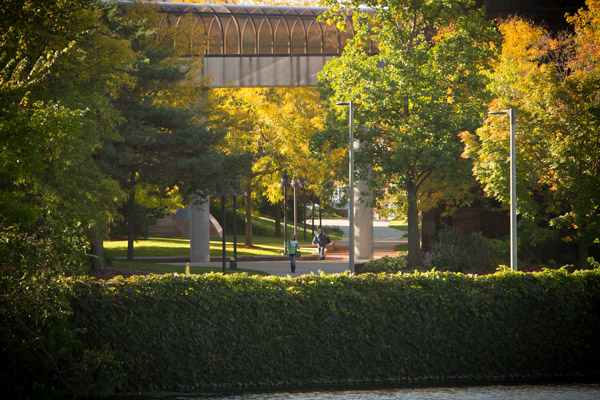 The University of Michigan-Flint Office of the Provost, with the assistance of the Scholarships, Awards, and Special Events Committee, announced several faculty and staff awards for 2015.
This year's awards and recipients:
Distinguished Service Award
($2,000 stipend)
Kathryn Schellenberg, Associate Professor of Sociology
Scholarly or Creative Achievement Award
($2,000 stipend)
Lixing Han, Professor of Mathematics
Teaching Excellence Award
($2,000 stipend and member of the Thompson Center for Learning and Teaching (TCLT) advisory committee for three years)
Lois Alexander, Associate Professor of Music
Lawrence D. Kugler Academic Advisor Excellence Award
($2,000 stipend)
Brenda Cameron, Quality Improvement Projects Manager in Public Health & Health Sciences.
Alvin D. Loving Senior Faculty Initiative Award
(One year with released time of one three-credit-hour course per semester. in which the recipient can use this time for other professional efforts such as research, service, etc.):
Ernest Emenyonu, Professor of Africana Studies, Chair of Africana Studies Department
Lucinda Hinsdale Stone Junior Women Faculty Award
("reassigned time of two three-credit courses during the academic year in which the recipient holds this award. The recipient will also receive a privately-funded monetary stipend to be used in any way best suited to her scholarly and pedagogical interests")
Karen Salvador, Assistant Professor of Music
Dorothea E. Wyatt Award
($2,000 stipend)
Peggy Kahn, Professor of Political Science
Dr. Lois Matz Rosen Junior Faculty Excellence in Teaching Award
($1,000 stipend. The recipient is chosen by the TCLT advisory board)
Nicholas Kingsley, Assistant Professor of Chemistry
---
Contact University Relations staff writer Robert Gold with comments, questions, and ideas at goldr@umflint.edu, (810) 424-5596, or on Twitter, @writerobert.
Contact University Communications & Marketing with comments, questions, or story ideas.