Chancellor's Editorial Pledges to Recommit UM-Flint to City's Revitalization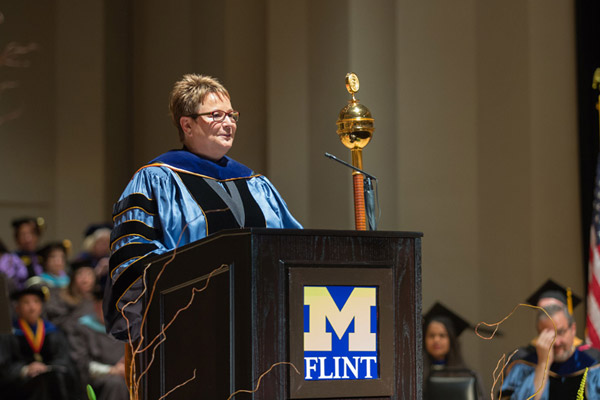 Chancellor Susan E. Borrego writes that the University of Michigan-Flint is ready to play a role in the resurgence of Flint and the region. In an opinion editorial published online in The Flint Journal, Chancellor Borrego describes the transformational impact of education on her own life as well as the lives of others.
The Time is Now: UM-Flint Ready to Help Community Revitalization Efforts
By: Susan E. Borrego, Ph.D.
Education is choice.
When I first wrote that sentence in an essay for my application to graduate school, I was just beginning to understand the transformative power of education. I, like many students today, was struggling with finances, juggling the demands of my education and my family, and seeking to prove to the world and to myself that I had potential.
This past weekend, I was humbled to see so many from the Flint community join the hundreds of university faculty, staff, and students at my inauguration as the 7th Chancellor of the University of Michigan-Flint. During the lead up to the event, I had the opportunity to reflect on that one sentence from so many years ago. I realize now that education represents choice but also so much more. It¹s the hope of a brighter future, an opportunity for a better life, and the promise of steadfast commitment to our community.
The University of Michigan-Flint is dedicated to education to opening books and opening doors for our students. On campus, we push each one of our students to reach their full potential to learn, grow, build careers, and choose a new future. Each student is given the opportunity to work alongside our talented faculty, participate in groundbreaking research, and learn from leaders in their respective fields.
But the university¹s commitment to the community doesn¹t end at the classroom door. Our commitment goes beyond educating our students and beyond our campus buildings. When I look at this campus¹ future, I see it intrinsically tied to the community of Flint.
As the chancellor of the University of Michigan-Flint, it is my commitment to ensure that the university is an active partner in the community. We will invest in this community. We will help efforts to revitalize this community. We will work cooperatively with the leaders of this community. We are ready to work hard and do what it takes to better this community.
There is already great work being done to help bring Flint back. There is a lot of love for our town, and I¹ve witnessed first-hand a determination and dedication to this city that is inspiring. I want to thank you all for your support of me, commitment to the University of Michigan-Flint and dedication to our community.
We have a great opportunity to bring the change we want to Flint. Our students know the transformative power of education. Our next step is to show the transformative impact the University of Michigan-Flint can and will have on creating a better future for our entire community. We are ready.
The time is now. Go Blue!
Contact University Communications & Marketing with comments, questions, or story ideas.