Summer Engineering Camps for High School Students Coming to UM-Flint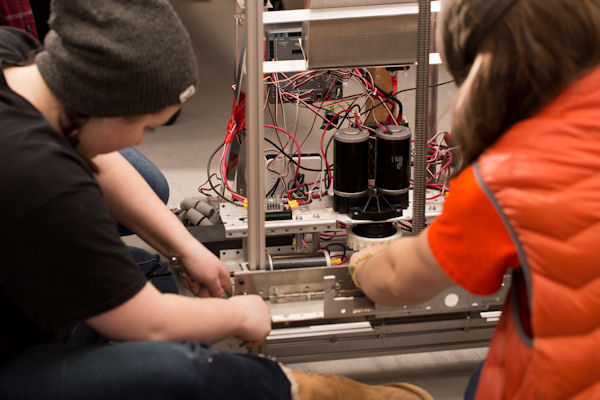 High school students will explore the world of engineering this summer at the University of Michigan-Flint. UM-Flint is running two engineering camps this July on campus, which gives students a chance to work on projects in university labs, and learn from faculty.

There will be a two-day camp for students recruited by Alpena County Community College, and a three day, non-residential camp, open to all areas. Those coming through Alpena County Community College will stay at First Street Residence Hall, said Dr. Mark E. Miller, the Summer Engineering Camp coordinator.
Organizers said it give students a chance to experience engineering and help them decide whether it's something they would like to pursue in college and for a career. Dr. Jeff Pratt, coordinator of K-12 Partnerships at UM-Flint, said the camps gives high school students the chance to visualize life in college.
"When a high school student gets a chance to come to campus and experience the rigor, the excitement of courses being taught by college professors, I believe it encourages them to strive in high school and see an end in sight," said Pratt.
Both camps will host up to 25 students.
Alpena Community College runs a U.S. Department of Education TRIO Talent Search Program, which helps develop a successful pathway for 6th to 12th graders to attend and remain in college. Robert Newtown, director of the program, said current 8th-11th graders will be signed up for the UM-Flint summer camp from throughout northeast Michigan.
"They get an idea of living in the dorm, and to experience the architecture, and the atmosphere of a college campus," Newton said.
The two-day camp, with students via the community college-run program, is July 14 and July 15. The three day, non-residential commuter camp is July 6-8.  Those interested in more details about the program requirements can visit the camp's informational page online.
University of Michigan-Flint engineering faculty will lead the program, with current UM-Flint students helping out. The high school students will use the engineering labs and classrooms; and will learn computer aided design, product design and development, and tools such as 3D printing. University students and staff will also help out at the camps.
"Participating students will design an engineering component by working in teams (of 3 to 4 students) using product design and development process," said Dr. Quamrul Mazumder, an associate professor of mechanical engineering at UM-Flint, who is also overseeing the engineering content of the program.
"The part will be designed using CAD and will be built using a 3D printer located in the engineering laboratory. Another part will be designed using computer numerical control (CNC machine) by students. Students will compare the advantages and limitations of parts using the 3D printer with the CNC machine. The team will test the parts that were designed and built during the camp."
---
Contact University Relations staff writer Robert Gold with comments, questions, and ideas at goldr@umflint.edu, (810) 424-5596, or on Twitter, @writerobert.
Contact University Communications & Marketing with comments, questions, or story ideas.