UM-Flint Students Recognized at U-M Honors Convocation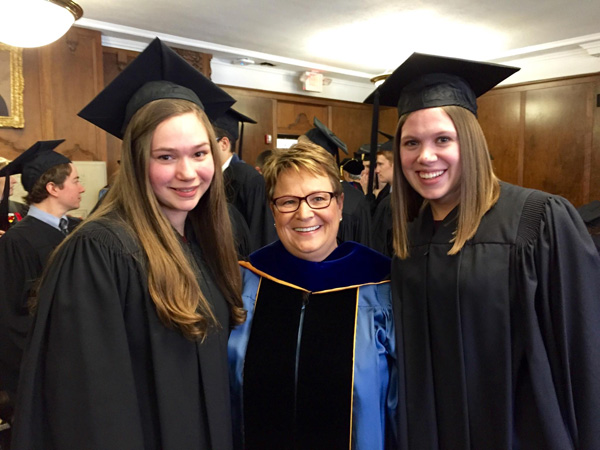 One of the University of Michigan's most important academic traditions, the Honors Convocation, was recently held in Ann Arbor for the 92nd time. The Convocation is an annual celebration where undergraduate students are recognized for their distinguished academic achievements. More than 700 students from the University of Michigan-Flint were among the honors and award recipients.
"I am extraordinarily proud of our honors students at UM-Flint," stated Chancellor Susan E. Borrego. "The fact that hundreds of students have been recognized for outstanding academic excellence shows their commitment to their studies, as well as the support of our faculty."
University Honors
The University Honors designation is awarded to students who earned a 3.5 grade point average or higher during a term. The student must have taken a minimum of 14 credit hours during the term, including at least 12 credits elected on a graded (A-E) basis. Students who achieve University Honors designation for both the winter 2014 term and fall 2014 term are recognized at Honors Convocation. Seniors who achieve University Honors for at least one of these two terms are recognized at the Honors Convocation.
Nearly 657 UM-Flint students were awarded University Honors.
William J. Branstrom Freshman Prize
First-term freshmen who rank in the upper five percent of their class within their school or college are awarded the William J. Branstrom Freshman Prize. The student must have taken at least 14 graded (A-E) credits during the fall 2014 term to be eligible for this award. Advanced placement credit does not disqualify a student for consideration of this award. Recipients of this award are recognized during Honors Convocation.
College of Arts and Sciences
Noor R. Abdalla
Mikeyla S. Agopian
Salma Al-Midani
Abdul M. Almounajed
Mohammed K. Alsarraj
Kristin A. Ball
Michael A. Berlingieri
Daniel R. Bloink
Megan M. Bodine
Taylor J. Boes
Erin J. Brcic
Markaman M. Childress II
Benjamin R. Climie
Jaycie N. Clinton
Stuart J. Coffey
Danielle N. DeJonge
William C. Eidson
Kristen N. Eynon
Noah T. Knutson
Gerald B. Lam
James C. Lemon
Christian K. Mansour
Marissa C. Muller
Hannah M. Nettleton
Meghan M. Newkirk
Kevin R. O'Connor
Amanda L. Rocheleau
Raneem Shukairy
Kayla R. Stiles
Chloe A. VanTol
Griffin M. Whybra
Sang Wun Jung
School of Health Professions and Studies
Sang Wun Jung
School of Management
Andrea N. Bade
Anna L. Campanella
James B. Angell Scholars
Students who achieve an "A" record (all grades of A+, A, or A-) for two or more consecutive terms are recognized as James B. Angell Scholars. The student must have taken a minimum of 14 credit hours each term, including at least 12 credits elected on a graded (A-E) basis. From the University of Michigan-Flint, 145 students were honored.
"Having the opportunity to visit at lunch with Angell scholars Rebecca DeJonge and Elena Sobrino (both 7 term Angell Scholars) and their families was great. To hear them describe their experience working with faculty, traveling abroad to study, and of campus support for student achievement was such a powerful example of the Flint difference—small classes, excellent faculty, and student research opportunities," said Chancellor Borrego.
(Numbers below indicate consecutive terms qualifying as an Angell scholar)
College of Arts and Sciences
Yara T. Abuaita 4
Tobi E. Adebisi 6
Hana Al-Harastani 3
Donn M. Bacon, B.A. 2
Shereen Baig 4
Johnathan M. Belanger, B.A. 3
Erica J. Benfield 2
Cassidy R. Buckelew 3
Grace A. Carey, B.A. 5
Shuolin Chen 3
Katrina E. Chrismer 3
Lauren M. Climie 2
John R. Collins 2
Benjamin Conklin 2
Joshua L. Csapo 2
Sasha R. Davis 2
Rebecca M. DeJonge 7
Shahd Duzdar, B.S. 6
Schuyler A. Ferguson, B.A. 2
Amelia M. Fonger, B.A. 2
Kelsey A. Gamble 2
Lena H. Gayar 2
Brian N. Gebhart 4
Alexander R. Giddings 2
Michael A. Glubzinski 2
Kayla S. Hackney 2
Paige R. Hardy 3
Timothy G. Hennigan, B.A. 2
Lindsey S. Hieber 2
Desiree R. James 2
Qi Jia 2
Corey A. Kennelly 2
Emilee L. Khair 2
Jenna J. LaBelle 4
Savannah P. Lee 2
Bethany R. Lemon 2
Hannah L. Lenning, B.A.S. 2
Johnathan P. Lewis, B.S. 6
Jeromona L. Maddox 2
Thomas J. Mann 4
Brandon J. Marshall 5
Anthony J. Maxwell 3
Janice E. McCoy 2
Justin D. McKinney 2
Jaslyn L. Morris 3
Allison N. Myers 3
Brekke E. Pichette 3
Theresa M. Pickell 2
Rahma M. Rizk 2
Allison P. Ross 2
Melissa E. Sanborn 2
Melanie K. Schott, B.A. 4
Zachary T. Scott 5
Adit Shah 2
Desmond D. Sheppard 2
Akanksha Singh 3
Ariel B. Skellett, B.A. 2
Kaleigh C. Smith 2
Elena J. Sobrino 7
Michaela S. Speckmann 2
Kristin E. Striber 2
Sarah D. Taipalus 3
Teirani M. Thomas, B.S. 4
Ashley M. Thornton 2
Samantha R. Walling 2
Dallas W. Woodward 2
Heather L. Workman, B.F.A. 3
Taylor R. Yuhanna 2
Arely M. Zimmermann 2
School of Education and Human Services
Katelyn J. Bohms 2
Chelsea C. Borkovich 2
Stephanie J. Chapman, B.S.W. 5
Zachary M. Comerford 2
Katie P. Frase, B.S. 2
Jenna L. Freeman 2
Bradrick E. Fuson 4
Adam R. Guest 4
Alyssa L. Hayes 3
Mary E. Hirzel 5
Anneke M. Hoogenstryd 2
Elizabeth M. Johnson 3
Callie L. Kraemer 2
Tiyanna L. MacNear, B.S.W. 2
Alexandra L. Mansour 2
Jaimie L. Martinbianco 2
Kristin M. McBride, B.S.W. 3
Marissa L. McCann 3
Natalie K. Morey, B.S. 2
Maureen V. Parsons 2
Katrina L. Pickett-Rust 4
Niveen M. Rishmawi 2
Hana Sankari 3
Drew K. Szarenski 3
Elise S. VanBuskirk 2
Ann M. Waite 4
Chelsea L. Waterson 3
School of Management
Danielle J. Adams, B.B.A. 6
Saad K. Alshahrani 2
Michael E. Bender 3
Yaqian Chen, B.B.A. 2
Chantel L. Derks, B.B.A. 2
Ryan J. DuCharme 2
Raya B. Elizondo 2
Zena A. Elkady 2
Keith W. Galbraith, B.B.A. 2
Matthew H. Hemric 5
Justin D. Hernandez 2
Taylor J. Keen 3
Meri R. Kirshman, B.B.A. 8
Makenna C. Lumley 2
Justin J. Randall 2
Diana E. Van der Vossen, B.B.A. 4
Yunyao Zhang, B.B.A. 2
Contact University Communications & Marketing with comments, questions, or story ideas.