UM-Flint Physical Therapy Department Improves Learning by Improving Lives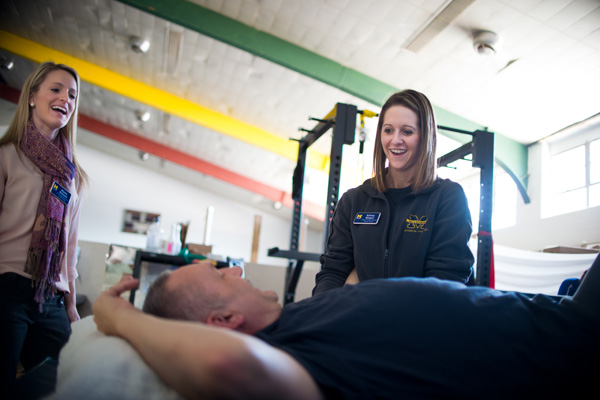 Jim Schultz prepared to leave the physical therapy room after an hour-long session. The Flushing man had just detailed to some visitors how important the UM-Flint students and faculty were to him and to his recovery from a stroke.
Before leaving, he expressed a burst of regret to Amy Yorke, an assistant professor of physical therapy at UM-Flint who spearheaded the program that brought him to the university's Urban Health and Wellness Center for therapy. Yorke and two other faculty members lead a class for 2nd year Doctor of Physical Therapy (DPT) students, in which students work with adult patients with neurological challenges.
Schultz hadn't expressed enough how critical the group was to his progress, he insisted.
But his words and actions indeed painted a picture of gratitude.
"This is phenomenal. You don't understand what a blessing this has been, just an absolute blessing," Schultz said.
A few sessions into his therapy with the students, Schultz had already lost the pain in his left arm for the first time in months. He also works with students and faculty on his gait, balance, and overall strength.
Yorke has taught the "Neuromuscular Plan of Care in Practice" class at UM-Flint for seven years. But this year, she added the treatment for community members after receiving encouragement from University Outreach.
Sixty-nine students are involved, working with 20 patients. The eight Thursday sessions started in late January and runs through late April from 1:00 p.m. to 6:30 p.m. The community members have a range of challenges, including multiple sclerosis, spinal cord injuries, traumatic brain injury, and recovery from strokes.
Yorke teaches the class with Sara Demars-Harrison and Alan Hammond, both lecturers in the physical therapy department. Several other faculty members help out.
Students meet with specific patients throughout the semester.
"Their conversations with me now are so much deeper and so much richer than ever that what they were ever before because we are actually talking about a real person," Yorke said.
But it also adds another practical layer, she said. Students are learning electronic records filing and logistical issues like scheduling the use of certain equipment.
Jolene Weesjes, a student in the class and Yorke's graduate student research assistant, is working with a below-the-knee amputee suffering from vertigo, and a person with multiple sclerosis. And she's also watching how her peers interact with patients.
"It is nice to see people coming in from outside. It just gives us a chance to actually work with different people and actually find out what is out there," she said.
The program also serves as an outlet for patients, Yorke said. It gives them a chance to share their stories. And it lets them be teachers to the students in some ways.
And patients can see significant improvements. One woman was told by her doctor she wouldn't walk again after her stroke, Yorke said. But with therapy via the UM-Flint program, she recently took thirty steps.
Schultz started utilizing the talents of UM-Flint physical therapy students and faculty about six months ago. He suffered his stroke a year ago and when his insurance no longer covered treatment, he began getting weekly therapy at PT Heart, the student-led university clinic on Flint's Stewart Avenue that gives free care to underinsured or uninsured community members. At both PT Heart and in Yorke's class, Schultz said he's been impressed with how faculty make the students think about unique and specific details for patient care.
"The students here are going to be great therapists when they get out," he said.
---
Contact University Relations staff writer Robert Gold with comments, questions, and ideas at goldr@umflint.edu, (810) 424-5596, or on Twitter, @writerobert.
Contact University Communications & Marketing with comments, questions, or story ideas.