Gabrielle Veal is First Earth and Resource Science Student to Reside at UM-Flint's Urban Alternative House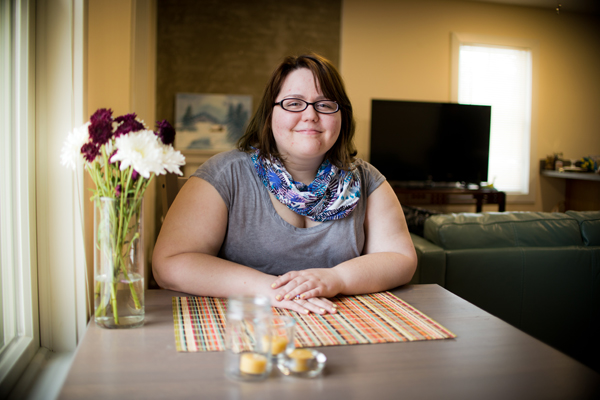 Gabrielle Veal first started taking regular trips to the corner house on Eddy Street in Flint last summer.
The UM-Flint student joined some friends at the Urban Alternatives House (UAH) to maintain the gardens. Once a week or so, she would weed and plant vegetables.
The Earth and Resource Science student had previously heard about the house, but this deepened her understanding of its potential. She wanted to get involved beyond the classroom.
"It is my responsibility to keep my education going," she said.
The UAH house is run by the university and the Genesee County Land Bank. It includes classroom space and two apartments. It has several features, such as geothermal heating and cooling and a solar energy system.
Veal's summer gardening wound down but her connections to the house were just beginning. Last fall, she and several peers started the campus group FUEL (Future Urban & Environmental Leaders). The group holds meetings in the UAH house. And this January, she and her mother moved into one of the apartments within the facility. She is the first ERS student to live at the house. The ERS department manages the home and she pays rent to the Land Bank.
Veal wants to leverage her role with FUEL and as a student to help extend initiatives at the house. For example, she wants to develop a how-to guide for community gardeners on using raised beds for best growing.
"I'm really excited for the growing season," Veal said. "FUEL wants to be involved with it again."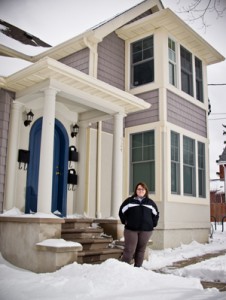 The first house pegged to become the urban alternatives house was destroyed by fire in 2010. The Eddy House Street was picked in 2012, and after renovations, opened in 2013. Its features include on-demand hot water heating, rain gardens, and porous pavement, which reduces runoff. It essentially serves as a sustainable living laboratory. The house is LEED (Leadership in Energy and Environmental Design) certified by the U.S. Green Building Council.
Several departments, including ERS, sociology, English, and the English Language Program, have used the classroom space.
The house also further connects the community and university, said Marty Kaufman, an ERS professor and chair of the department. It also gives students an option for living within Flint.
Kaufman said future plans for the project include a website in which users can click on a certain house feature and calculate how much money one could save incorporating this feature into his or her home.
Veal moved from Davison, and the reduction in her commute frees up more time for the Environmental Science & Planning major to work on these projects. Veal said the UAH house can serve as a model for drawing more students to live in Flint.
"I think it would be appealing," she said. "It's really helpful for me."
---
Contact University Relations staff writer Robert Gold with comments, questions, and ideas at goldr@umflint.edu, (810) 424-5596, or on Twitter, @writerobert.
Contact University Communications & Marketing with comments, questions, or story ideas.