UM-Flint Chancellor Delivers State of the University Address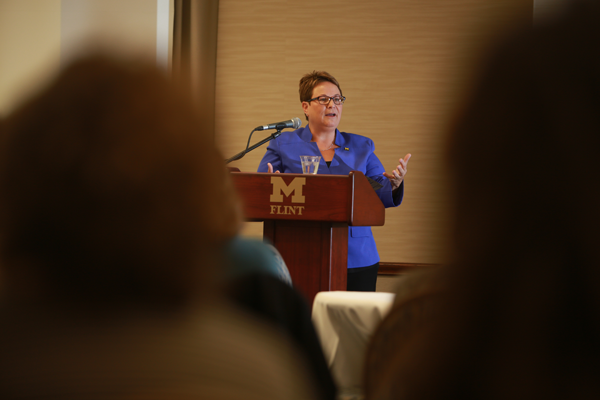 University of Michigan-Flint Chancellor Susan E. Borrego delivered her first State of the University address to campus and community members on Thursday, February 5.
Borrego highlighted several points in her talk, including:
Campus Successes
Borrego celebrated several university achievements and accomplishments in her talk. Some of these included:
• The Urban Alternatives House was awarded the Leadership in Energy and Environmental Design certificate this fall.  The house, which is a partnership between the university and the Genesee County Land Bank, includes classroom space and two apartments. Located on Eddy Street in Flint, the house includes several features such geothermal heating and cooling and enhanced insulation.
"This is another example of engaging with the community by turning a blighted structure into a classroom, lab, outdoor garden, and residence," Borrego said. "Truly innovative."
• The Theatre Department and Flint Youth Theatre produced 9XNourished, a production that told the story of the Flint Farmers' Market.
• UM-Flint, for the first time, was named to the President's Higher Education Community Service Honor Roll.
"This distinction is given to universities who work to solve community problems and encourage students on a lifelong journey of civic engagement," Borrego said.
• Borrego lauded the efforts staff, faculty, and students are bringing to a number of initiatives. She spotlighted the work of the Student Government Council in particular.
"Our student body president Nakshidil Sadien is a rock star," said Borrego. "She and her colleagues worked with the MTA to expand transportation to help students shop for groceries and staples. Additionally, another cool aspect of their project is that they worked with various campus departments to create a bus shuttle app so that students know where the shuttle is at all times."
Diversity and Inclusion
Borrego emphasized the value and importance of diversity and inclusion to fulfilling the mission of the University of Michigan-Flint.
"We have work to continue when it comes to creating a more inclusive and diverse campus community. This is not new; however we must recommit ourselves to progress and change in multiple places across the campus. Diversity is at the core of great learning. We simply must engage in a way that will move the needle," Borrego said.
In the coming weeks, the vice chancellors, deans, associate deans, and directors—and student government leaders—will participate in cultural competency training as a first step.
Borrego also said she will be looking to add a Vice Chancellor for Equity and Inclusion to coordinate diversity efforts.
Student Success and Improving Graduation Rates
Borrego said the top priority is student success, defining it as high expectations and exceptional student support. This spring, the university will hold a retention summit to evaluate data to be used to develop interventions to help keep students on track toward graduation. She also pointed to improving the retention of first-year transfer students and increasing faculty support, which in turn drives student success.
Borrego also emphasized reaching out to potential students in underserved areas, working with schools and faith communities to identify and support students, and offering scholarships to the top 5 percent of graduating classes in those areas.
View the full State of the University address video

Contact University Communications & Marketing with comments, questions, or story ideas.