UM-Flint Honors MLK Day 2015 with Day of Service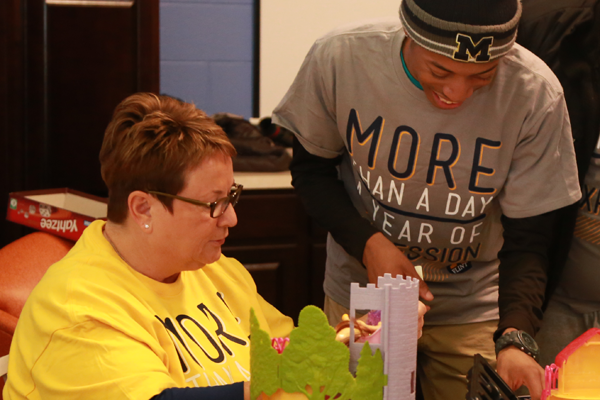 The University of Michigan-Flint celebrated MLK Day 2015 with a series of service events in the community. The day kicked off with a service breakfast in the Michigan Rooms at the University Center.
After breakfast, students, staff, faculty, and community members volunteered for community projects throughout Flint.
There were 134 people registered for six volunteer sites, with others showing up to help out too, organizers said. A day-long blood drive was also held in the Happenings Room in the University Center.
MLK Day is the first civic engagement activity that helps expand the university initiative More Than a Day, a Year of Expression.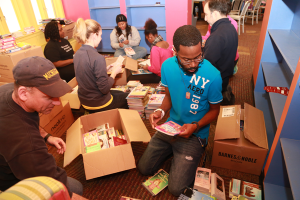 At the Whaley Children's Center, students, staff, faculty, and other volunteers helped sort and stamp new books donated by Barnes & Noble. The volunteers helped set up a library within the center's game room, said Marcia Heller, development coordinator for Whaley Children's Center.
"This is exceedingly helpful," Heller said about the crew of UM-Flint volunteers lending a hand.
UM-Flint junior Brandon Willingham, volunteering at the Whaley Children's Center, said contributing to the broader community is an ideal way to honor the actions and beliefs of Martin Luther King, Jr.
"What made Martin Luther King so significant was he thought beyond himself," Willingham said.
Other volunteer sites were Crossover Ministries, Carriage Town Ministries, the Humane Society, and the North End Soup Kitchen.
Chancellor Susan E. Borrego, volunteering at Whaley Children's Center with the students, said the variety of events helped spread the university's impact for community groups and volunteers.
"I think it is really important both for the community's sake, because they can identify where they need help. But also for the university, because people volunteer in all kinds of different ways," she said.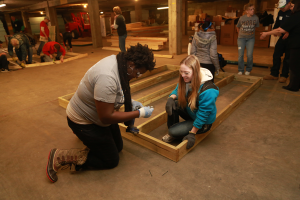 At the Genesee County Habitat for Humanity, about 30 students, along with other volunteers, spent the day building wooden sheds. The sheds will be provided to Habitat home owners, said Leslie Voiles, volunteer coordinator for the local Habitat for Humanity.
Donn Bacon has been participating in MLK Day volunteer events for the past five years. Bacon earned his bachelor's degree in economics last year from UM-Flint and is now working towards his social studies teaching certificate at the university.
Bacon, who has volunteered for several events during his college career, beyond MLK Day, said the spirit of the event is something to practice year-round.
"It is sharing happiness and grace year-round," he said.
Forty-six pints of blood were collected at Monday's blood drive, said Joey Dalton, of Michigan Blood. The non-profit blood bank provides blood to Michigan's hospitals. The organization's goal for the UM-Flint event was 30 pints.
"It was an awesome, awesome day," Dalton said.
---
PHOTO: On MLK Day 2015, Chancellor Borrego worked alongside students at the Whaley Children's Center.
Contact University Communications & Marketing with comments, questions, or story ideas.