UM-Flint Hockey Teams Join to Help Young Cancer Patient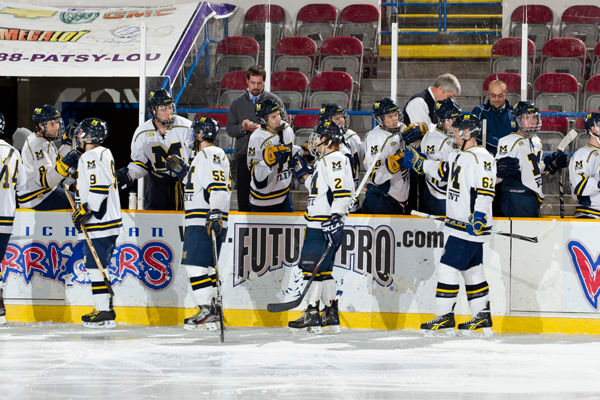 Two University of Michigan-Flint sports clubs and a group of School of Management students worked together to help raise funds for a young cancer patient.The UM-Flint men's hockey team joined with the UM-Flint women's hockey team to put together a benefit fundraiser, "Believing In Bella," at the Crystal Fieldhouse Ice Arena in Burton. Proceeds went to 3-year-old Isabella Ward who has Retinoblastoma, a rare cancer of the eye. Her cancer has spread to the pineal gland in her brain and also her spine.
Matthew Holser, president of the men's team said members of the women's team brought the story of Bella to his attention back in September and asked if the men's team would help put on a fundraiser for Bella at one of their home games. After checking the schedule, they picked the UM-Ann Arbor game on Saturday, December 6.
Holser said the game was special for a couple of reasons.
"First, this will be our first ever meeting against Ann Arbor or Dearborn (this is Ann Arbor's first year with a D3 team). Second, this game is our 'Happy Holidays' game, so Santa Claus was in attendance for pictures and Christmas music was played getting everyone in the holiday spirit."
Courtney Rushlow, the treasurer of the UM-Flint women's hockey team has come to know Bella's family, in fact, she works with her grandfather.
Rushlow said, "I know that my team and the men's team have resources and I wanted to put them to good use to help such a deserving family. Not only do I want to help raise money for Bella's medical bills, but I also want to help educate the public about Bella's cancer (Retinoblastoma) so they can leave the fundraiser with an understanding of what she is going through. Bella is only 3 years old and has gone through more in her life than most people have in their entire lifetime. There is nothing our teams would want more than to help such a family, a family that's always trying to give back to others despite what they are going through with Bella's cancer."
The "Believing in Bella" fundraiser featured a silent auction with over 30 items, Chuck-A-Puck, and a donation table. All the proceeds from these three activities went to Bella and her family, as well as a portion of ticket sales. When final dollar count was completed, the teams presented her family $1000.
General Motors Flint Operations sponsors the men's team and also the fundraising event.
"I know what we raise from this game will not cover the huge medical bills the family is facing but it is something to help, and will hopefully raise awareness of Bella and her cancer," Holser said.
Contact University Communications & Marketing with comments, questions, or story ideas.