UM-Flint Roundtable Focuses on Helping Youth in Foster Care Succeed in College and Beyond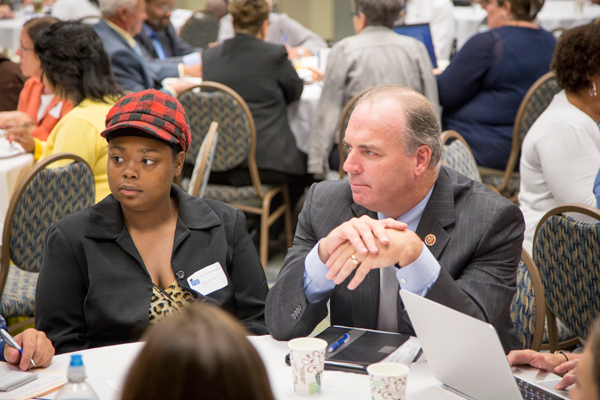 Danielle Wray starts her first semester at the University of Michigan-Flint next week, but she's already feeling a sense of stability and support.
The 19-year-old spent much of her life bouncing between different foster care homes and family members. When she was looking to transfer from Mott Community College to UM-Flint, she found out about Mpowering My Success at the university. The state-funded program helps young people who were or are in foster care succeed in college and beyond.
Wray, who is pursuing a career in social work, meets with a staff mentor and a life coach. She already has lined up a campus job and said the emotional support has been invaluable.
"It has helped me significantly," Wray said. "It helps motivate you and encourage you."
Wray attended the August 26th roundtable regarding foster youth transitioning to higher education. The event was organized by the Office of Financial Aid and Mpowering My Success, in co-sponsorship with the office of Congressman Dan Kildee (MI-05).
About 50 social service workers, university staff, students, and other community leaders attended the event, along with the Congressman. The audience broke into groups and shared their thoughts on a host of issues related to foster students and what colleges and universities can do to help.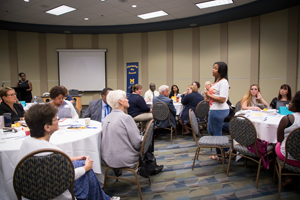 "The participation, the collegiality, the community support from our campus and community champions was just out of this world," said Office of Financial Aid director Lori Vedder about the event. "The students, with the feedback they provided, just knocked it out of the ballpark. They really put it in perspective for each and every one at the event."
Mpowering My Success is entering its third year at the University of Michigan-Flint. The program is for students ages 18, 19, and 20, who have been in foster care beginning on or after their fourteenth birthday, said Cindy Nelson-Pouget, the initiative's life skills coach. Nelson-Pouget, a clinical social worker, said students are often set up with a faculty or staff mentor, and get guidance on a wide range of issues, including finances, emotional support, housing, relationships, and more. Currently there are eight students in the program, she said, but university officials said they make sure to assist and provide resources to students who don't fit the specific guidelines of the program. The program has averaged about 12 students per year, Nelson-Pouget said.
Students spoke about challenges they face, ranging from troubles caused by their family to obstacles in getting their credits transferred from elsewhere.
Nelson-Pouget said the lasting impact of the event was letting people hear from the students themselves.
"I think the biggest thing was the student voice today," she said.
The audience broke up into groups, with moderators rotating tables. Participants touched on a wide variety of topics, including age requirements of various programs and ways more colleges and universities can develop support programs.
Congressman Kildee lauded the students involved in Mpowering My Success for their "drive" and "tenacity".
"Your voices are the most important ones in this room," Kildee said. "You encourage me."
After the event, Kildee said events like this help shape public policy and that meeting with students themselves is critical.
"It makes a huge difference," he said.
---
Contact University Relations staff writer Robert Gold with comments, questions, and ideas at goldr@umflint.edu, (810) – 424-5596, or on Twitter, @writerobert.
Contact University Communications & Marketing with comments, questions, or story ideas.