Alumnus Bobby Crim Donates Half a Million Dollars for UM-Flint Scholarships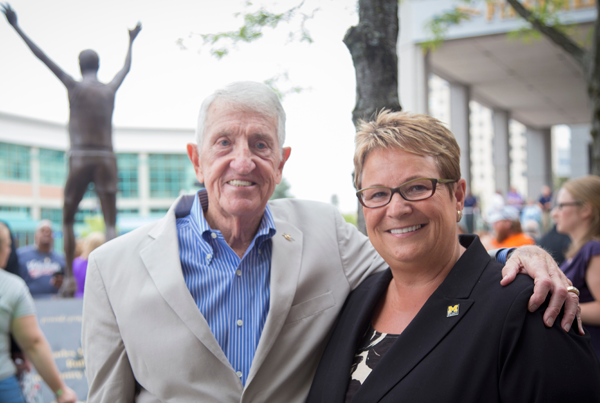 Legendary University of Michigan-Flint alumnus Bobby Crim and his wife Marsha are donating $500,000 to the university. The endowment fund will be used for student scholarships.
The Crim family is also giving $500,000 to the Crim Fitness Foundation, which runs the Crim Festival of Races and multiple health, wellness, and training programs year-round.
Crim earned his bachelor's degree from the University of Michigan-Flint in 1960 and earned his teaching certificate from the Ann Arbor campus that same year. He earned his master's degree in Education from U-M Ann Arbor in 1968. In 2009, the University of Michigan-Flint awarded him with an honorary degree.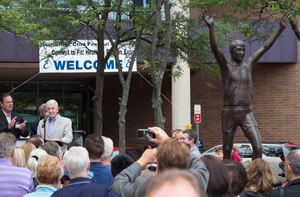 "Education is a door opener," Crim said. "I would like to help out as much as possible."
Crim founded in 1977 what has become the Crim Festival of Races. At that time it was one race. This weekend's races are expected to draw tens of thousands of people to Flint.
The exact details of how the scholarship gift will be used will be decided, university officials said, but income earned from the endowment will provide future scholarships.
"The gift is important and transformative," said UM-Flint Chancellor Susan E. Borrego. "That it comes from a person with such compassion and humanity makes it that much more powerful. It is a vote of confidence for the University of Michigan-Flint, what we represent, and our role in the community."
Crim made the announcement Thursday at the unveiling of a bronze statue of him competing in the road race. The statue was commissioned by the Crim Fitness Foundation. The organization is receiving $50,000 a year from the Crim family for the next ten years, as its part of the endowment gift.
During his talk Thursday, Crim deflected the attention from himself. Instead, he used his time to laud the volunteers, community members, and others involved with the races and other community projects.
"When I see this statute, I see a community. A tough, resilient, caring community."
After the event, Crim said the University of Michigan-Flint community has left a lasting impact on him.
"It's like coming home," he said, describing the university and what it means to him. "You think of everything the university has done for you, how it has educated you and given you the opportunity in life. It's like a mother and father. You never forget that. You never leave that."
---
Contact University Relations staff writer Robert Gold with comments, questions, and ideas at goldr@umflint.edu, (810) – 424-5596, or on Twitter, @writerobert.
Contact University Communications & Marketing with comments, questions, or story ideas.