New Events Highlight UM-Flint's 2014 "Welcome Back" Activities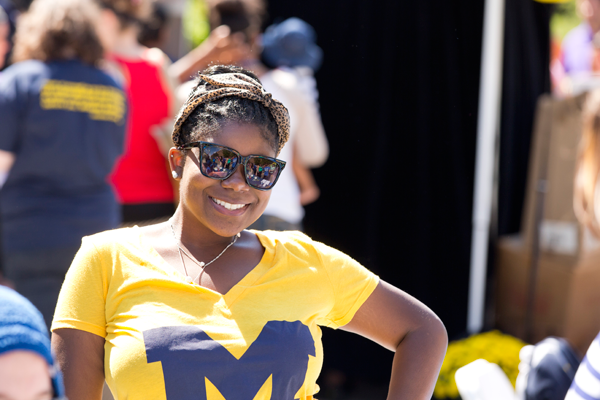 The countdown is on for the start of the new fall semester! Through the end of October, dozens of events are scheduled both on and off the UM-Flint campus that aim to entertain and educate new and returning students.
Some events are for new students to help them learn about the campus, the services that are available to them, and the organizations they might be interested in joining.
The activities begin on August 26 with the first of two days of orientation for new international students. Other activities for the week will introduce students to the area surrounding campus, including the Flint Farmers' Market and downtown Flint.
New faculty orientation is on August 21 and for tenure track faculty on August 26, with Faculty Convocation scheduled for August 27. Faculty are also invited to participate in a bus tour of the city of Flint, hosted by the Office of University Outreach. This will be held following the orientation session on August 21.
Students will begin to move into the First Street Residence Hall starting at 8 a.m. 0n Sunday, August 31.
Tuesday, September 2, 2014
Welcome Day features workshops, a street fair, and a class picture: 2-5:30 p.m. in the Harding Mott University Center. The Student Convocation program begins at 5:30 p.m. in the Riverfront Center. The Convocation marks the official beginning of a student's college experience. Chancellor Susan E. Borrego, student leaders, executive officers, and members of the faculty will all participate in this traditional ceremony at which each student will be presented with a memorable gift.
11:00 a.m.—2:00 p.m. | PHHS Suite, 3145 & 3146 William S. White Building
Any Public Health and Health Sciences students, faculty and staff are welcome! A day of fun, food, prizes and networking! Food will be provided.
Thursday, September 4, 2014
4:00 p.m.—7:00 p.m. | Meet on the 1st Floor o the University Center
 (UCEN)
Join us as we explore Flint's amazing downtown eateries! This guided walking tour features free food and free gifts! Discover your community, make new friends, and have some fun!
Meet the Greeks
5:00 p.m.–7:00 p.m. | UCEN Lawn
Looking to make connections on campus and in the community?
Want to get involved?
Seeking leadership skills?
Come to Meet the Greeks!
All fraternities and sororities at UM-Flint will be present! This is an opportunity to learn about how to join the experience of brotherhood/sisterhood, community service, scholarship, leadership and much more. Free Food! Games! Music! Dunk Tank! Lots of Fun!
Welcome Back Carnival
7:00 p.m.–10:00 p.m. | Kearsley Street
Celebrate the new academic year at the carnival. There will be many rides and attractions, as well as cotton candy, popcorn and ice cream. This is a fun way to meet new people and reconnect with friends. Co-sponsored by the Campus Activities Board. Students, faculty, staff are welcome!
Friday, September 5, 2014
M-Flint in the D
4:30 p.m.–10:00 p.m. | Comerica Park (loading the buses at 4:30 p.m., buses will leave by 5:00 p.m.)
Campus Activities Board is taking 110 students free-of-charge to Comerica Park to watch the Detroit Tigers take on the San Francisco Giants. It is also on "Wolverines in the D" day, a day where Michigan students, alumni, staff, and faculty are specifically invited to come out and enjoy the game. Students will receive a free t-shirt for attending the event.
Students must sign up to reserve a spot. Sign-ups are scheduled for:
September 2, during the New Student Welcome Day fair
September 3, on the 3rd floor of the UCEN
September 4, on the 3rd floor of the UCEN
Monday, September 8, 2014
3:00 p.m. | Frances Willson Thompson Library Atrium
Short presentations about the Common Read program and the selection of this year's book, "Fire in the Ashes" by Jonathan Kozol. Light refreshments will be available.
Wednesday, September 10, 2014
Women's Educational Center and LGBT Center Open House
10:00 – 2:00 p.m.| 213 University Center
Visit the Women's Educational Center and Ellen Bommarito LGBT Centers' open house to learn more about our programs and services, and to meet the staff! The WEC welcomes you to celebrate the new academic year with free food, games, prizes.
Thursday, September 11, 2014
#M-Gagement Fair
12:00 p.m.–4:00 p.m. | McKinnon Plaza
Students who engage are more academically successful! This fair will feature the many student organizations and University departments with which you can connect. Free t-shirts will be offered by the Student Government. Check us out!
Movie on the Lawn
8:30 p.m. | North Lawn
The Campus Activities Board is setting up a screen on the North Lawn for students, faculty, and community members to come and enjoy a family friendly movie. Students, faculty, staff and community members welcome!
Friday, September 12, 2014
6:00 p.m.–9:00 p.m. | Meet on the 1st Floor o the University Center
 (UCEN)
Join us as we explore the arts scene! Art Walk features a rotating exhibition and takes place the second Friday of every month. It offers live music, catered food and beverages. Art Walk includes Buckham Gallery, Pages Bookstore and other partners—all within two blocks in beautiful downtown Flint!
Monday, September 15
, 2014
The Naked Roommate
6:00 p.m. | KIVA Auditorium, University Center
 (UCEN)
Harlan Cohen, college transition expert and has helped millions of college students make the transition to life in college and is ready to help you! A New York Times bestselling author of The Naked Roommate and The Naked Roommate: For Parents Only, Harlan shares the latest facts, stats, and his own personal experiences to help students get comfortable with the uncomfortable. Join him for a candid, unpredictable, and hilarious event. Text Harlan your questions LIVE during the event. No topic is taboo. Find him at www.NakedRoommate.com and follow him on Twitter @HarlanCohen. Presented by Housing and Residential Life.
Wednesday, September 17, 2014
Sex Signals!
6:00 p.m.–8:00 p.m. | KIVA Auditorium, University Center
 (UCEN)
Join us for Sex Signals, a real life, funny, sort of improv show about a guy, a girl, dating, & other stuff. Presented by the Women's Educational Center.
Thursday, September 18
, 2014
10:00 a.m.–2:00 p.m.* | Saginaw and First Streets, Downtown Flint
Did you know Flint enjoys more public green space than most cities in the country? To celebrate our wealth of parks, local people are creating mini-parks in downtown parking spaces during Park(ing) Day, a national event designed to promote the value of our cities' parks.
*This is an open-house style event; drop in at anytime!
Friday, September 19, 2014
Leadership Blueprints Conference for Student Organizations
Monday, September 22, 2014
11:30 a.m.–12:30 p.m. | Meet in McKinnon Plaza
Please join our 4th annual Peace Walk in celebration of the International Day of Peace. The walk begins and ends in McKinnon Plaza. We will walk across campus and also in downtown Flint. Students are encouraged to bring club and organization specific flags/pennants to represent their organizations. International students will carry international flags from countries represented on campus. Presented by the International Center.
Tuesday, September 23, 2014
11:00 a.m. – 2:00 p.m. | Happenings Room, UCEN
If you've ever thought about studying abroad, the Education Abroad Fair is the perfect place to begin your search. Whether you are interested in improving skills that will help you get a job, gaining a cultural experience that will reframe the way you see the world, or simply earning credits toward your degree outside of a campus classroom, the Education Abroad Fair can help you find a program that will fit your needs. Attend the fair and meet UM-Flint faculty offering short-term study abroad experiences, as well as meet representatives offering both short and long-term study, intern, volunteer and work abroad opportunities.
Thursday, September 25, 2014
(September 25—27) | Midland, MI
For students with junior, senior or and/or veteran standing The Value Added Civic Engagement Leadership Development Camp is a three-day immersive camp designed to prepare students to be leaders in civic engagement. UM-Flint faculty, staff and past camp participant will serve as facilitators as students explore principles and strategies of civic engagement that include community asset mapping, collaboration, problem solving, and methods for personal and professional reflection.
For more information: go.umflint.edu/valueadded or contact Gary Ashley, University Outreach, 424-5458.




Friday, September 26, 2014
NPHC Yard Show and After Party
More information to be posted.
Saturday, September 27, 2014
11:00 a.m.–1:00 p.m. | Meet on the 1st Floor o the University Center
 (UCEN)
Ever been to the Market? There are more than 30 indoor vendors year round, and in the spring, summer and fall there are approximately 75 vendors outside the market. Come with us and discover one of the most incredible places in the University of Michigan-Flint's "backyard.
Wednesday, October 8, 2014
4:00 p.m. | Happenings Room, UCEN
A book signing will take place immediately following the lecture with the author's book for sale by Barnes and Noble Booksellers.
Tuesday, October 14, 2014
Each year, the UM-Flint community documents a day in the life of this extraordinary university. On 10/14/14, grab your camera or smartphone, post your images to Twitter, Instagram, or Flickr, and tag them with the #umflint24 hashtag. It's really that simple!
Wednesday, October 15
, 2014
1:00 p.m.–3:00 p.m. | Meet on the 1st Floor o the University Center
 (UCEN)
Compete against students from other local colleges and universities to find hidden treasures on the grounds of the Flint Cultural Center.
Contact University Communications & Marketing with comments, questions, or story ideas.